BLOOMINGTON — In the John Wesley Powell Rotunda of Illinois Wesleyan University's Ames Library, encircled by display cases with Native American pottery, nearly 100 people learned about the traditions of the Lakota Medicine Wheel and its role in healing.
Participants, mostly students, went to tables placed at the four directions — north, south, east and west — and created their own medicine bundles on Thursday evening.
Each direction had a corresponding meaning: wisdom, emotion, spirit and the physical. These meanings can vary among different tribes.
"What is associated with the directions is very flexible," said Carol Lakota Eastin. "There is no right or wrong."
Eastin, who lives in Mount Vernon and formerly was from Peoria, is an ordained Methodist minister who represents Native Americans as part of a global interfaith alliance and council.
Eastin noted that talk about the body, mind and spirit is not unusual in Western medicine, but it usually involves a separate medical doctor, psychologist and clergy person.
In traditional Native American practice, she said, "there is just one. The medicine person doesn't just help you with physical health but also your emotional health and spiritual health."
Eastin's sister, Eliida Lakota Knoll, a retired occupational art therapist, used Native American concepts in her work with young girls with eating disorders at OSF HealthCare Saint Francis Medical Center in Peoria.
Knoll said, "Knowledge begins with learning yourself better."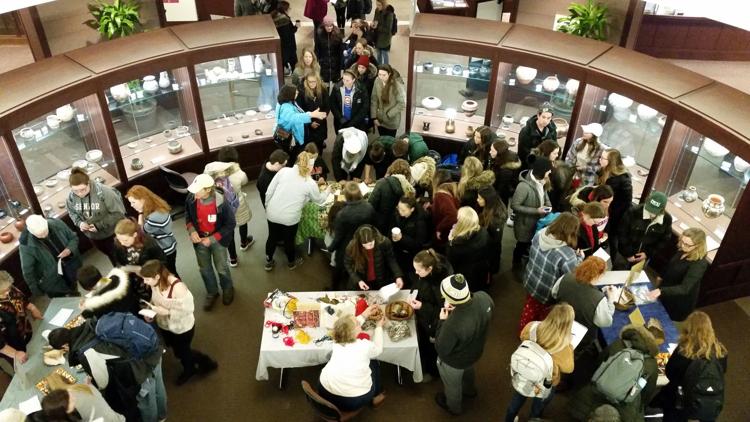 IWU anthropology professor Rebecca Gearhart Mafazy said lessons from the medicine wheel combining physical, emotional, spiritual and intellectual aspects of life are particularly important for students who often "are very focused on the intellectual side" while skipping meals and not getting enough sleep.
"You don't have to be Native American to incorporate this into your life," she said.
Participants moved from table to table, gathering symbolic objects to include  in a medicine bundle: a stone, a small shell, a bit of tobacco and a feather.
As they created their medicine bags, the participants were asked to consider intentions for what they would do to heal the Earth and how that would contribute to their own emotional well-being. They also were asked to select one of the quotes from an elder at the table that represented wisdom or intellect.
Freshman Chynna Wall, a psychology major from Rochester, said she selected, "Don't pray when it rains if you don't pray when it's shining," saying it coincided with her beliefs.