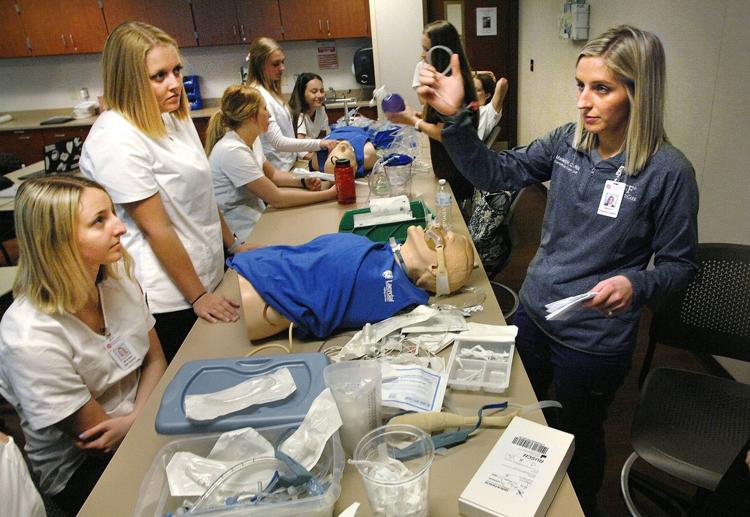 NORMAL — A lot has changed since Illinois State University's Mennonite College of Nursing began 100 years ago as the Mennonite Sanitarium Training School.
Now nurses are more involved in decision-making and collaborating with doctors, she said.
In addition, she said, the technical side of nursing has "exploded."
Today's nurse has to know "not only how to care for the person but has to know a lot about technology," said Neubrander. "A lot of the technology that we use makes the patient safer but makes the job harder."
But even with the changes in responsibilities and technology, the one thing that hasn't changed is "the caring aspect" of nursing, said Denise Wilson, associate director for academics, who has been associated with the Mennonite College of Nursing for 39 years.
One of her favorite things "has always been seeing the growth of students from one year to the next," said Wilson, who will retire at the end of May.
Before becoming ISU's first professional program and sixth academic college in July 1999, it was connected to Mennonite Hospital, which merged with Brokaw Hospital in 1984 to become BroMenn Healthcare.
In those days, most of the students lived in a dorm that was connected to the hospital, recalled Wilson.
"They were literally living and breathing it. They were close knit," she said.
NORMAL — Centennials are a time for looking back and looking ahead.
Some of that closeness might have been lost with the move to the university, but the transition brought expanded resources, curriculum and enrollment.
A nursing club helps retain the sense of camaraderie.
"We still keep that service and nursing aspect, which is very important," said Wilson. "We keep students grounded."
Among the changes she has seen is the increasing complexity of health care.
Many procedures are done on an outpatient basis and "the patients they have now (in the hospital) are much more complex and at a critical level," said Wilson.
You have free articles remaining.
With so many changes in the medical field, one of the challenges from the academic side is "exploring what the health care of the future is and making sure our students are prepared for that," noted Neubrander.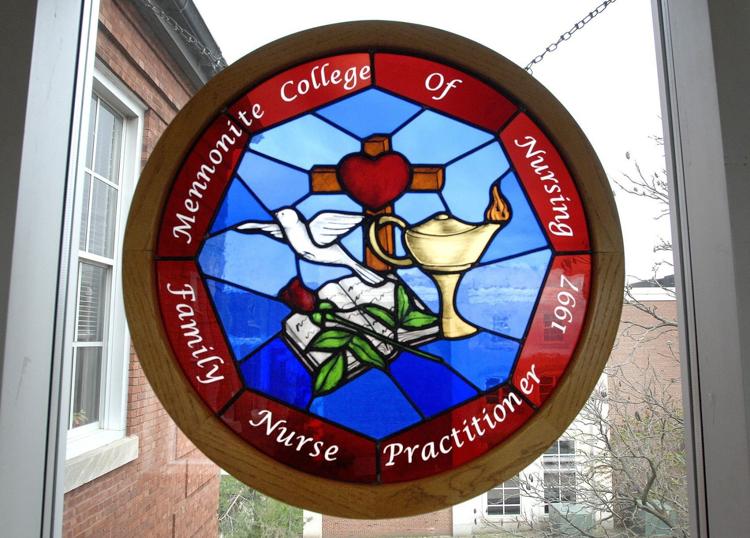 It is important for the college to have up-to-date technology and simulation labs for students to learn what they need to know, she said. Strong relationships with the area's hospitals and other clinical sites where students get hands-on experience are among the keys, said Neubrander.
"A lot of our faculty members practice at the clinical sites," she said.
Breanna Beallis of Plainfield, a sophomore in nursing, said the experience her instructors have in the field is one of the things she likes about the college.
"They have personal stories to help us connect with the material," said Beallis.
They also connect well with their students.
"They've been in our shoes," said sophomore Morgan Jackson of Streator.
Emma O'Donoghue, a sophomore from Lincoln, said it is beneficial to practice skills in the simulation lab before doing them on real patients.
The simulation lab, which opened in 2011, uses both high-tech mannequins and real people — sometimes acting students — so nursing students can practice health assessments and various scenarios they could face in the real world.
A skills lab lets them practice such procedures as starting an IV or drawing blood. They train with the same types of hospital beds, IV pumps, electronic medical records and automated medication dispensing equipment they will use at clinical sites.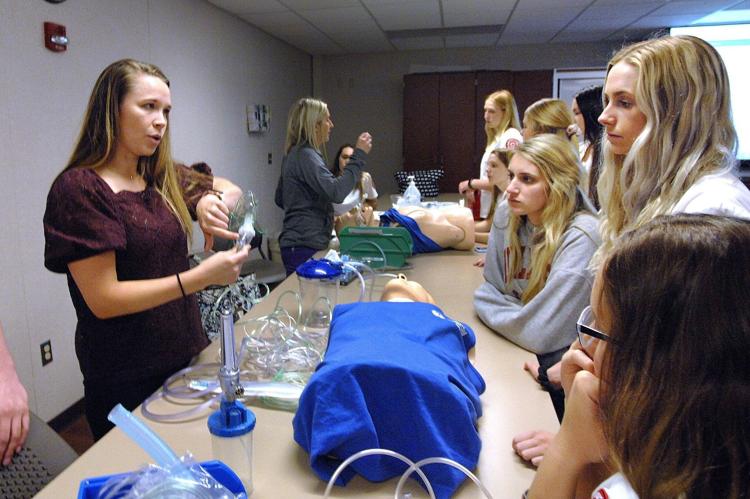 In the future, Neubrander said, students may train using virtual reality goggles. She expects growth in the use of telemedicine and the need to teach future nurses how to monitor and communicate with patients through a phone app rather than seeing them in person.
"It's still care," she said.
She also expects more focus on "our ability as a nurse to really work on the preventive side" and "educating the students to be change agents."
Mennonite College of Nursing has survived for 100 years because of "strong women who had a vision for excellent nursing education .. and a strong community that recognized the need for this nursing education," said Neubrander.
Looking ahead, she said, "My dream — my vision and the college's — is we want to partner with our community to improve health care and access to health care."