NORMAL — No longer the "new school," Normal Community West High School celebrated its 25th anniversary Friday with an open house, bringing together former students and faculty before the homecoming game.
Whether the experience was "nostalgic" or just "weird," everyone who filtered through the school seemed happy to be back to remember how it started.
When he took the helm as the first principal at Normal West, Jerry Crabtree said the biggest challenge was bringing the school together and "getting all the oars in the water and then rowing in the same direction."
Normal West joined Normal Community High School, then at its original site on Kingsley Street, as McLean County Unit 5's second high school. 
As they toured the school, perused old yearbooks and reconnected with their former teachers, West alumni were able to pick up Wildcat shirts and cups as well as water bottles that read "It's a great day to be a Wildcat!" a phrase credited to Crabtree.
"(That phrase) was an important part of the development process … in the school because we needed things to bond students and faculty and parents," he said.
That bond was apparent as faculty members who built the Wildcat spirit from day one reminisced in the cafeteria Friday.
"No one ever thought there was going to be a second high school so to move them away from that idea took a long time but I think they're really proud," Lisa Tomlin said of the West students.
Tomlin is the current science department chair and one of the original teachers at Normal West. "We've worked really hard to make this be a school that they're proud of and I do believe they are. … We've just really kind of come into our own."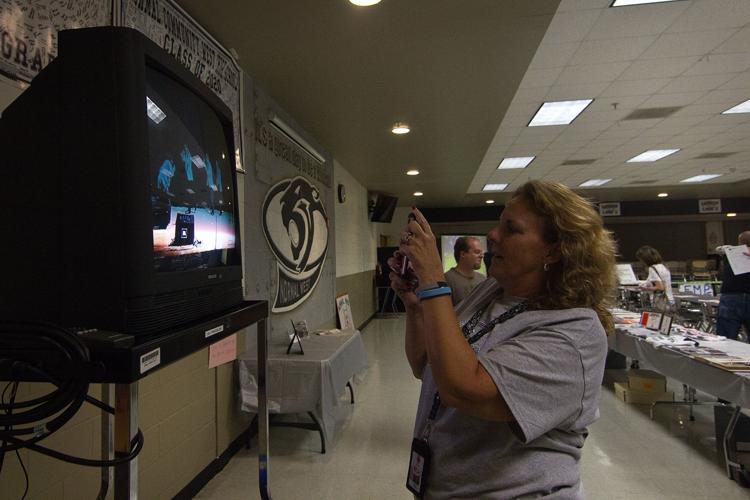 Tracy Freeman, another original member of the faculty and now chair of the social studies department, said the school as a whole had "a chip on our shoulder" when it first opened.
"You know, we were the second school, but this kind of stuff kind of pulled it together," she said gesturing to a television behind her. A video taken at the school's first talent show played, starring a few teachers and administrators who weren't eager to claim their performances.
"A lot of people kind of thought we'd never be as good as Normal — academically, athletically, anything, culture, traditions," Freeman continued.
"And we created a family," said former school counselor Kathy Smallen.
The sense of community created in those first few years brought several former students back to become teachers alongside those who had taught them.
"At first it might've been a little bit awkward, but I've grown into it," said John Bierbaum, a West grad who now teaches social studies.
"Whenever I think about Normal West, I just have a lot of really good memories so it's kind of natural to me that when I got a teaching job to come back to Normal West," he said.
Former students who walk the halls less frequently were glad for the opportunity to come back and see how it had changed.
"It's fun to come back because we live in town, but we don't come back that much," said Amanda Myers Schneider. "It's just fun to kind of reminisce ... Just seeing all the teachers feels really nostalgic."
Erin Scott, another former student, said she wanted to make sure she found the brick she painted as a senior, which Principal Dave Johnson said is every former student's favorite part of coming back to tour the school.
Schneider, Scott and classmate Megan Horath, were members of the first class to start as freshmen at Normal West. The homecoming festivities brought the class back to tailgate at the football game and celebrate their 20th class reunion.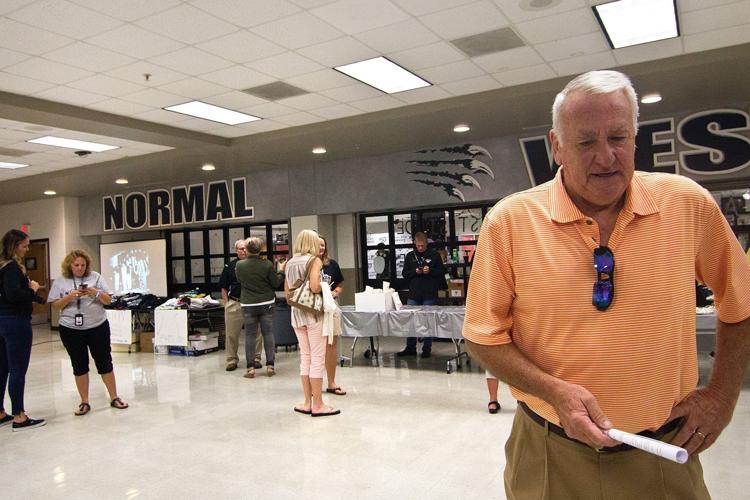 Crabtree said it was great to see so many of his former students, who "were like my own kids."
"It brings back a lot of memories because we had so many good kids, and I know every principal says that, but it was fun to come to work because we had so many good students," he said.
After a quarter of a century, Crabtree was pleased with the way the school looked — "Just like I left it," he said with a grin.
Contact Kelsey Watznauer at (309) 820-3254. Follow her on Twitter: @kwatznauer.
Be the first to know
Get local news delivered to your inbox!