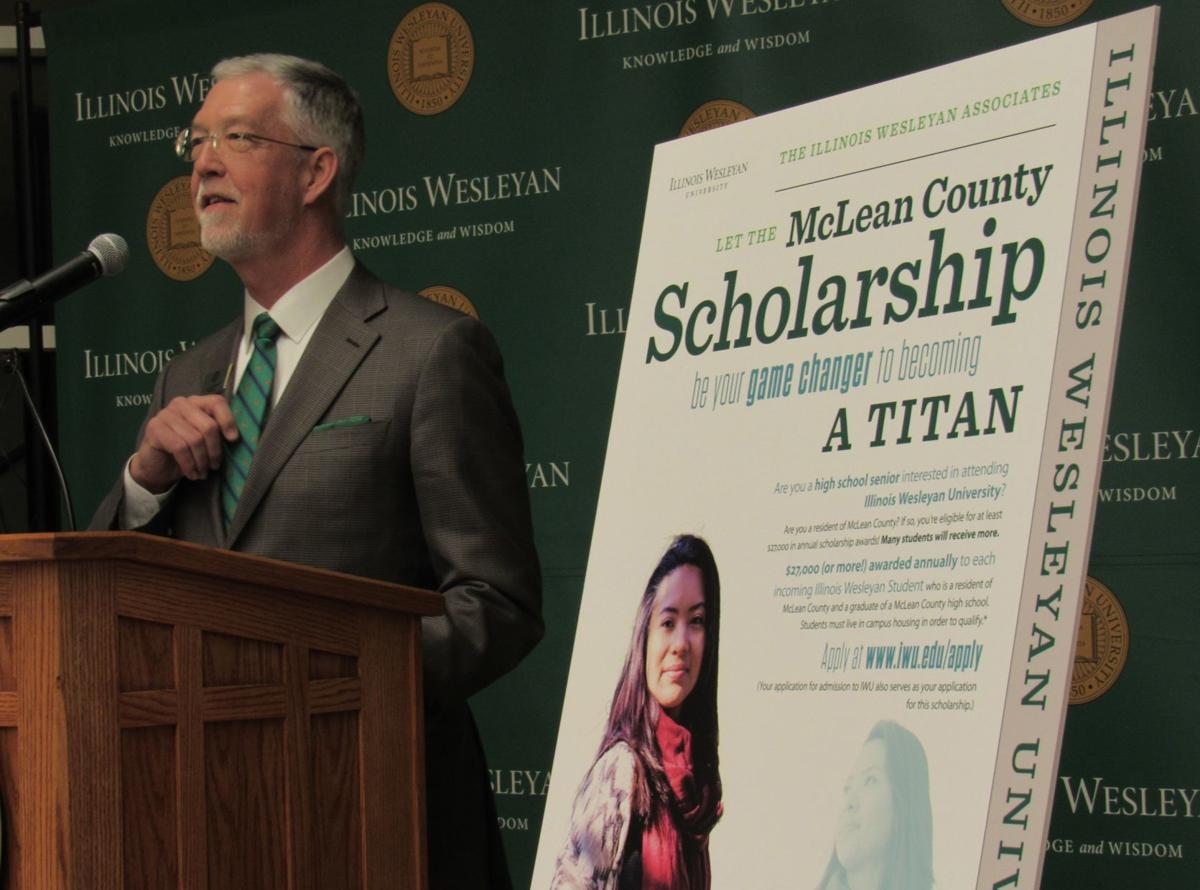 BLOOMINGTON — Graduates of McLean County high schools accepted to Illinois Wesleyan University will receive scholarships of at least $27,000 a year under a new initiative announced Wednesday.
The McLean County Scholarship Initiative is a project of Illinois Wesleyan Associates, a group of local business and community leaders celebrating its 65th anniversary this year.
IWU President Eric Jensen said, "The goal is to encourage more local students to consider Illinois Wesleyan."
Currently, about 7 percent of IWU's 1,600 students come from McLean County, said Jensen. University officials estimate the scholarship program could increase that by about 10 students each year, raising the percentage to about 9 percent.
"We know that when kids go away to college, many of them don't return for one reason or another," said Brown. "We want to keep them here."
IWU's tuition "sticker price" is $47,000 a year, although that is often discounted based on such factors as financial need and merit.
Jensen said McLean County high school graduates would be guaranteed no less than $27,000 a year for four years and most would receive more. The program will start with this spring's high school graduates.
You have free articles remaining.
IWU students are encouraged to get involved in the community, developing projects that help local governments or agencies.
"These kinds of students who know the town will be well positioned to help," said Jensen.
Bloomington Mayor Tari Renner, Normal Mayor Chris Koos and McLean County Board Chairman John McIntyre were among those present for the announcement at IWU's Shirk Center.
Renner said the program "sends a very strong signal that we want to keep good talent in Bloomington-Normal. … It will enrich our community."
Robert Miller, chair of the Workforce Development Committee of BN Advantage, said, "Investments in the youth of McLean County align well with our strategy to keep our talented future leaders within our region to innovate, lead change and grow businesses, resulting in further economic diversification."
Students from the following schools are eligible: Bloomington, Central Catholic, Heyworth, LeRoy, Lexington, Normal Community, Normal Community West, Olympia, Ridgeview, Tri-Valley and University high schools and Calvary Christian and Cornerstone Christian academies.
A regular IWU application is all that is needed; no separate application is necessary. Scholarship recipients will be required to live on campus.
Carlo Robustelli, director of advancement and Wesleyan Associates, said fundraising is underway with a goal of raising $2 million over four years. He did not have a figure for how much had been raised thus far, but it is enough to start the program with next fall's incoming class, Robustelli said.
Follow Lenore Sobota on Twitter @Pg_Sobota