NORMAL — Performers launching from swinging platforms, performing stunts on unicycles and flying on a trapeze is pretty standard circus fare but amazing nonetheless.
The looks on their faces tell the story: intense concentration, perhaps some nervousness and a lot of big smiles.
Matilda Rogozniski is only 11, but this is her seventh year taking part in circus camp.
"Circus is really my passion," said Matilda, shortly after returning to the ground from the trapeze equipment. "I like to do athletic things. … It's fun to swing high."
Moments before, she had been on a high platform, where assistant director Ivan Stoinev helped Matilda position her hands on the bar, crossed in opposite directions. The students wear safety harnesses for this and other tricks high in the air.
Matilda releases one hand, switches the direction she is facing and grabs the bar again before leaping into her catcher's hands.
"This was a real fun trick," said Matilda. "It's hard because of the twisting. I never did that."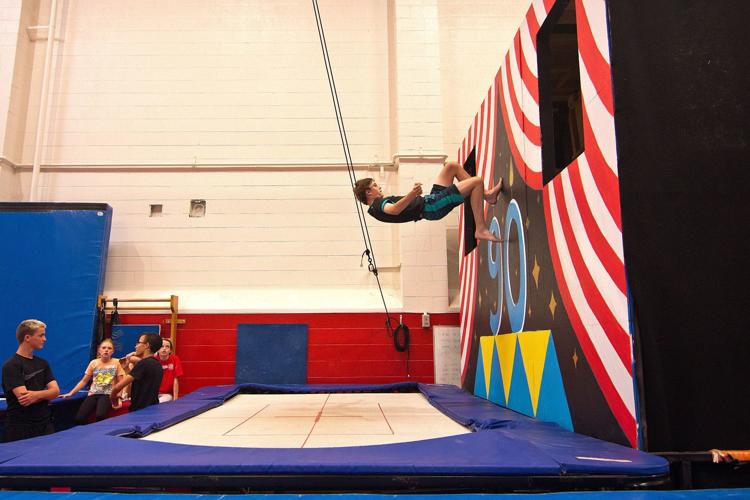 Marco Orozco of Bloomington also did a trick on the trapeze.
"The first time you do it, it's kind of nerve-wracking," the 10-year-old said. "Once you get used to it, it's not that bad."
In his fourth year at camp, Marco also practices on the globe — a large balance ball that resembled Earth. Most people would have trouble just standing on it; Marco jumps rope atop it.
The basic and intermediate camps last one week and have about 60 participants in each. The advanced camp has 40 participants to provide more individual attention. In addition to Alouan and Stoinev, there are 13 counselors — all members of ISU's Gamma Phi Circus, the oldest collegiate circus in the nation.
While some participants rehearsed specific acts for a show they were to present to their families, others walked on stilts, rode unicycles and jumped on trampolines.
Do you think you can ride a unicycle? Have you ridden one while holding hands with a dozen people and forming a circle?
You have free articles remaining.
Having so many students return for camp each year — and, in some cases, join Gamma Phi Circus as college students, is part of what Alouan likes.
"I get to see these kids grow up," he said.
Suddenly, two girls who had been working on a difficult trick excitedly run to Alouan, shouting, "Marcus! We did it!" After an exchange of high fives, they run off to work on more tricks.
"My background is in middle school education, so I like working with these kids," said Alouan. "Actually, no matter what ages they are, I like working with them."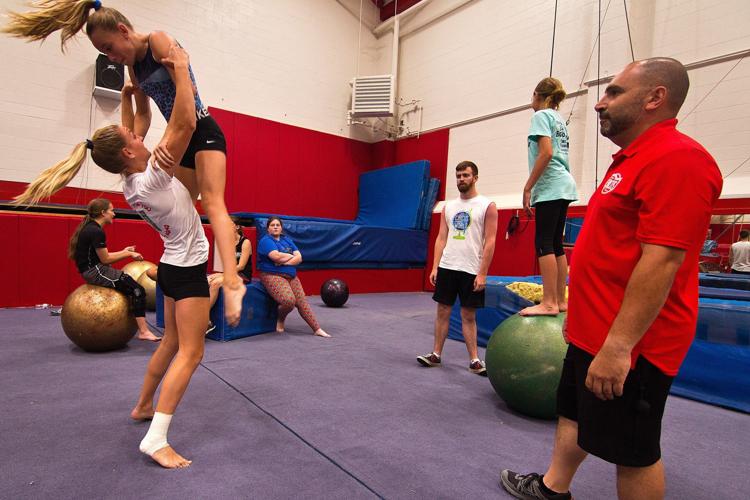 For sisters Talia and Elise Luallen of Towanda, sharing the experience and performing together, along with their friend Matilda, is a big part of the fun.
Talia, 13, has been competing in gymnastics since age 6. This was her sixth time at circus camp.
Her favorite is "acro" — as in acrobatics.
"I really enjoy it," she said. "Me, Elise and Matilda do tricks together.
Elise, 14, said, "The counselors have a hard time finding harder tricks for us."
This was her eighth year at camp and one of the things Elise liked was "everyone is so encouraging."
Brandon Harbin, 14, of Downs, said, "I like to try different acts. I like bouncing high in the air," but he admitted, "Occasionally, there are times when you're too tired to do anything."
Nine-year-old Amelia Skinner of Bloomington took part in both the intermediate and advanced camps.
"My favorite things so far is the whole experience itself," she said.
---
Photos: Gamma Phi Circus advanced summer camp