NORMAL — Jethro is a black German shepherd with a deep, threatening bark. He also is a survivor of abuse.
Sadie is a Corgi-Australian shepherd mix who is afraid of new things.
When Mijo was found, he had been cut on his chest and ears, had acid poured on him and was terrified of anything that moved.
All come from shelter or pet rescue organizations and are helping Illinois State University students learn about behavioral psychology at the same time the students are helping the dogs to learn about, well, being better dogs.
For the past two years, she has been working directly with Pet Central Helps, a no-kill shelter, and using facilities at the former outlet mall in west Normal for training. In addition to the students, Farmer-Dougan works with dog foster parents and new adopters.
Since September, nearly 90 dogs have gone through classes.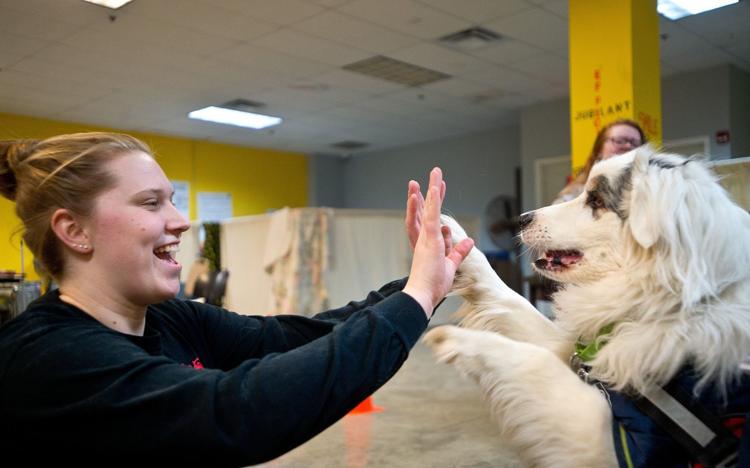 "Each dog is on an individual path," said Farmer-Dougan. "It's the same thing you do with people."
When Jethro first came to class, all he did was bark for 45 minutes, said Bailey Craig, a senior in psychology from Lindenhurst.
Farmer-Dougan said Jethro has approach issues. He wants to be by others, but then he barks and backs away.
A small group of students worked with Jethro, gradually exposing him to other dogs and people, then returning him behind a barrier when he is overstimulated. They are working on behavior adjustments and coping skills, "how he reacts when he sees something as scary," said Farmer-Dougan.
They are teaching him to look at his trainer or owner, who then takes him to "safety," she explains.
"Is Jethro ever going to go to the dog park? No. But he should be able to go to the vet and walk down the street and do other dog things," said Farmer-Dougan.
He already has made a lot of progress, noted senior Molly Sluga of Metamora, who is majoring in psychology and studio arts.
"When he first came, I couldn't even look at him," she said. "Now I can feed him a treat from my hand."
Farmer-Dougan said, "There are a lot of developmental similarities" between dogs and people. She noted that children go though periods of fear, stranger anxiety and separation anxiety.
"Dogs on a good day are like 3-year-olds," she said.
There are also similarities in how you address their problems, through controlled exposure to their ears, reassurance and behavior modification.
"If you can't work with dogs, how are you going to work with a complicated organism like a human?" she asked.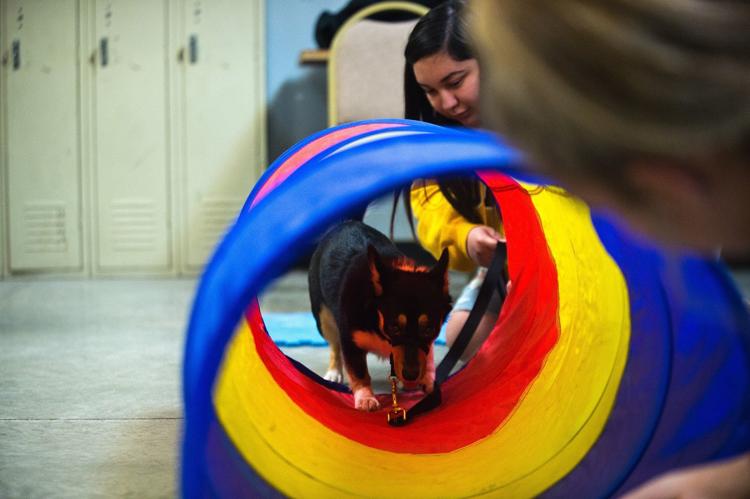 Sadie "is in a fear period," much like children at a certain age, said Farmer-Dougan. "If we can get her to take risks now," she can learn to overcome what scares her.
They are doing that by introducing her to things that are "scary but not too scary," she said.
For example, at a recent training session, students used an expandable tunnel. At first, it was barely longer than a few inches and they enticed her to jump through with a treat. As the class progressed, they made the tunnel longer and longer, each time rewarding Sadie with a treat when she overcame her hesitation and came through the tunnel.
Sluga said, "Getting to apply psychology with dogs is cool. .. it's more fun to train dogs than train rats."
Among the dogs she is working with is her own dog, Emmy, who she adopted in September.
"When I adopted her, she had no social skills," said Sluga. "She had been tied up by her hind leg," which was permanently damaged.
Although Sluga joked that Sadie was "good at testing my patience," she also said Sadie is "really good at learning."
Craig said, "The satisfying part is to see the change in behavior. … We don't give up on them."
But she added, "If dogs could talk, our job would be so much easier."