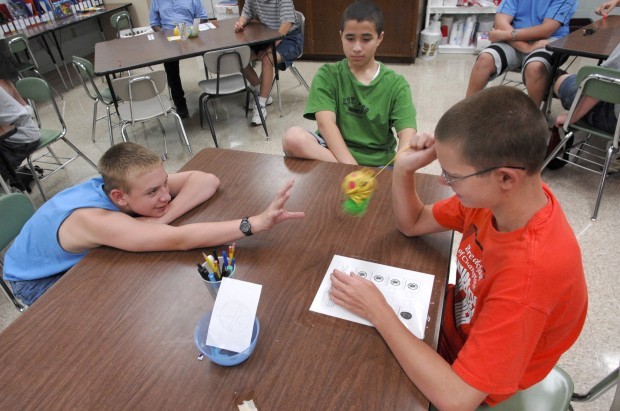 NORMAL -- Twin City summer school programs for grade and junior high school students are safe this year, but may take a vacation next summer because of the state's ongoing budget problems.
"Due to the uncertainty of grant funding, we do not anticipate offering elementary summer school in 2011," said Teresa Hill, assistant curriculum superintendent, in a recent report to the District 87 school board.
The situation is similar at Normal-based Unit 5 schools where specialized summer programs include an autism camp and instruction for English-language learners and bilingual students and for students with individual education plans. The funding from the district, federal, state and business donations are confirmed for this summer.
The summer programs are especially important to at-risk students and students with various special needs.
"We don't want any regression to occur over the summer," said Jim Braksick, Unit 5's assistant superintendent of human resources.
University High School in Normal, a laboratory school at Illinois State University, is the central location for summer school for area high school students. Last year, it offered 11 courses for 165 students from 10 schools, including rural and parochial schools.
"This year, our summer programs will go on pretty much at the same levels," said lab school Superintendent Bob Dean, referring to the high school classes at U High and the College for Youth program offered at Thomas Metcalf School. Both programs are funded by tuition and are open to the community.
Several other Central Illinois school districts have cut summer programs in recent years because of funding challenges, but Unit 5 and District 87 have been able to continue with assistance from the community and local businesses.
For example, State Farm Insurance Cos. pays for Early Start programs at some schools, providing at-risk students the opportunity to get re-acclimated to school, learn routines and build positive relationships with teachers and staff.
"More than anything it prepares students to be learners. So many come to Early Start and get off on the right foot to be successful the rest of the year," said Jim Cooper, principal of Sheridan Elementary School in Bloomington.
While the future of such programs is uncertain, Cooper said, "We're happy for whatever time we do have the program." Early Start has been operating for nine years at his school.
"It's a great program for kids," agreed Irving Elementary School Principal Christina Brock-Lammers, because it gives kids a "jump start" on the school year. She added that summer reading programs at public libraries also provide structured activities that help children and families get and stay connected.
District 87 also has elementary summer school and extended school-year classes for five weeks starting in June. In the past, the classes have been free for students who qualify for free and reduced-price lunches. This year, students will have to pay $50, but that won't cover the full cost of $250.
Bloomington Junior High School will offer classes for students who failed one or two core subjects; those will cost $150. Hill said special education students will still get free tuition.
"We really hate to have to charge a tuition," she said, adding it is important to provide as many services as possible "not only in the summer" but throughout the year.
District 87 pays between $18,000 and $40,000 a year to operate its summer school programs. Title I federal funding pays another $30,000 to $45,000 depending on enrollment, and businesses and individuals have provided scholarships.
The district also has transition programs for incoming fifth- and sixth-graders and for new high school students.
Kevin Barlow contributed to this report.