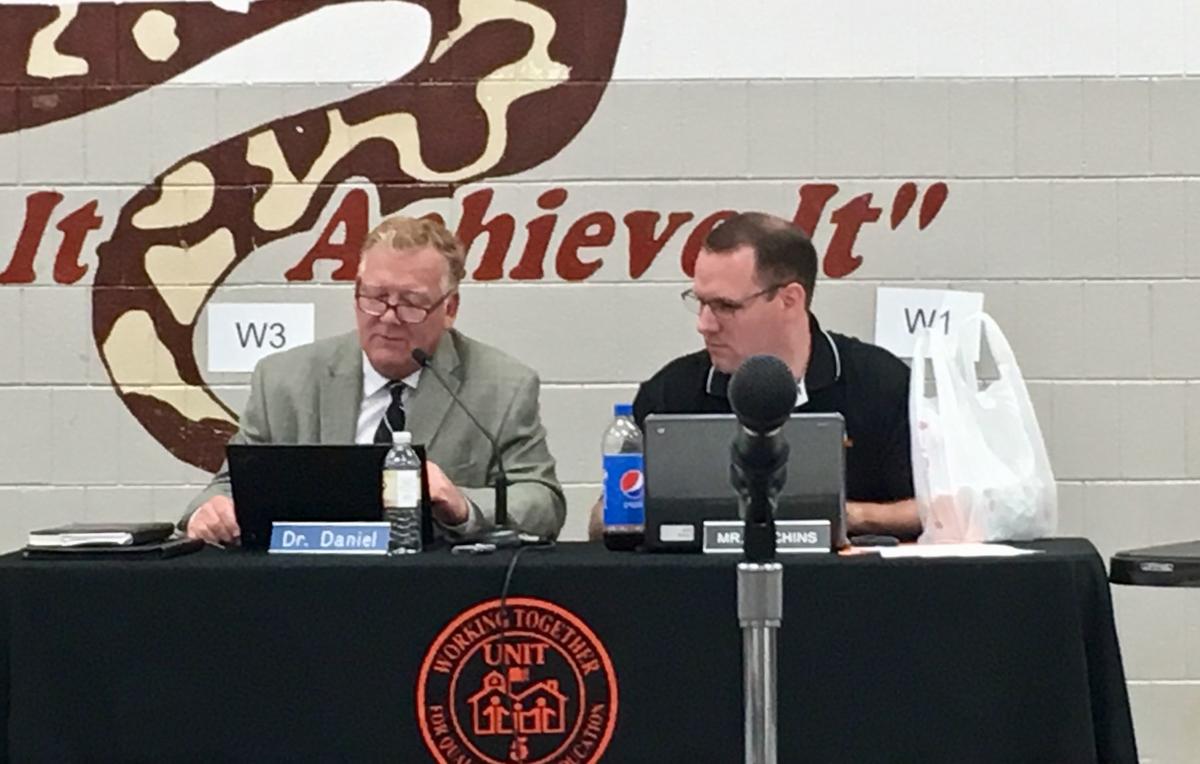 NORMAL — Transportation troubles continue to lead conversations throughout the McLean County Unit 5 community, and district leaders say they are working to find solutions.
"I understand people are frustrated; believe me, I am frustrated, too," said Superintendent Mark Daniel at Wednesday's school board meeting at Parkside Junior High School. "The service we are receiving is not acceptable. We understand that most routes are running on time, but most is not enough."
Daniel, as well as board president Barry Hitchins and other Unit 5 officials, will meet with representatives at First Student, the Cincinnati-based private busing contractor, "and we expect quick solutions."
Lindsey Dickinson, president of Unit Five Education Association, spoke to the board from the perspective of an educator whose students are missing class time because their buses were late or never arrived.
"When our students are consistently losing 30 to 45 minutes every single day, their learning and growth suffer," Dickinson said. "When buses are 30 minutes late, we take issue with that and our students aren't served. When buses forget an entire route for days and transportation says, 'Sometimes we forget routes,' we take issues with that and our students aren't served."
Tony Cole, father of two Unit 5 students, also expressed his concerns regarding the busing issues that are causing students to "miss out on their education that they need."
"It sounds like you're trying to do something so I'd love to see something happen real soon rather than later," he said to the board.
Several board members spoke at the end of the meeting about the lack of communication between First Student and the community.
But board member Meta Mickens-Baker said that is the one thing the company promised to uphold before the school year began.
"I don't understand why we're still having this conversation so far into the school year. It's getting so that every time I talk to anyone, unfortunately they have a negative story about how they've been affected," she said. "This is unacceptable and unsustainable."
In other business, the board approved a 1 percent or $2,036 raise for Daniel as part of the consent agenda, following a superintendent evaluation on Monday.
His salary in the 2018-19 school year was $203,606. Daniel's new salary for his final year at Unit 5 will by $205,642.
The board also heard a presentation from School Exec Connect, a search and consulting firm that could find the district a new superintendent, since Daniel announced his resignation Monday.
The board will vote to approve an agreement with the firm at the next meeting on Sept. 25. The cost of the agreement is estimated at $29,250 plus advertising costs.
Contact Kelsey Watznauer at (309) 820-3254. Follow her on Twitter: @kwatznauer.