"This senior class is dealing with — the whole country is dealing with — circumstances we're not prepared for," said Bloomington High School Principal Tim Moore. "I appreciate their resiliency. I applaud our kids across the country for managing at this difficult time."
Traditional ceremonies — mortarboards, family photos, handshakes with the superintendent — have been moved later in the summer, if they're held at all. In the meantime, students are getting drive-though diplomas, online videos and porch portraits. Yard signs will congratulate graduates instead of seek votes for candidates.
Bloomington
BHS' graduation will be Dec. 13 at Grossinger Motors Arena, with Senior Week going ahead next week as planned.
On Monday, yard signs will be delivered to every senior along with gift bags and a purple light bulb. The bulb is intended for all graduating Purple Raiders to light and take a picture in its glow, posting on Instagram in a special account set up for the class, said Moore.
Students have signed up to have their pictures taken on their porch in caps and gowns. On Friday, a "senior parade" will take place with a car caravan from Eastland Mall to Bloomington High School.
A drive-through graduation is May 24, when each of about 400 seniors will be assigned a time to come to the high school parking lot. Only the student can get out of the car; they will be handed their diploma cover and have a picture taken. About 400 seniors are expected to graduate.
Normal
The original May 23 graduation date for McLean County Unit 5 seniors will become the release date for a celebration video for each school, as their in-person ceremonies were postponed to Aug. 1 at Grossinger Motors Arena.
"We didn't want May to pass us by without finding a way to still celebrate their accomplishments," said NCHS Principal Trevor Chapman.
Class of 2020 yard signs were delivered to each senior from both schools. Military-bound students will receive additional signs. Senior superlative winners will be announced this week and Senior Awards will be presented virtually with a video compilation to be released in mid-May.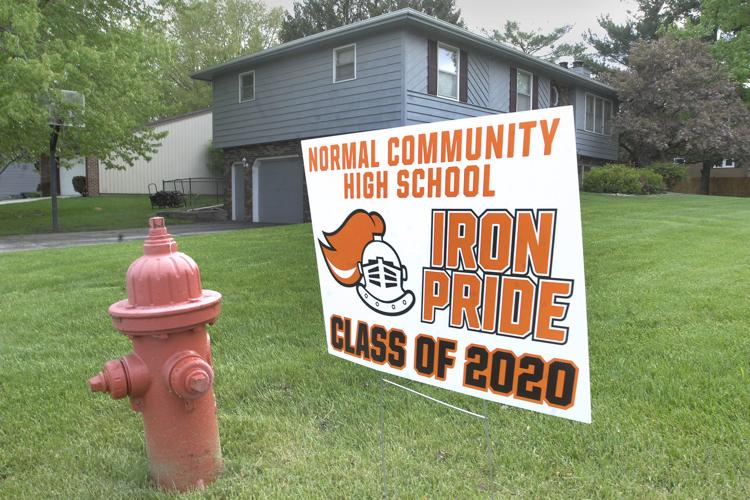 Central Catholic 
The 2020 valedictorian and salutatorian from Central Catholic were surprised by a parade of teachers and administrators Thursday as part of the school's end-of-year celebrations.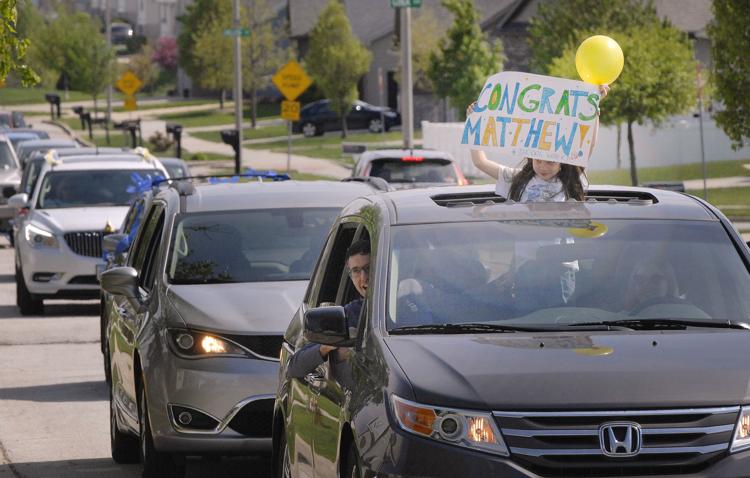 It could be late July or early August for a traditional in-person graduation and baccalaureate Mass.
Prom king and queen winners were virtually crowned this week. The Honors Day and Seniors Lunch also will go virtual with a video to honor the students, Principal Sean Foster said.
"Basically every event that we possibly could, we're offering a virtual experience," Foster said.
Seventy-one seniors received yard signs to help them celebrate the milestone.
U High
University High School hasn't rescheduled its graduation ceremony, but will honor its seniors with an online awards assembly and class night on May 13.
The school expects to have 156 graduates. Senior parents purchased and placed yard signs in all of the seniors' yards.
"We are proud of all the work our seniors have done. They have been persistent, flexible, courageous and kind during this time. They advocate for themselves and for each other," said Principal Andrea Markert. "We have no doubt they are ready for their lives after high school and can't wait to see them again.
Olympia 
Olympia High School tentatively plans to have an outdoor graduation celebration in mid- to late July on its football field.
"The football field and grandstands allow us to adhere to social distancing requirements by spacing people appropriately," Superintendent Andrew Wise said.
If limits remain for social gatherings, the ceremony will be spaced by alphabet so graduates still have "the opportunity to walk across the stage in front of their immediate family members," said Wise.
An online ceremony on May 17 will recognize each graduate and include photos and pre-recorded speeches. Yard signs have been distributed to all 130 seniors.
"Our senior class is an extraordinary group of well-rounded students that will change the world for the better," said Wise. "COVID may have altered their end-of-the-school-year events, but COVID-19 will not stop them from achieving greatness in college, careers, and life."
Tri-Valley
Tri-Valley seniors won't receive their diplomas Sunday as originally planned. Instead, their rescheduled graduation, prom and the senior brunch will be left flexible with two possible dates for each event.
June 14 and July 9 are on the calendar for graduation, depending on where health guidelines stand on the first date.
All the big senior events will center around those dates, with prom scheduled for June 12 or July 10 and the Senior Brunch on June 13 or July 8.
"There are a lot of opportunities out there to do virtual (ceremonies) … but I think the kids felt like they were willing to wait if we were willing to put something on in the middle of the summer," said Principal Ben Derges.
The location for graduation has not yet been determined since the high school is undergoing a massive construction project. Seventy-two students are expected to graduate.
LeRoy 
A modified graduation celebration will greet LeRoy seniors next weekend with tentative traditional ceremonies scheduled later in the summer.
One at a time, seniors and their families will meet a few administrators outside the school on May 17 — their original graduation date — to receive their diplomas and honors cords and take a photo that will be compiled into a video with recorded graduation speeches. Yard signs have been distributed to each senior.
June 12 and July 14 are marked as tentative ceremony dates, though Principal Jeff Baughman said he's "not overly optimistic that those are going to happen."
The plan is to hold a small outdoor graduation for the 56 students and their parents only. Baughman said school leaders have a map and a plan for how to make sure everyone can practice social distancing.
"Our attitude has been, let's plan for all possibilities, let's plan for the worst and then hope for the best," he said.
Clinton 
On May 17, the original graduation date for Clinton High School, a video honoring all seniors will be posted on the district's social media accounts.
An in-person ceremony is scheduled for 7:30 p.m. June 28 at the football field.
"We are waiting to determine our format until we have a better idea of the executive orders for that time. We will do the least restrictive ceremony we can, but will comply with orders and health department suggestions," said Superintendent Curt Nettles.
Signs are being placed at the high school and around the community with pictures of each of 140 seniors. Their pictures also have been posted on the district's social media account along with answers to questions about their favorite things.
Expressing admiration for the seniors, Nettles said, "They have lost out on many fun and traditional things they've looked forward to for many years. However, they have learned how to be strong in the face of adversity, and that will serve them well as adults."
Pontiac
A "parade to stage" drive-up outdoor ceremony will take place at 2:30 p.m. May 17 at Pontiac Township High School, with May 24 as a rain date. Groups will be scheduled alphabetically and a photographer will be at the stage.
WJEZ 98.9 FM will broadcast live and play pre-recorded speeches. Pictures and recordings will be made available to families.
Seniors received yard signs and a slide show features the students' pictures and plans.
"We felt it was important to honor the Class of 2020 before some of the class departed for military service and other obligations later in the summer," said Superintendent Jon Kilgore. "We are, of course, disappointed for them missing many end-of-year activities yet we are very excited for a bright future for the Class of 2020."
Ridgeview 
Ridgeview, based in Colfax, wants to hold a traditional in-person graduation, with two dates available.
A video will be released for students on their original graduation date, May 17, and a traditional ceremony is planned for June 20. July 18 will be the back-up date.
Principal Brandon Burke expects some modifications to the typical ceremony, limiting the number of guests and moving it outside.
A school photographer is taking photos of each student in their cap and gown for the video, which will also include messages from teachers.
Senior Awards will be presented during the ceremony for the district's 35 seniors.
Lexington
Principal Jennifer McCoy said Lexington has not yet confirmed its graduation plans.
Contact Lenore Sobota at (309) 820-3240. Follow her on Twitter: @Pg_Sobota
Concerned about COVID-19?
Sign up now to get the most recent coronavirus headlines and other important local and national news sent to your email inbox daily.