BLOOMINGTON — Treasure Davis said her daughter, Tessa, struggled in school until she was handed a cello in third grade. Her introduction to music turned everything around, but a change in scheduling at the junior high may bring an abrupt end to her pursuit of music only a few years after it started.
"Music is my world ... but I also love school," said Tessa, who said many students will drop out of music.
"She's worked so hard. She shouldn't have to choose," said her mother.
She and other parents opposed to the change have adopted a mantra: "Music and … not music or."
To address various instructional issues, the district is adjusting the junior high schedule, lengthening some class periods and requiring all students to be in a first period program aimed at social-emotional learning. The first period was the time in which students took band, orchestra or chorus.
The change also means students who had been receiving extra education help or other services during that first period now will have the opportunity to take music, which will be offered later in the day with other electives.
"The choice we made is absolutely the right thing for kids," said Reilly, although he admitted, "We could have communicated better; no doubt about it."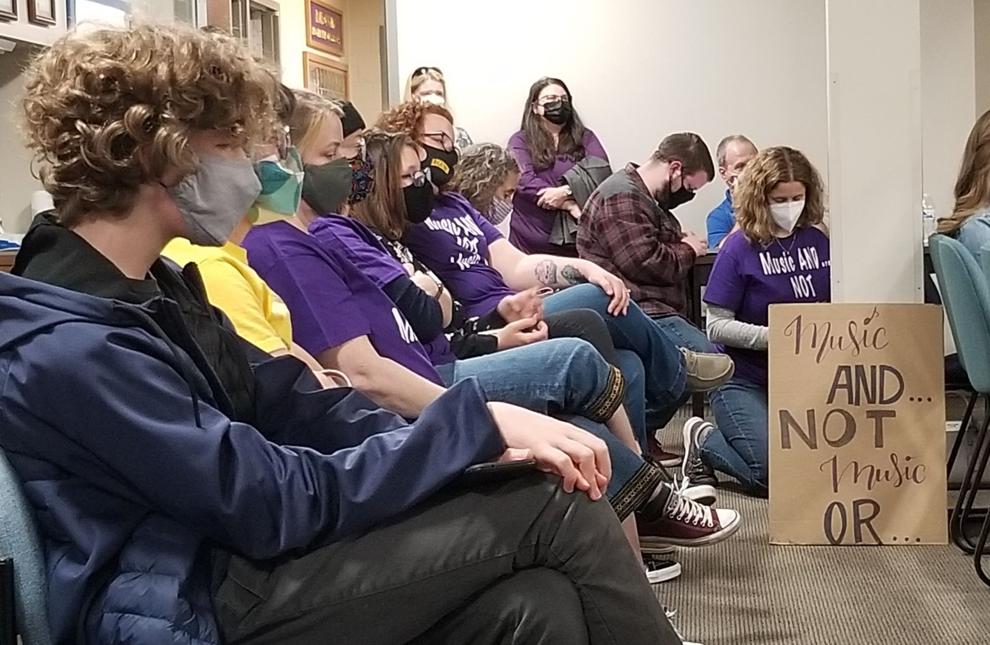 Lack of communication was among the complaints of parents who packed a school board meeting Wednesday night and spoke in a public comment session that lasted more than an hour. Many wore purple shirts with the words, "Music and … not music or."
"We filled out so many surveys for COVID this year, we would have been willing to fill out a survey for this," said Bernadette Brennan, the mother of a seventh-grader.
Several parents said music is a progression and if a student drops music one year, they are unlikely to pick it up later because they will be behind their peers.
"Why does my 11-year-old girl feel like she has to lock in her next three years?" asked Amy Rademacher.
Reilly said the schedule is set, but the parents' concerns are not falling on deaf ears. The district has created an option for students to take foreign language at 7:30 a.m. and is exploring other options, such as extracurricular, after-school clubs, he said.
Erin Furimsky, who has two children in District 87, said after-school clubs are not a substitute for a class.
Having all students meet together during first period will provide not only social-emotional learning but also career exploration, enrichment and community building, said Reilly.
Melanie Johnson, who has been a band parent for seven years, said, "Band is more than playing notes on a page. It is a community."
Reilly said, "For a number of years, District 87 has been and continues to be a huge supporter of music education."
School board member Elizabeth Fox Anvick said, "I think we're all change fatigued" but added that some of her concerns were eased by explanations from school administrators.
Contact Lenore Sobota at (309) 820-3240. Follow her on Twitter: @Pg_Sobota