DOWNS — While some schools will end the year without teenagers' biggest social event of the season, at Tri-Valley High School in Downs, junior Molly Forbes was thrilled to help plan a prom like no other.
"I'm just excited because it's a new experience for everybody. It's not just going to be my first time at prom — it's going to be everybody's first time at something like this," she said.
Tri-Valley's take on prom this year will be a three-part night of fun with all the best parts of a traditional prom — except the big dance. But some McLean County schools are hosting outdoor dances, while others canceled the event entirely.
Ben Derges, principal at Tri-Valley, said the staff was glad to be able to offer some celebrations this spring.
"It's exciting that we are to that point where we're now busy because we're planning opportunities instead of busy trying to find ways to avoid them," he said. "It's a good busy."
Krissy Vaux, a science teacher and prom sponsor at Tri-Valley, said when the planning started, they asked students what was most important to them.
"They were able to take ownership in it and it was something that they could get excited about and on board with. After all of the disappointments that they've had over the past year, it's something that they are truly excited about," she said.
Forbes noted she wanted "to keep it as traditional as possible and just allowing the students to have fun even if it's in a different way."
"They like to get dressed up; they like to go to a formal dinner; they like getting prom pictures; they like having after-prom prizes. They really just like being together and making memories," Vaux said.
The night will include a red-carpet entrance for students to show off their formal wear with their families acting as paparazzi; a catered formal dinner with teachers serving as the wait staff; an interactive murder mystery show; and an "after-prom-esque" session of pictures and prizes.
Forbes, who is on the planning committee for prom, said she's sure some students were disappointed they won't have a dance, but "I know that people are excited that they get to do something, because last year they weren't able to."
Tri-Valley was also one of the McLean County schools that managed to squeeze in a homecoming week of events this month.
"It is awkward with (homecoming and prom) being bunched up next to each other and doing things when we normally wouldn't do them, but we wanted to be able to give them — it may not be the experience they thought they were going to get, but we wanted to provide for them an experience that's theirs," Derges said.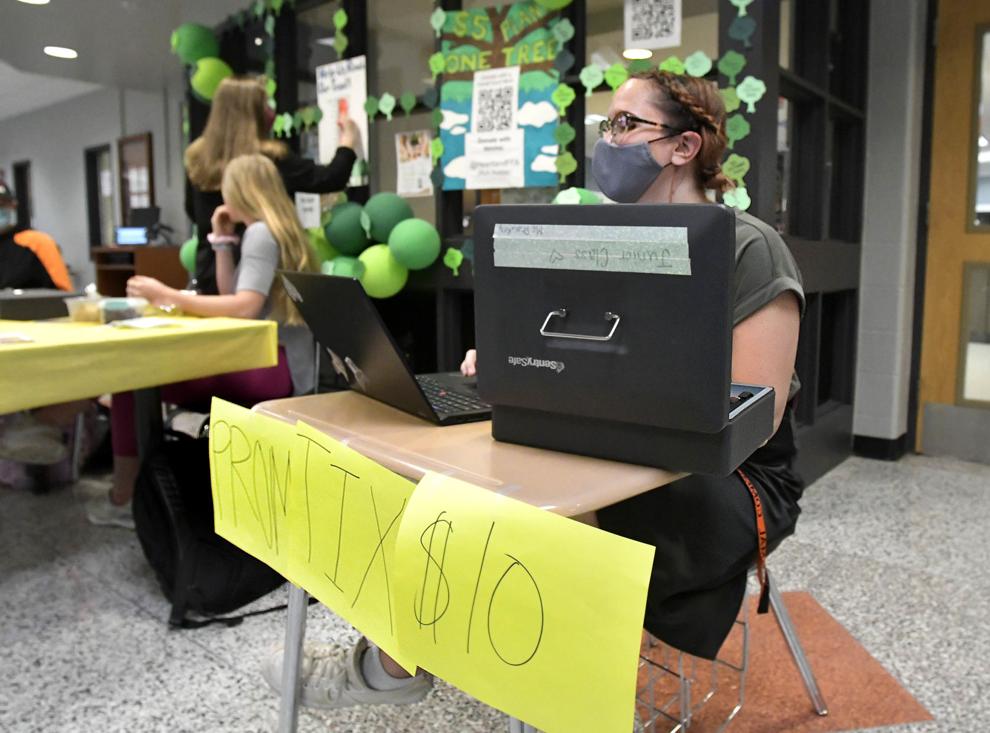 Classic with a twist
While they typically would be in a rented venue for prom, Heyworth's upperclassmen will dance the night away on the football field for the school's first-ever outdoor prom on May 8.
"We watched all of the mitigations change throughout the semester, so we've kind of been on eggshells to see if this is something that's even possible to do," said April Hicklin, principal at Heyworth. "But as things have continued to change and progress in the state, we have realized that this is a possibility."
A live-streamed "promenade" from the new athletic facility to the field will allow students' families to still be a part of the fun.
"Our promenade is pretty cool, like we have an announcer and they describe a little bit about each student and they show off their cute prom clothes," Hicklin said.
Since COVID restrictions like mask-wearing will still be in place, the principal said the students have had an unexpected addition to the usual prom excitement: matching formal wear to their face coverings.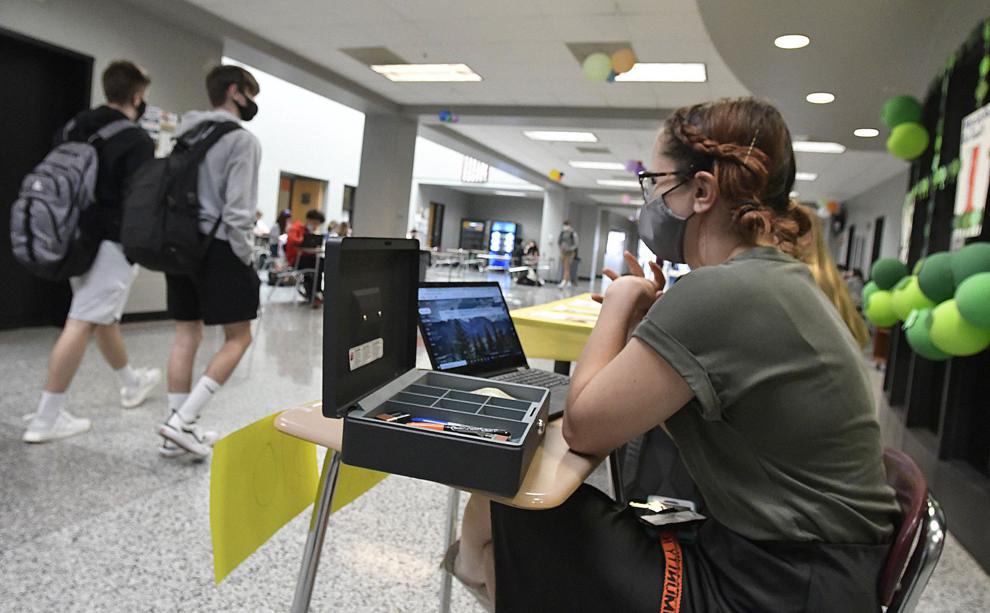 "Our kids are so resilient, and people have really learned to just make the best of any situation actually, which is probably one of the greatest lessons out of all of this," Hicklin said. "I think with all the challenges and struggles the kids have had this year — and not just the students and the teachers, but also their families and parents — we needed something wonderful to look forward to, something a little normal."
Normal Community and Normal West high schools will be also hosting outdoor proms on campus for the first time this year, held under multiple tents to accommodate their larger student populations, with no more than 50 students in each.
After the class of 2020 missed out on their senior proms, the Unit 5 principals said they wanted to try doing something this year, even if it's not perfect.
"It'll look different and it'll be something that I would imagine people will remember," said Trevor Chapman, principal at Normal Community. "I think our students would probably remember this for a long time to come."
Normal Community finished selling prom tickets this week ahead of the April 24 dance. Normal West will hold prom on May 15, with ticket sales expected to begin closer to that date.
Olympia High School will not have an after-prom event, but it is planning a prom from 7:30 to 10:30 p.m. April 24 at the Mackinaw Valley Pavilion, an outdoor venue.
The school said the prom committee is "coming up with fun dances and games," and Absolute Light and Sound DJ will be there.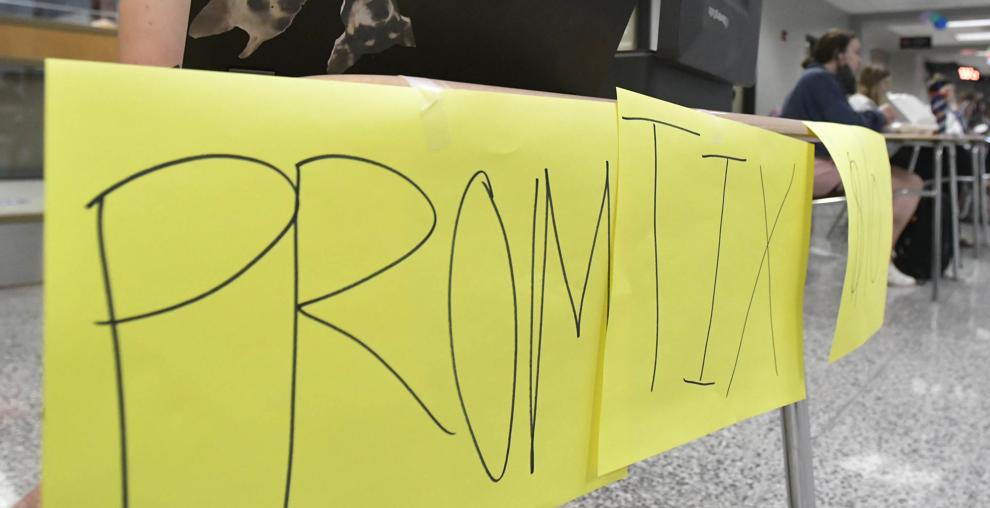 A spring without prom
Schools that opted out of a prom entirely cited COVID restrictions.
Bloomington High School Principal Tim Moore said one of the reasons for finishing the year without a prom is that Illinois State University "typically hosts our dance and their facility is not available."
The second reason is the guideline requiring social distancing of 6 feet.
"How do you have a dance and keep social distance?" asked Moore.
No alternative to a prom is planned at this time, but "Hypothetically, if social distancing goes away — and I don't think it will — we might do something for seniors only," he said.
Sean Foster, principal at Central Catholic, said the school will not be hosting a prom because of the capacity restrictions in place, but several homecoming events will take place next week.
He said he was glad the staff was able to figure out how to have those events with social distancing in place, and the students are excited.
"We've tried this entire year to offer as many opportunities for students as possible," he said. "As the year has progressed and restrictions updated, we've continued to re-evaluate what we can do to provide all students, specifically seniors, as many events as possible."
---
Recognize anyone? Photos of the first day of school from The Pantagraph archives
Contact Kelsey Watznauer at (309) 820-3254. Follow her on Twitter: @kwatznauer.