BLOOMINGTON — High school students in Bloomington-Normal and across Illinois will soon be asked to start early when making the choices that will take them beyond graduation.
According to the Illinois State Board of Education (ISBE), the state has the goal of 90 percent or more of students graduating from high school ready for college and a career by 2032.
In McLean County Unit 5, new college and career counselors have a similar goal.
"The biggest part of my job, the outcome would be every student who graduates has a post-high school plan," said Karrin Hawkins, post-high school counselor at Normal Community High School. "What's going to work best for you — not what your parents want for you, but what is best for you."
Hawkins identified five options to plan for after high school: straight to the work force; certificate program or apprenticeship; two- or four-year college; military; and a gap year.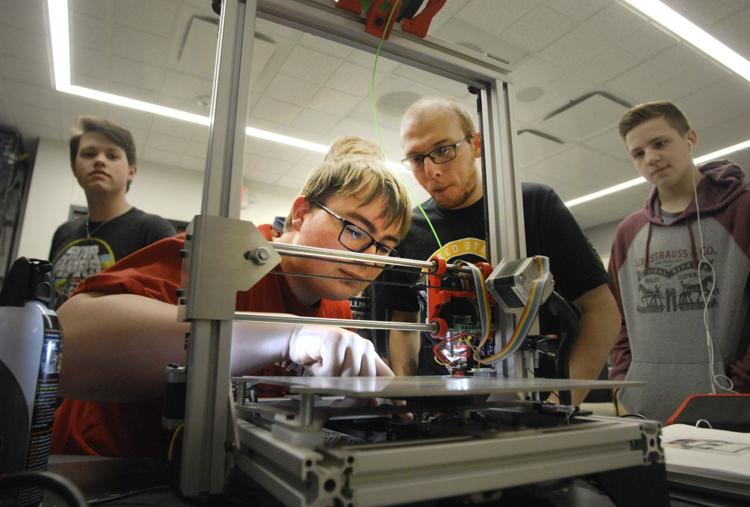 She and Corey Ostling of Normal Community West High School took their new positions at the start of the school year and have expanded the opportunities available to students.
In Bloomington High School, Stacie Gardner has taken on a similar role in addition to general counselor duties, working directly with the senior class to ensure they have a post-graduation plan. Several local districts, including Unit 5 and Bloomington District 87, have taken a new focus on college and career preparation to work to bring the high schools in line with the state's goals.
Those goals include using an ISBE accountability system with a college and career readiness indicator and implementing PaCE, postsecondary and career expectations.
PaCE involves developing individualized learning plans to help students choose career paths and introduce them to their options as early as eighth grade. With the help of interest inventories and career aptitude style tests, students will have at least a rough idea of their path by the end of middle school.
"Our hope is by the time a student gets to high school, we're going to tweak their curriculum and we're going to offer certain pathways for our students to sign up and really what that will do then is map out their four-year plan," Hawkins said.
The opportunities intended to help students progress through high school include internships, job shadowing, a work program, Advanced Placement and dual-credit courses and specialized courses in the high schools and at the Bloomington Area Career Center (BACC).
BHS also implemented an advisory period during homeroom as a trial this year so counselors can check in and see how students are progressing in the college application process and in figuring out their path, Gardner said.
Students in the Twin City area also have the opportunity to meet representatives from colleges, including community colleges and cosmetology schools, and local military recruiters.
Industry professionals and trades workers also join College and Career Night at Bloomington High School and visit the BACC to speak to students.
BACC students also take career-focused field trips to various workplaces and learn from non-traditional teachers who work in the field.
You have free articles remaining.
"We focus on career exploration," said BACC director Tom Frazier. "We focus on obtaining some skills, so kids are learning skills here and practicing skills ... as well as learning what is the best route for that student."
Hawkins and Frazier both mentioned a benefit to introducing students to career options and allowing them to explore them early is giving their schoolwork more purpose and providing a clearer image of the career.
"We've had kids that come in here with an idealism of what a position or what a career or what some of those skills are like, and they find out they don't like it," Frazier said. "I still see that as a win for the kid, the family, because then they don't spend time and resources after high school pursuing it and figure out two years later, after they've invested maybe money and college."
The BACC consistently expands its offerings that include automotive technology, culinary skills, cosmetology, paramedic training and other areas that might not be possible for the local high schools based on funding or interest.
"It's complementing ... the good courses that the local high schools are offering, including the elective courses," Frazier said. "It's just giving schools a bigger option and students a bigger option on different courses they can take."
Students from about 15 high schools, including private schools and home schools, come from within a 20-30 mile radius to attend BACC classes.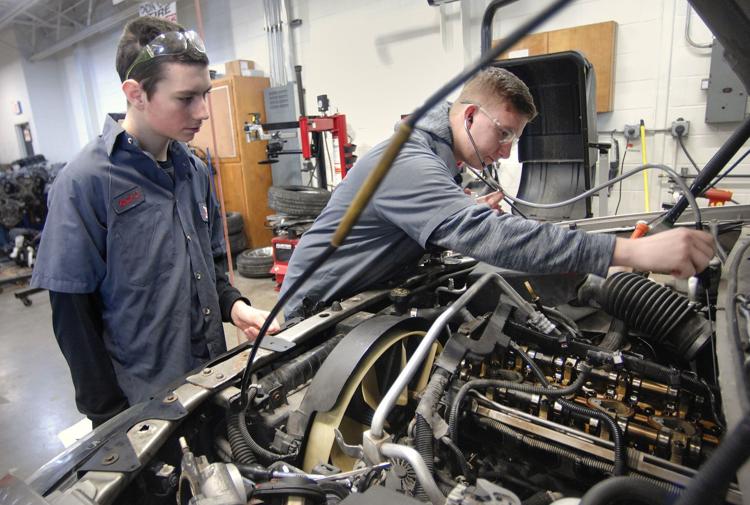 Frazier said the career center has stepped away from the "old vocational school image" from the '70s and '80s that assumed those students were not going to college.
In most years, "Over 65 percent indicate they're going to college or some post-secondary training," he said.
At NCHS, counselors and teachers will use the college and career indicators to help students find options even if pursuing higher education isn't on the table.
"There's been a trend or shift in the state, but also nationally to get better recognition of the jobs available in the skilled trades," Frazier said. "I've seen statistics as high as 75 percent of future jobs won't require a four-year degree."
Health science, including medical terminology and nurse assistant certification, is one of the most popular areas of study at the career center and will join agriculture and information technology as the first career areas Unit 5 high schools bring into the PaCE plan.
"Can they change their mind? Absolutely," Hawkins said. "This is what we're going to get from parents: don't box my kid in."
And that isn't the intention. Just like a college student changing majors, the career pathways are still open to let students explore different areas.
Although a student's schedule fills quickly with core classes, the new options and pathways should fit among the electives, especially for upperclassmen.
"You've got to be creative, but we can make it work," Hawkins said.