BLOOMINGTON — Maggie Kreuzer said she's "the perfect age" to illustrate the value of the HPV vaccine, now approved for women and men ages 27 to 45.
"I'm in that age gap that didn't receive the vaccine as a child," Kreuzer, 32, of Shirley, said of the human papillomavirus vaccine that reduces the risk of cervical cancer in women and several other cancers in women and men.
But people like Kreuzer, who were that age before the recommendation, never got vaccinated.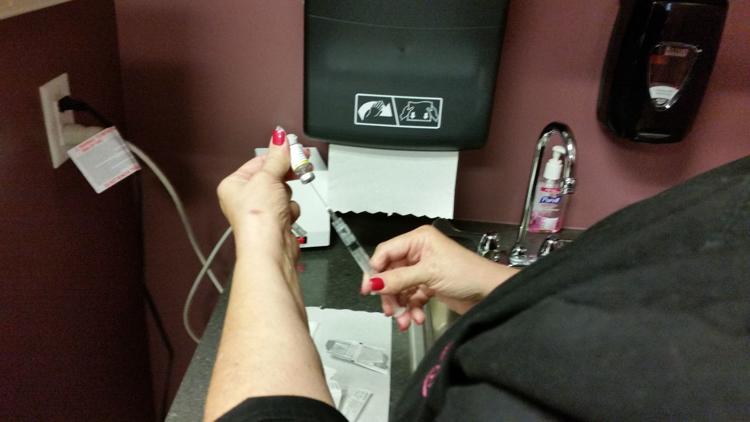 And that's why Kreuzer got vaccinated by nurse Geri Miller at Obstetrics and Gynecology Care Associates in Bloomington earlier this week and why several Central Illinois health care professionals applaud the expansion.
"I would absolutely recommend it without hesitation," said Jean-Marie Tyner, nurse practitioner with Advocate Medical Group in Lexington.
"This is a great tool to limit the risk of cancers in men and women," said Dr. Richard Ginnetti, medical director for primary care for OSF HealthCare's Eastern Region.
"This protects against the (nine) most common strains of HPV," said Kreuzer, also a medical assistant at the obstetrics and gynecology practice. "HPV causes cancer and that's why we care so much."
"This is a cancer-prevention vaccine," added Carol Carlton, Macon County Health Department director of clinical nursing services. "This is very valuable for males and females."
"There are many different strains of the virus," Tyner said.
Most people with HPV have no symptoms. But HPV causes 13,000 cases of cervical cancer in women in the United States each year, according to the American Cancer Society, as well as vaginal, vulva, anal, penile and throat cancers and genital warts. The vaccine reduces the risk.
"Most people think only women need it, but men and women need it because HPV causes cancer in men and women," Kreuzer said. "There has been a decrease in cervical cancer and in pre-cancerous cells in women who have received the vaccine."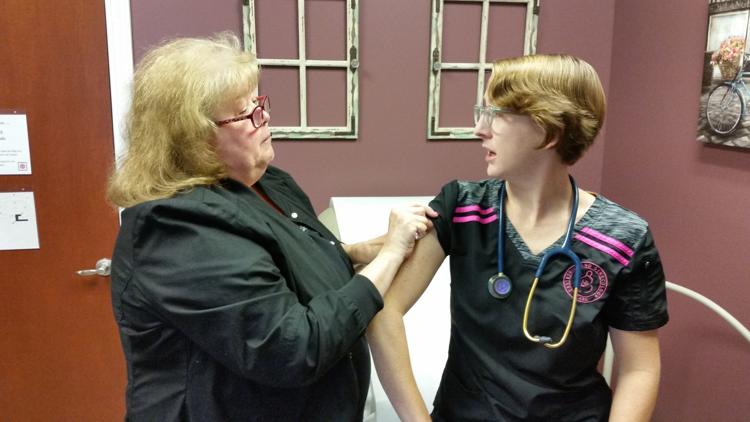 "Since the introduction of the vaccine, I have seen a dramatic decrease in high-grade (cervical cancer screening) Pap smears, which tend to progress to cancer, and in genital warts" and in procedures needed to treat those conditions, Santiago said. "It's really impressive."
Because HPV is spread by sexual contact, some parents are reluctant to have their 11- and 12-year-olds vaccinated before they are sexually active.
"But the earlier you get vaccinated, the more it can prevent cancer," Kreuzer said.
"It (getting vaccinated) does not promote promiscuity," Santiago said.
"The (medical) literature shows there is no evidence of that," added Tyner. "The vaccine doesn't have any morality attached to it. It's cancer prevention."
When some people aren't vaccinated as children, they don't get vaccinated as adults, even after they become sexually active. But the vaccine offers protection even after sexual activity begins because adults may be exposed to strains of HPV that they weren't exposed to when they were younger, medical professionals agree.
That's why FDA has approved the vaccine for 27-to-45-year-olds.
The Advisory Committee on Immunization Practices is expected to follow suit in February and expand its recommendation for people ages 9 through 45. After the ACIP acts, health insurers should begin to cover the vaccine for 27- to-45-year-olds, said medical professionals.
Most insurers already cover it to age 26.
Insurance coverage is important because the vaccine, which is a three-shot series over six months for people 15 and older and a two-shot series for youth ages 9 to 14 over six to 12 months, costs $200 to $300 per dose. 
"Working in an OB/GYN office, I see patients with pre-cancerous cells and cervical cancer on a daily basis," Kreuzer said.
"It's devastating to give women that news," Santiago said.
"This is an effective vaccine to prevent that," Kreuzer said. "I was excited they expanded the age range so I could be protected."
"Eighty-eight percent (of eligible youth) get the first dose," Carlton said. "Thirty-two percent of eligible female patients and 27 percent of eligible male patients complete the recommended series.
"We're working on strategies to increase that," Carlton said. "But they do get some protection with one shot."
Tyner said, "If time lapses, you don't need to start the series all over again. You just need to get the last one and you can finish it at any time."
Medical professionals recommended that women and men ask their doctors about the vaccine for themselves and their children. For patients ages 27 to 45, some medical professionals are taking names of interested patients and will call them back when insurers cover the vaccine.
"We have a vaccine that reduces our risk for cancer," Tyner said. "Why would you not line up for that?"