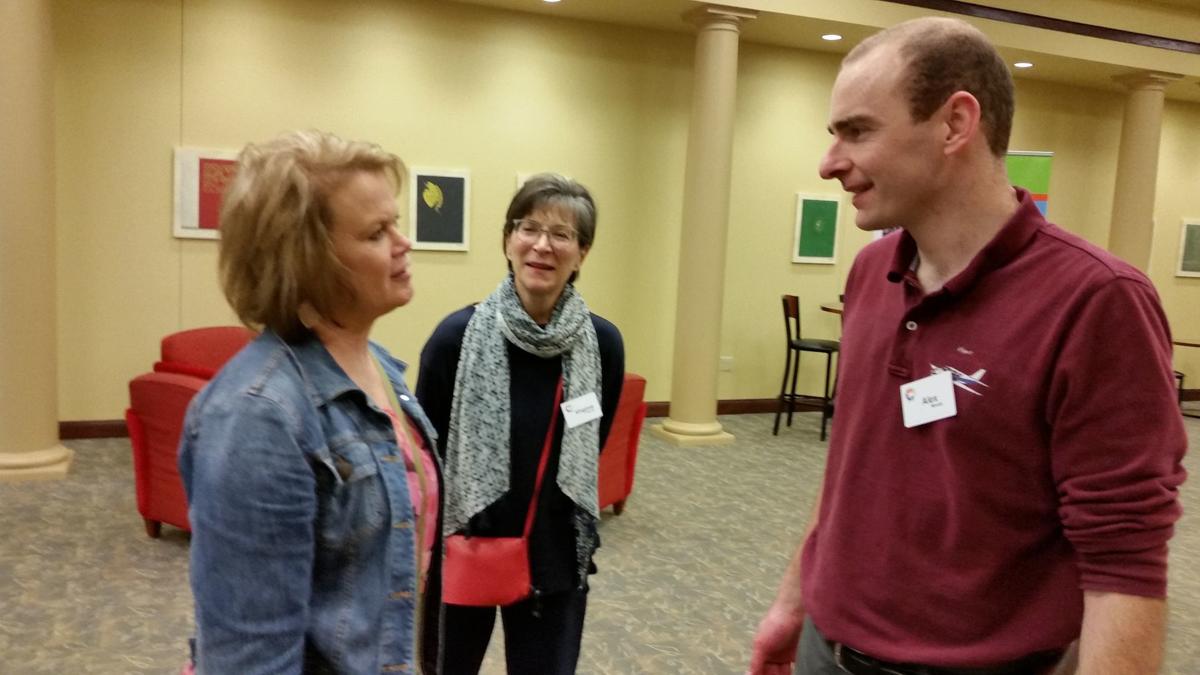 NORMAL — Parents of people with autism took a deep dive Tuesday night into their biggest fear.
"The biggest fear we have is, when we are incapacitated or dead, will someone care for our adult children or will they end up in an institution in Marion?" said Virginia Moody of Normal, whose son, Alex, 32, has autism spectrum disorder and lives with her.
"Parents worry that something horrible will happen: Will someone take advantage of them, will they lose their job, will they lose their family connections, will they lose their money?" Moody continued.
"My hope is that we can get a dialogue going with families who have similar questions and interests so we can determine a path," Moody said.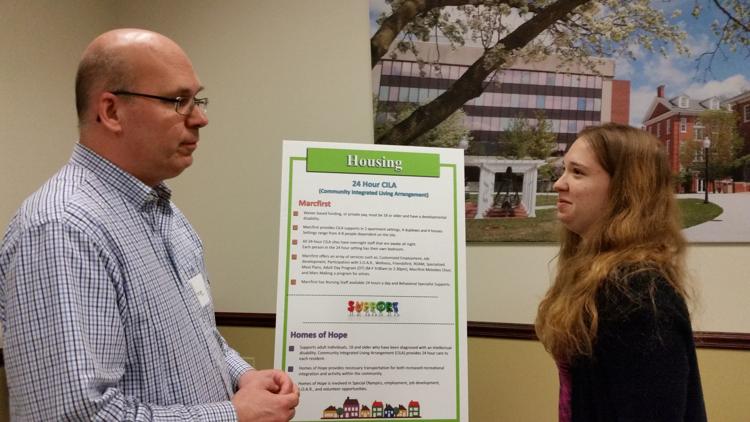 While no one knows how many people in McLean County have autism, Autism McLean estimates about 3,000. Many of them live with their parents but, as parents are aging, they are exploring future housing options.
Autism is a range of conditions characterized by challenges with social skills, repetitive behaviors and communication. People with autism have diverse abilities and needs; some can live independently and others need various levels of support.
The thrust of Tuesday night's meeting was existing housing availability.
Jennifer Mayer, congregate housing services provider service coordinator with the Bloomington Housing Authority (BHA), said BHA provides housing and services for 25 adults with disabilities at the Irvin Apartment Buildings. She said participants must be semi-independent, and many of them have jobs but they are supported by services, including meals, personal assistance, housekeeping, transportation and case management.
You have free articles remaining.
Marcfirst — which provides housing, community integration, training and employment services for people with disabilities — has two apartments, four duplexes and four homes with staff support, socialization activities and wellness programs, said CEO Laura Furlong and Becky Brennan, vice president of residential and quality assurance.
Homes of Hope has five group homes for people with intellectual disabilities and also provides a number of programs and activities, said Executive Director Maureen Wyhs.
Community Development Block Grants, which fund projects for low- and moderate-income people, may be used for housing-related activities, said Jennifer Toney, city of Bloomington grants coordinator, and Taylor Long, town of Normal associate planner. Using that money for construction of group homes for developmentally disabled individuals is possible, provided the funding is available and there is a demonstrated need, they said.
Alex and Virginia Moody told The Pantagraph before the meeting that Alex doesn't drive, that spontaneous problem-solving and communication can be a challenge and he can't master money management.
But he works at Country Financial through the Marcfirst-supported employment program. "I mail bills and enter information on the computer," he said.
"I'm able to take care of myself," Alex said. "I cook my own food, I take care of my cats' needs and I do my own laundry."
"I would like a lot of people on the autism spectrum and their families to live in a community," Virginia Moody said. "Maybe it's an electronic community."
"I'd like to have a place that would allow pets but I would need transportation and help to make sure my bills are paid properly," Alex said.
Among others at the meeting were Vance Laine of Normal and his daughter, Lauren. Vance Laine has 17-year-old twin sons, Alexander and Jesse, with autism.
"They will need supportive housing as adults," Laine said. "We hope that will be in McLean County."
The next meeting will be 6 to 8 p.m. May 21 at the Normal Public Library community room.
Contact Paul Swiech at (309) 820-3275. Follow him on Twitter: @pg_swiech