BLOOMINGTON — A 50-year-old woman who transformed herself into a world-class powerlifter in less than four years.
A DUI crash survivor who forgave the drunken driver even as the survivor lives with pain and hope.
A melanoma survivor who lives to tell others about the dangers of the disease and power of prayer.
The health journeys of dozens of Central Illinoisans have been shared with Pantagraph readers throughout 2018. Three of those people updated us on their stories.
To Russia with Lynette
In powerlifting, everyone speaks the same language.
That was Lynette Ritchie's primary lesson when she competed earlier this month in the IPL (International Powerlifting League) World Powerlifting Championships in Saint Petersburg, Russia.
"The people were intense, focused and driven," Ritchie said last week. "They were very professional. It was a privilege and a blessing to compete with them."
"To be 54 and doing this is exhilarating," she said.
Ritchie, of Normal, a career woman, wife and mother, has transformed herself from an overweight 50-year-old who didn't take exercise seriously into a world-class powerlifter who has eight world IPL records.
At the championships, she placed first as a super heavyweight in the open category and masters category for women ages 50 to 54.
But, Ritchie said, "I was disappointed because I've had bigger numbers."
Ritchie, who is 6 feet tall and weighs 255 pounds, squatted 407 pounds, bench-pressed 231 pounds and deadlifted 440 pounds. Her personal bests in the gym are 455 pounds for squat, 240 pounds for bench and 475 pounds for dead lift.
"I was never disappointed," said her trainer and nutrition coach Zac Turner, who accompanied her to the championships.
"It was unchartered waters, 5,000 miles from home and we didn't speak the language," Turner explained.
Ritchie was eating different food and competing in a different time zone where the meet was run slightly differently than meets in the United States.
"All these little things make a difference when you're moving the most weight possible," Turner said.
But Ritchie was touched by "the kindness of the people. They were willing to help."
She also was motivated by competing with 300 of the top powerlifters in the world. They were quietly intense, focused, professional and respectful, she said. 
"It made you want to raise your own standards," Turner said. "Everyone was technically sound, very disciplined. Everyone speaks the same language of the activity."
Ritchie was among three American women competing.
"You know you are representing women, my family, my gym, my coach, my country," Ritchie said. "You want to represent. You want to show what's possible."
Ritchie will compete next in the Arnold Fitness Expo, Feb. 28 to March 3 in Columbus, Ohio. She qualified in August when she competed in a meet and lifted 1,118 pounds in the three lifts.
"I want people to see that age is just a number and that women are strong," she said.
Giving validity to the pain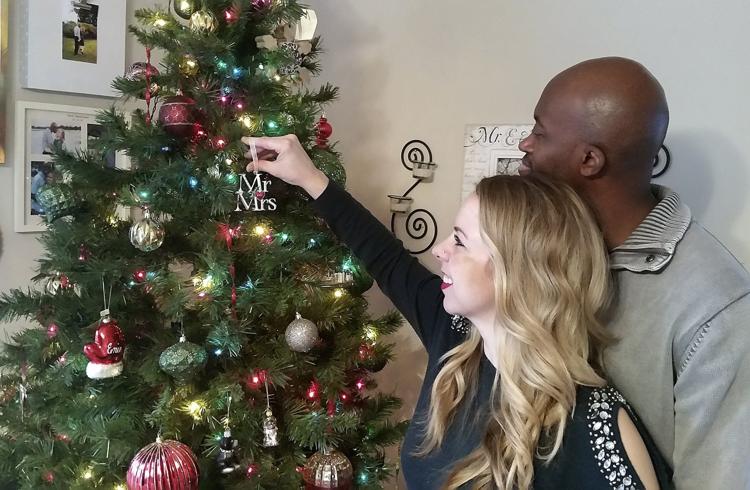 Erin Rollins believes her story is as important to share as it is difficult to tell.
"I feel it's my purpose to share," Rollins said last week in the Bloomington home that she shares with her husband, Dennis. "It gives validity to the pain."
Rollins, 33, was introduced to Pantagraph readers on Sept. 2. She is the woman who looked across a Chicago courtroom on Oct. 18, 2016, and  forgave the woman who was driving drunk and in the wrong direction on Interstate 55 in Chicago when she slammed head-on into the car being driven by Rollins, then Erin Massey.
What followed that Nov. 9, 2014, near-fatal crash has been years of pain, injuries, surgeries and rehabilitation. But Rollins saw a young woman in need of forgiveness and she forgave the woman because that's what her faith called her to do and because Rollins needed to move on with her life.
But her story didn't end with forgiveness.
She continues to deal with pain, she walks "abnormally" because she doesn't have full range of motion of her feet, she has recovered only about 50 percent of sensation in her lower body and relieves herself through an opening in her abdomen into a pouch. The freelance journalist can't work full time and faces more surgeries.
But, on the night of the crash, she wasn't expected to survive and, even after her first surgery, doctors didn't know whether she'd be able to walk again.
Five days after she forgave the other driver, Massey married Dennis Rollins and they moved to Bloomington, where he is outreach executive for the W.D. Boyce Council of Boy Scouts of America.
"People who haven't seen me in awhile say my walking is improving," she said. She prays that improvement continues.
"This will be first year (since the crash) that I didn't need surgery for something unexpected," she said. While that may sound like good news, she was hoping that her ostomy would be reversed by now.
Several rounds of antibiotics since the crash have made her susceptible to urinary tract infections. "I have become allergic to what feels like everything," she said.
Side effects include extreme fatigue, bloating, congestion and itchy and watery eyes, said Rollins, who is working with a holistic nutritionist. She also struggles with migraines.
"The crash is going to affect me for the rest of my life," Rollins said. "But I believe recovery is possible. It'll take time and diligence but there is hope."
A film crew following Rollins for the past few years hopes to raise $15,000 to finish the film. Rollins doesn't have the money because the insurance settlement that she won covered only about 10 percent of her medical expenses because the other driver carried minimum insurance and had no assets. She has $700,000 in medical liens against her.
Rollins hopes to become a holistic nutritionist, a Paralympic athlete and a motivational speaker.
"My story," she said, "is about the power of prayer, the power of forgiveness, the strength of the human spirit and resolving to never give up."
Living to testify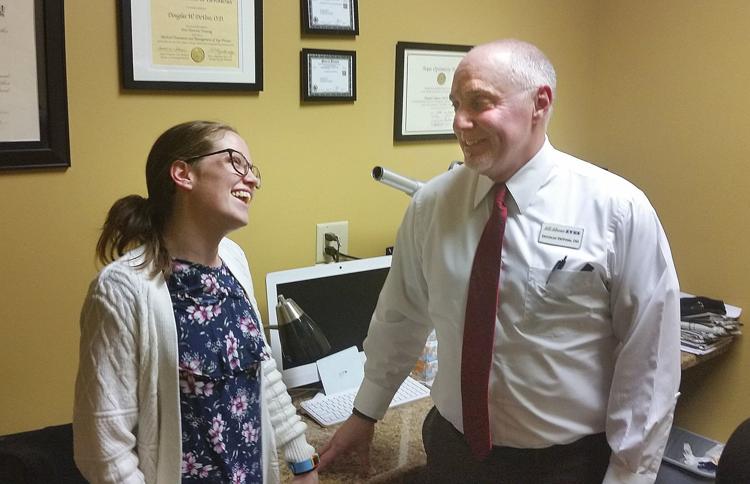 Dr. Doug DeVore was suffering through another painful bout of bloody diarrhea in April 2017 when he asked God to let him live so he could tell his patients about skin cancer. He didn't want anyone else to go through what he was suffering.
DeVore had Crohn's disease believed to be induced by the immunotherapy he had undergone to treat melanoma, the deadliest form of skin cancer.
Less than two years and numerous treatments and prayers later, his pain has subsided as has his Crohn's and he has no new signs of cancer.
"That doesn't mean it'll stop forever," DeVore said. He knows he has stage IV metastatic cancer.
Still, he thinks there is more at work here than successful medical treatments.
"This is going to be a miracle," he said.
DeVore, 61, an optometrist at All About Eyes in Bloomington, and a fitness enthusiast, spent a lot of time outdoors and was diagnosed with melanoma in October 2016. Immunotherapy resulted in the gastrointestinal symptoms, which were treated with medicine and a special diet.
DeVore had scans in May, July and November. All showed no new signs of cancer.
"I feel great," he said. "It's giving me a chance to give back."
DeVore talks with some of his patients about getting their skin checked and sun safety. As a result, several people have had suspicious moles checked and one person was diagnosed with melanoma and successfully treated.
"I know there's a chance of the cancer spreading again but there is no time frame," he said. "For it to stop all of a sudden is pretty miraculous. I am grateful."