BLOOMINGTON — Five Bloomington-area girls are the inaugural members of Troop 9903 — the first all-girl group to join the W.D. Boyce Council of the Boys Scouts of America.
The Cub Scouts welcomed girls last year, and in the first six months more than 80,000 girls joined the program.
"We knew that there absolutely was an appetite and we were pleased just to be inclusive enough to allow everyone in the entire family to participate in the scouting program," said Lee Shaw Jr., CEO and scout executive of the council.
Within a week of the announcement, Troop 9903 had its first unofficial meeting.
"It's unbelievable," said Jo Schmidt Litwiller, scout leader of Troop 9903. "As Boys Scouts of America announced that they were going to allow girls into scouting, we hugged and cried because we were really excited."
Her daughter Megan had tried the Girls Scouts, but she found it wasn't the right fit for her and she felt left out since the whole family was involved with the Boy Scouts, Litwiller said.
Shaw said he doesn't see this movement of inclusivity as competing with the Girls Scouts, but as another opportunity for girls.
"I just think the ability to have options is always a good thing," he said. "I would certainly encourage young people to get involved in various activities with various organizations and just see what fits them."
Litwiller said Scouts BSA is structured differently from the Girls Scout, in addition to other differences between the programs that might make one a better fit than the other depending on the child.
The five girls who make up Troop 9903 are ages 12 to 14 and all have brothers who are currently or were previously members of the Boys Scouts. Their troop will be linked to the local boys troop, No. 3, which is celebrating its 100th anniversary this year.
Scouts BSA troops will not be co-ed so boys and girls will be in their own troops.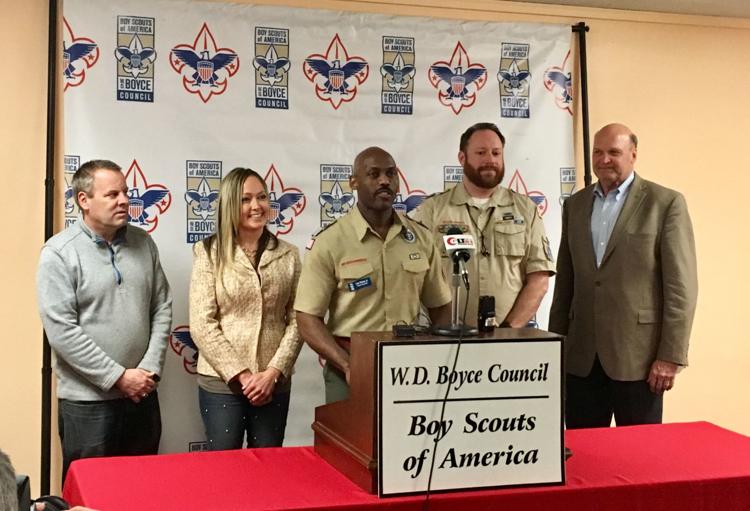 "We really believe that in terms of how girls and how boys learn can be different and we do know that there are advantages to gender education and leadership and development," Shaw said.
Karen Espinosa, 12, and Chloe Hitch, 14, said they're excited for the first camp-out this weekend after seeing the rest of their family involved with the scouts over the years.
"Once I started seeing my brother do all this fun stuff and everything, I decided to join this troop to see if I could do all that stuff, too," Espinosa said.
Both girls said the Scouts BSA offered them more outdoor experiences than they could get with the Girls Scouts.
Since expanding Scouts BSA nationally, more than 1,200 girl troops have been added and a second girl troop just joined the W.D. Boyce Council in Canton on Sunday.