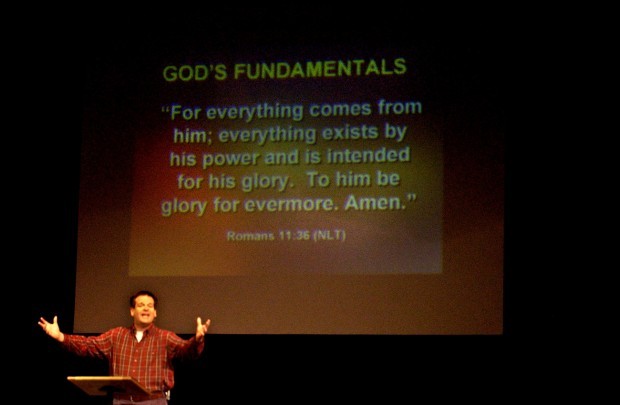 Is this called 'forepray'?: You can find sex about anywhere any more, from the movies, to prime-time TV, to even the magazines lining the checkout at Jewel.
But rarely do you expect a big banner along Linden in Normal -- complete with a picture of four rather naked, exhausted-looking feet dangling out of a bed sheet -- that shouts "PURE SEX" ...
... and it's promoting church!
"We've been laughing as a staff that we may have to add on to our nursery to handle the new babies in nine months," says Roger Pryor, lead pastor at Heartland Community Church, where February has just concluded as "Great Sex Month" and featured a series of highly visible, much-noticed ("I was hoping no one was going to drive off the road after seeing their sign," muses a neighbor) programs on, yup, that one life act that mankind never seems to tire of but remains rather shy to openly chat about.
"For churches, sex is an elephant in the room," says Pryor. "It's a subject no one wants to talk about. But I figure if God created it, he must be pro-sex - in the right way, with the right person. So let's talk about it. ... "
Upshot? Attendance saw "a nice boost" ... at Heartland, says Pryor, and "the positive comments were huge."
"We did get a few e-mails and calls expressing negative views," he says. "Several comments came from 'traditional' religious people who felt it is inappropriate to talk about sex at church or how wrong it is to use sex as a 'ploy' to get people to attend. But I'm sad they miss what I think church should be all about -- a place for imperfect people to come and connect with God ... about life issues, like sex."
"If you need a copy of the owner's manual on sex, let me know. We give away hundreds every year ... for free."
He's referring to the Bible, of course.
He's doing great ... until he gets home: Illinois State University's women's basketball team is 22-5, which is very good.
And in the home of Randy Norton, ISU's associate head coach, it's downright awful.
A son, Nick, played on the Epiphany Grade School team in Normal.
It won state and went 25-1.
Two of Norton's daughters, Allie and Carly, played on Central Catholic High School's team.
It won state and went 32-1.
Randy Norton's possible reprieve?
ISU simply needs to win the NCAA tournament for him to become king of the house again.
OK, maybe just the Valley Tournament. ...
As mulled by Howard Heatherwick, of Danvers:
"Considering all the news about their sticking gas pedals, is it just a little ironic that the commercial for the Toyota Tundra is 'It can't be stopped'?"
Just like a good neighbor ...: State Farm agents are generally thought of as rather conservative, "button-down" folk.
But a new age may be coming.
A nice pair of genes: So when Helen Burroughs of El Paso hit 100 back in December, it was a big day. And now one of her nieces, Imogene Sherman, formerly of Eureka, now of Minonk, hits 100 this week.
This is all after one of Helen's sisters already hit 101.
"I guess you'd say it's safe for us to buy the green bananas," chuckles Kay Harbaugh, Helen's daughter.
Sometimes even the street names are appropriate: Other morning, Bloomington Police got a report from an east-side resident who said he'd heard shots being fired on ... of all places ... Winchester Drive.
It was accurate, too. Turns out it was airport maintenance guys trying to scare away birds.