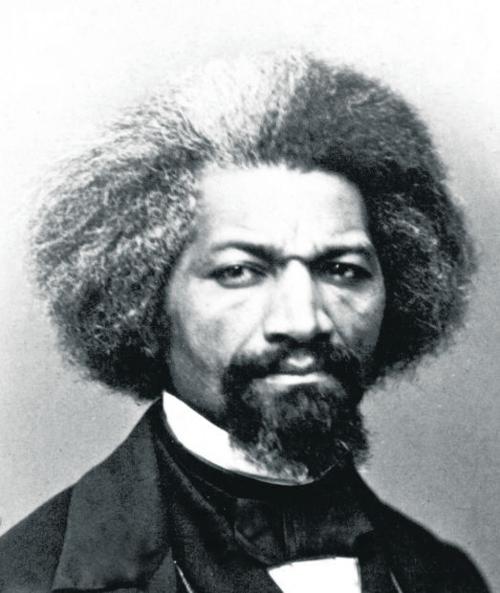 Frederick Douglass, the former slave turned abolitionist and champion of the disenfranchised, lectured in Bloomington no less than four times in the years before and after the Civil War.
Born about 1818 (as a slave, his birthday — let alone birth year — were unknown), Douglass escaped to freedom around the age of 20. His autobiography, "Narrative of the Life of Frederick Douglass, an American Slave," remains one of the enduring works of American letters. And as a newspaper editor, orator, social reformer and statesmen, he is generally regarded as one of the more influential Americans of the 19th century.
Douglass' first known appearance in Bloomington was on March 1, 1859, at Phoenix Hall on the Courthouse Square.
His visit sparked a row between competing Bloomington newspapers — The Pantagraph, a Republican Party organ that opposed the further expansion of slavery, and The Illinois Statesmen, a Democratic weekly that held far friendlier opinions on the "peculiar institution."
The Statesmen often warned its readers that "Black Republicanism" (that is, opposition to slavery and/or support for certain African-American rights) would eventually lead to the horrors of integrated schools and mixed-race marriages. In the case of Douglass' visit, The Statesmen craftily (even hypocritically) turned its own argument on its head, taking perverse joy by claiming local Republicans — now somehow described as closeted racists — ignored Douglass because he was black, and by doing so unwittingly demonstrated the folly of racial equality!
"Does not this treatment of 'Fred,' on your part, give the lie to all your profession about 'equality of the races' … and that you really care as little about the inferior races as any other class of people?" asked The Statesmen of local Republicans. For its part, The Statesmen remained committed to its view that African Americans "are not, and ought not to be citizens of this country, enjoying equal privileges with the white race."
Such was the political and social environment Douglass encountered — in the North!
You have free articles remaining.
The Pantagraph dismissed its competitor's crude race baiting, noting that Douglass delivered an "able and eloquent lecture on slavery" to a "large audience, of all shades of political opinion."
Yet truth be told, many Republicans (especially those interested in downplaying the radicalism of their anti-slavery party) were hesitant of appearing too chummy with an African-American abolitionist for fear of alienating white moderate voters.
Douglass was back in Bloomington on April 5, 1866, this during the tumultuous early Reconstruction era when President Andrew Johnson, who disdained the idea of African-American equality, clashed with radical Republicans in Congress, whose leaders called for civil and political rights for freed people.
Escorting Douglass onto the Bloomington stage that evening were representatives from the local African-American community, including the Rev. R. Allen from the African-Methodist-Episcopal (AME) Church, Samuel Witherspoon and Richard Blue. "His eloquent address on the assassination and Reconstruction, and his well-timed denunciations of A. Johnson, met the hearty approval of the large audience," noted The Pantagraph of Douglass.
Less than two years later, March 4, 1868, Douglass returned to Bloomington, this time speaking at Schroder's Opera House on the topic "Self-Made Men."
"He made some fine points, and displayed at times not only gleams of native and sarcastic wit, but rose at intervals to eloquence," remarked The Pantagraph. Not everyone was so kind. When Douglass talked of "lazy rebels in New Orleans" he was greeted by a hiss from someone in the audience. "Whether proceeding from a sibilant unreconstructed rebel, whom the imputation of native sloth hit, or not, could not be ascertained, though there were not a few who desired to identify the individual," commented The Pantagraph.
From all available evidence, Douglass' last appearance in Bloomington was on Jan. 9, 1873. "Although the evening was bitter cold," The Pantagraph reported, "the hall was filled with people, quite a number of whom were Negroes, who always embrace an opportunity of listening to their gifted champion."
According to local press accounts, Douglass' lecture on "San Domingo" (now known as the Dominican Republic) was a rather uninspired affair. The Pantagraph observed that the audience was more interested in Douglass than his lecture — covering as it did the "unimportant matter" of San Domingo and the debate over its annexation (of which he was a strong supporter).
Douglass was said to lack "his usual vigor" that evening, choosing to "rather tamely and laboriously" read from his prepared remarks. Yet with a few fleeting discursions he returned to form. "On one or two occasions," noted a local reporter, "he left for a moment his manuscript, and then flashed forth the old eloquence and spirit that has rendered the name of Frederick Douglass famous, and placed him among the most gifted of American orators."