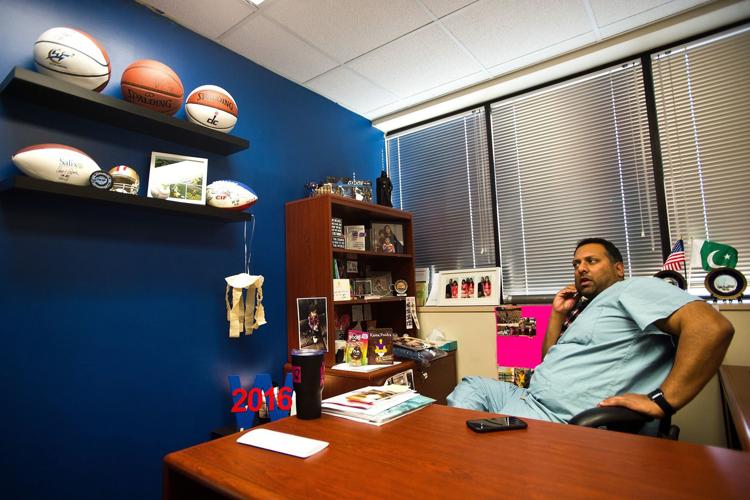 BLOOMINGTON — Dr. Omar Khokhar pointed to a photo on his smartphone that showed a growth in his colon.
"That's how cancer starts," he said.
Khokhar took photos with his smartphone of images during his colonoscopy last June. As a gastroenterologist with OSF HealthCare who advises patients to get a colonoscopy to detect and reduce the risk of colorectal cancer, he wanted to experience what his patients experience. He chose to do it without sedation so he could photograph the images, learn from the experience and return to work immediately afterward without being groggy.
What he didn't entirely expect was that Dr. David Rzepczynski, the gastroenterologist performing the colonoscopy, would find and remove a polyp on the inner lining of the colon.
Two days later, lab results came back that the growth was an adenoma.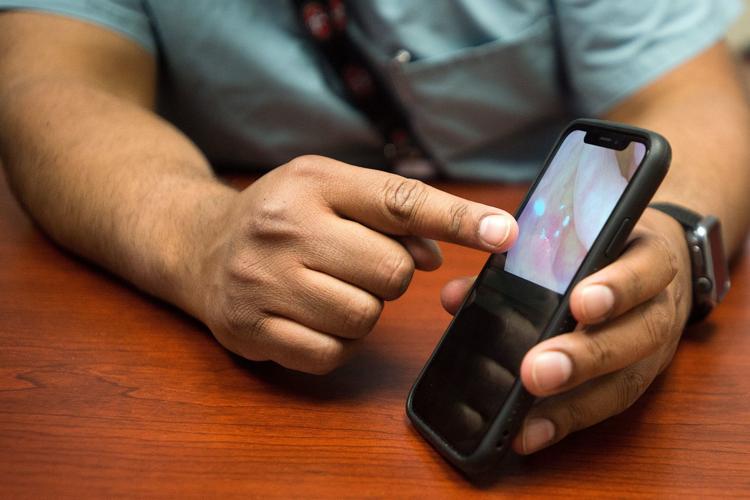 "It was a precancerous lesion," Khokhar, of Bloomington, recalled in his office in Eastland Medical Plaza II earlier this week.
"I was relieved that I had it done," he said. If it hadn't been removed, "it would likely have continued to grow until it caused a blockage or bleeding."
"I have no family history," he said. "By age 46 or 47, I would have required surgery or something more drastic to take care of it."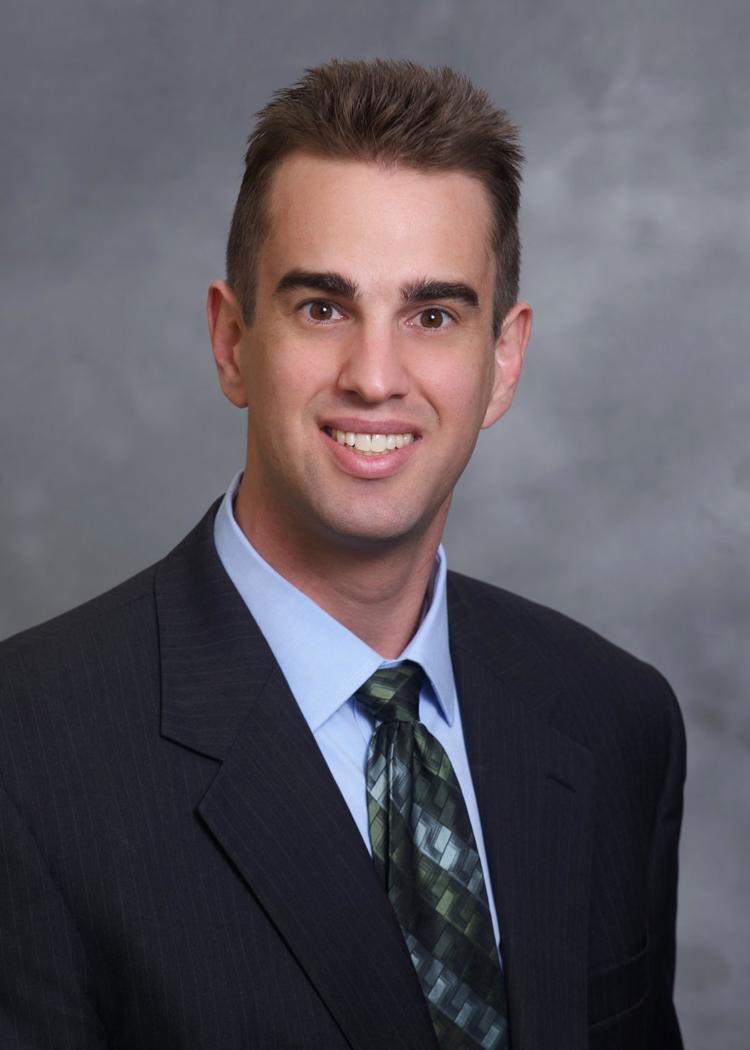 Khokhar illustrates the trend of an increasing number of men and women in their 30s and 40s in the United States with colorectal cancer or precancerous polyps.
"I have diagnosed quite a few people in their 40s," said Dr. Robert Clark, a gastroenterologist with Digestive Disease Consultants, which is based on the Advocate BroMenn Medical Center campus. "It's because of diet. We're more overweight as a society, we exercise less and we're eating more processed foods and less fruits and vegetables."
"I started seeing more pathology at an early age," said Khokhar, also blaming increased consumption of processed foods instead of natural foods.
"I wasn't entirely surprised," Khokhar said of his diagnosis. "I'm a child of the '80s and ate a lot of processed foods with more ingredients."
The number of new colorectal cancers nationwide has increased 2 percent each year since the mid-1990s among people younger than 55, said Becky Powell of the Community Cancer Center in Normal.
The good news, according to the American Cancer Society Facts and Figures 2019, is that colorectal cancer death rates declined 53 percent from 1970 to 2016 because more people are being screened for the disease and because of treatment improvements.
As a result of his experience, "I have become more assertive in recommending colonoscopy," Khohkar said.
March is colorectal cancer awareness month, dedicated to bring awareness to the second-leading cause of cancer deaths in the United States.
Colorectal cancer begins as growths, called polyps, on the inner lining of the colon or rectum. Some polyps become cancerous.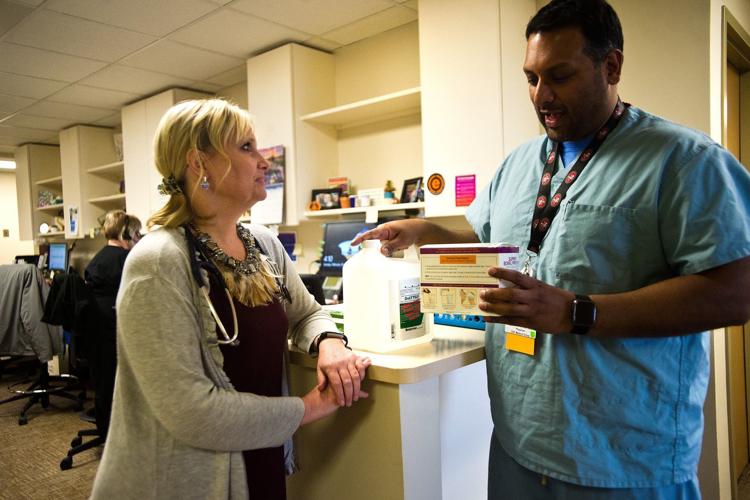 Khokhar had experienced intermittent irregular bowel habits for several years but, last year, those symptoms worsened.
"I thought it was something I ate and stress-related," he recalled. But when it continued, he scheduled a colonoscopy with Rzepczynski.
With a colonoscopy, a doctor uses a flexible, lighted tube with a tiny video camera and slowly eases it into the colon. When polyps are detected, instruments are passed through the colonscope to remove the polyps. If a tumor is found, instruments can take a tissue sample.
The value is polyps may be detected and removed before they become cancerous.
"I did the bowel prep the night before," said Khokhar, referring to taking laxatives to clean out his colon. "A lot of people are resistant to that ... but I didn't find it especially problematic."
While the standard of care recommends sedation during the procedure, Khokhar chose to be awake.
"I felt a bit of pressure, a bit of bloating and some transient discomfort but not pain," he said.
Because of increased diagnoses among people in their 40s, the American Cancer Society now recommends that people begin screening at age 45 instead of waiting until age 50.
The U.S. Preventive Services Task Force continues to recommend that people at average risk for colorectal cancer begin screening at age 50.
But anyone with a family history of colorectal cancer or a personal history of polyps or inflammatory bowel disease should begin screening at age 40 or 10 years before the age at which their family member was diagnosed with colorectal cancer, whichever is earlier, the three doctors agreed.
Colonoscopy is considered the gold standard because it can detect precancerous polyps and remove them before they become cancer, the doctors agreed.
Other tests, such as at-home stool tests, are simpler and less invasive. But they can only determine whether there is blood or abnormal DNA in the stool, which may happen after cancer is present. If so, a colonoscopy will be needed for further testing to determine the location of the growth.
That's why the three doctors recommend colonoscopy every 10 years for patients without complications. When patients at average risk decline colonoscopy, the doctors discuss the stool tests, which are recommended more frequently than colonoscopy.
"Any test is better than no test," Clark said.