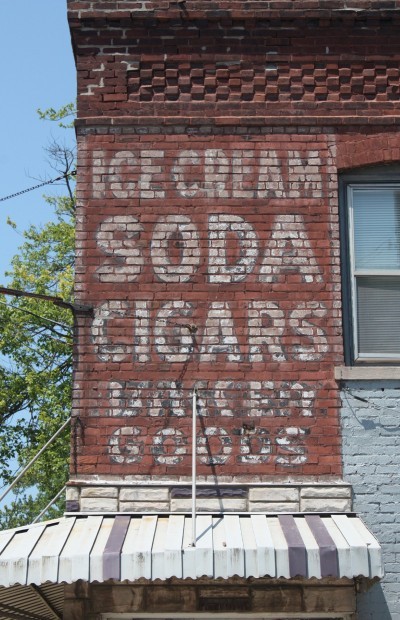 "Advertising is the art of making whole lies out of half truths," a wag once noted. While that may be true, old advertisements, especially those painted on the exterior walls of brick buildings, occasionally give us the whole truth and nothing but the truth, especially when it comes to local history.
Long before the advent of highway billboards, local businesses frequently advertised their wares via colorful, hand-painted brick-face signs. Many of these surviving advertisements, some more than a century old, are now known as "ghost signs," as decades of peeling and bleached weathering have slowly transformed them into muted shadows of their former vibrant selves.
Happily, there are many such examples in Bloomington-Normal.
For instance, the jumble of faded and not-so-faded signs at 801 W. Washington St. offer tantalizing clues about the businesses that once occupied this two-story commercial building (which is now United Barber Stylists). On the building's west wall, one can see "Mrs. M.A. Johnson" and below that "Soda, Fruit & Nuts." This refers to Mary A. Johnson, who ran a candy store and then corner grocery here during the first two decades of the 20th century. Also on the west wall is "House of Hoover Authorized Sales & Service Station," which dates to the late 1960s and early 1970s, when Marshall W. Dawson sold vacuum cleaners and sewing machines from this location.
Oftentimes ads sharing the same wall serve to illustrate an aesthetically interesting aspect of ghost signs. The only way to remove brick-face signs (short of demolition) is to paint over them, which was normally done to make way for new advertisements. As the years turn to decades though, the newer signs begin to fade away and reveal the older ones underneath. Many times this creates a hypnotic collage of both faded and resurfaced designs, words and letters of long-forgotten businesses.
One could argue these signs have an admirable permanence and weather-beaten elegance that cannot be matched by today's noisy, graceless vinyl and digital billboards.
The warehouse district at the south end of downtown Bloomington, with its impressive collection of late 19th, early 20th century multi–story brick buildings, boasts the largest collection of ghost signs in the Twin Cities. The six-story structure at 401-403 S. Center St., visible to motorists heading south over the Center Street bridge, still carries a host of hand-painted advertisements from its longtime occupant—Johnson Transfer.
Running along the very top of the north wall is "Johnson Transfer and Fuel Co." Under that banner are three distinct advertisements for the same firm, including "General Teaming Household Goods & Pianos Packed and Moved." Interestingly, these signs are repeated (with minor variations) a few floors below, though they are partially obscured by newer windows and several contemporary signs.
William C. Johnson founded a one-team dray line way back in 1862, transporting heavy and bulky items like furniture for residential and commercial customers. The Johnson family later staked a claim in the wholesale coal and feed business, and by 1946 the firm had traded its draft horses for motorized trucks and vans. The company remained in the warehouse district up until a few years ago.
Gen. Douglas MacArthur famously declared, "Old soldiers never die they just fade away." The same could be said of ghost signs.
One of the more intriguing signs in the Twin Cities was found and then lost again several years ago during an early phase of Uptown Normal renewal. When wreckers brought down the popular college hangout Rocky's at 103 East Beaufort St. (in order to make way for the Children's Discovery Museum) they inadvertently revealed a painted sign on the now-exposed wall of the building to the immediate east (formerly Shanigan's, and now home to Emack & Bolio's ice cream shop).
The early 1900s ad was for America's Cup Coffee, a brand name sold by Peoria wholesaler Oakford & Fahnectock. "America's Cup Coffee," read the ad, "it's mellow, creams yellow—delivered to your roaster fresh, now vacuum packed!"
Alas, the decision was made to paint over this rediscovered gem, though not all was lost. Today, the wall features a hand-painted, retro-looking Emack & Bolio's sign with the phrases "Ice Cream that Rocks" and "Coffee that Cranks." Yet one hopes that a half-century from now this modern ad will age gracefully into a ghost sign, complemented by the "rematerialized" pitch for America's Cup Coffee.
Get local news delivered to your inbox!
Subscribe to our Daily Headlines newsletter.