BLOOMINGTON — Gold's Gym will replace its aging, warm-water therapy pool with a $1 million multipurpose space designed to respond to the increasing popularity of basketball, pickleball and badminton and the need for space for  events such as powerlifting competitions.
So the pool at the 11 Currency Drive, Bloomington, facility will close Friday and then will be drained and filled in, Morgan said. 
In recognition of increasing popularity of court sports, the wall between the pool area and the basketball court will be torn down and the new combined space of 10,000 square feet will be renovated, including a new floor and new lighting.
The multipurpose room will be not only for basketball, pickleball and badminton but also for such activities as contests for powerlifting, body building and mixed martial arts, Morgan said.
"I would say, in three to four months, the work will be done," Morgan said. "I think the community will really like the space."
Gold's other areas — such as for weight training, cardiovascular workouts and exercise classes — will not be affected by the changes.
Still, Morgan said he feels for the members who used the warm-water, therapy pool. They are mostly older adults who found the warm-water pool conducive for therapy, including for arthritis and following surgery.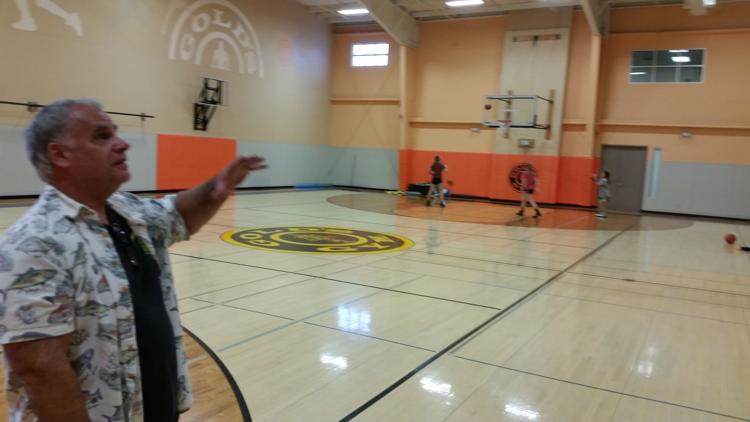 While there are other pools in Bloomington, including at Bloomington-Normal YMCA and Four Seasons Health Club I, Gold's has kept its pool water temperature at 88 to 89 degrees and its pool room temperature about three degrees warmer than that to provide a soothing experience for older adults, Morgan said.
"I can't think of another warm-water, therapy pool with those temperatures in McLean County," he said.
In addition, about 10 years ago, Gold's stopped using chlorine or bromine to purify water and began using salt water.
"Some older people have skin sensitivity to them (chlorine or bromine)," he said. "When we switched to salt water, 99.9 percent of the skin issues were resolved."
But the pool has been costly to maintain and never paid for itself, he said. "It's an enormous expense, which is why no one wants to do it," he said of a warm, salt-water therapy pool.
In addition, the pool is 20 years old and needs to be updated. But, unlike 20 years ago, the state now regulates therapy pools like swimming pools and the additional regulations, which would include changing the plumbing, would add to the renovation cost, he said.
"A good estimate (to update and renovate the pool room) is $750,000," he said. "We can't subsidize that anymore. We're not a nonprofit club. We're not going to have yearly fundraisers."
"I hope the pool users can find alternatives somewhere," he said.