BLOOMINGTON — A property owner has agreed to clean up by Aug. 15  thousands of used child safety seats that remain sprawled across what city officials called an "illegal junk yard" in southeast Bloomington and pay $37,900 in fines.
The plea agreement reached between the city of Bloomington and Bell International Company LLC averted a trial that was to begin at 9 a.m. Wednesday in the city's Administrative Court before hearing officer Steve Mahrt.
Bell planned to have an affiliated firm, Akshar Plastic Inc., 1007 E. Bell St., strip the seats and recycle the metal, fabric and plastic, according to the company's attorney, Joe Dehn.
In court, Bell pleaded no contest to six of the seven violations alleged.
But Bell agreed to pay fines totaling $20,100 for violations alleging operation of a junkyard which is not permitted in a M-1 (manufacturing) district, accumulation of debris, and storage of combustible rubbage creating a nuisance or hazard to public safety or welfare.
Those conditions must be abated by Aug. 15, according to the plea agreement that was read into the court's record by Bloomington Deputy Corporate Counsel Angela Fyans-Jimenez
"This agreement gives my clients time to continue with the processing of the material and continue to make progress on the removal of all material," said Dehn after the court hearing. "We felt we had nothing to gain by going to trial after we sorted through the remaining issues and worked with Angela the last couple of days to bridge that gap."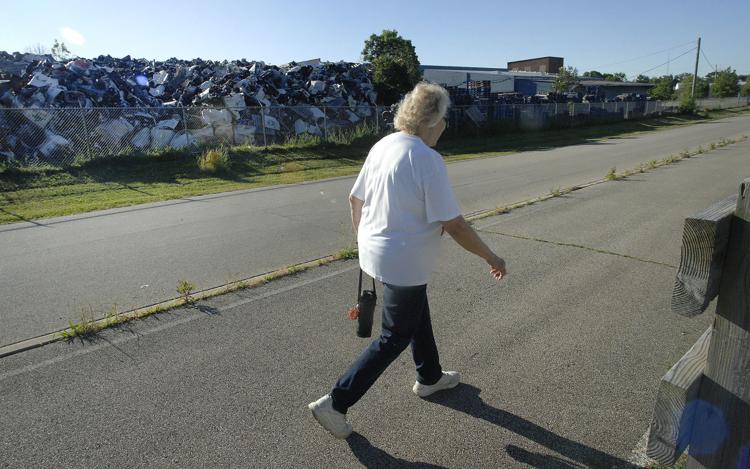 The company must submit weekly a count of the products at the site before city inspectors conduct a compliance inspection on Aug. 17.
Additionally, Bell agreed to pay fines totaling $17,800 for having a fire alarm system lacking notification devices, using materials and processing equipment not labeled nor approved by a fire code official and storing materials higher than 20 feet in the open.
Bell also agreed to pay court costs of $110. 
A violation alleging there was no clear path of access to fire hydrants was dismissed because that problem was corrected before Wednesday, said Dehn.
The city also filed a complaint in McLean County Circuit Court seeking the site be declared a public nuisance. The city agreed to delay a July 28 hearing in that case to Aug. 25 for a review of Bell's compliance with the allegations in the complaint, said Fyans-Jimenez.
In a Dec. 18 city administrative court order, the company was told "no further expansion of (an) unlawful junk yard" would be permitted and that it must show progress in reducing "unlawful exterior salvage of materials," with complete elimination of the "junk yard" by March 31, 2020.
More than 40,000 seats were processed before the work stopped in March because the firm was among nonessential businesses statewide that Gov. J.B. Pritzker ordered close to help prevent the spread of COVID-19, Dehn told The Pantagraph earlier this year.
Bell reopened on June 1 under social distancing restrictions, said Dehn.
---
How much do Central Illinois city managers earn? 
Contact Maria Nagle at (309) 820-3244. Follow her on Twitter: @Pg_Nagle
Get Government & Politics updates in your inbox!
Stay up-to-date on the latest in local and national government and political topics with our newsletter.