BLOOMINGTON — Ward 5 Alderman Joni Painter proposed Monday night that the current one-year moratorium on adding any new video gambling machines in the city be extended indefinitely.
But other aldermen want a fuller discussion before deciding whether to embrace her suggestion and another made by City Manager Tim Gleason to consider levying a video gambling machine fee.
A $500 fee on each of the 250 video gambling machines could generate up to $125,000 in new revenue each year that the city could use to fund multiyear capital improvement projects such as streets, infrastructure, downtown economic development or replacement of O'Neil Park's pool, said Gleason.
He added the fee amount was just a suggestion and not an amount he was recommending.
The limited extension will give the council an opportunity to discuss the matter at the council's March 11 and/or March 18 meeting.
"After everything has been wagered and won, what's left over is taxed. Last year that amounted to nearly $16 million in Bloomington," said Painter.
That is taxed at 30 percent, yielding about $4.8 million. The state's 25-percent share was about $4 million, and "Bloomington got around $800,000 (which) barely covers the cost of regulating these machines and the social costs that are incurred," she said.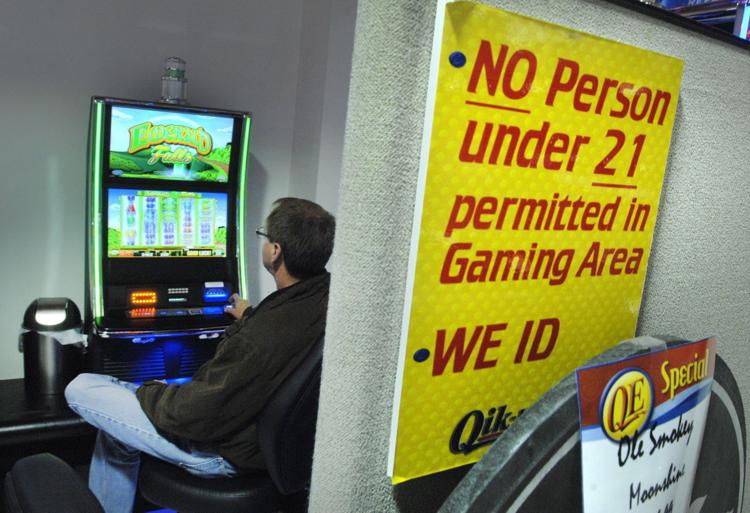 The local establishments and gambling machine vendors then split 50-50 what was left over after taxes.
"Last year in Bloomington that was approximately $11 million — $5.5 million each," said Painter. "I am also aware that some local establishments have become dependent on the income for various reasons, and I don't intend to pull the rug out from under them.
"However, going forward, we must find a better way to enhance our local economy because this is just a loser."
Ward 4 Alderman Amelia Buragas said she wants to discuss other possible options such as making video gambling subject to more restrictive zoning, setting a cap on the number of video gambling machines permitted in the city or imposing higher fees to disincentivize proliferation of the machines.
Fuel tax hike 
Gleason also suggested the council consider raising the city's fuel tax, which is currently at 4 cents a gallon of gasoline as another revenue stream to fund the multiyear capital projects.
Increasing the tax another 4 cents would generate $2.3 million annually that could be dedicated to road repairs, he said. The city currently dedicates $2.4 million annually from motor fuel taxes and $2.4 million from the local sales tax for street and sidewalk improvements.
In a straw poll in February 2018, a majority of the council rejected the measure when interim City Manager Steve Rasmussen proposed it and the gambling fee as part of preparing a balanced budget for last year.
Gleason was hired July 23 to replace Rasmussen.
Contact Maria Nagle at (309) 820-3244. Follow her on Twitter: @Pg_Nagle
Get Government & Politics updates in your inbox!
Stay up-to-date on the latest in local and national government and political topics with our newsletter.