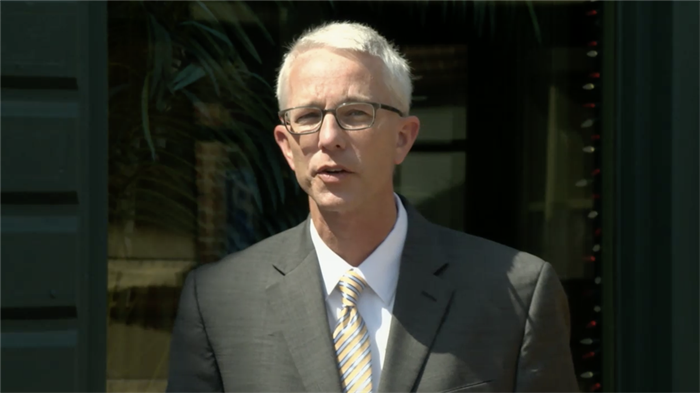 City leaders in Bloomington and Normal are among those unhappy about state rules for the distribution of some federal coronavirus relief money.
"I've got local businesses that are calling looking for some help, and I tell them at this point we don't have anything," Normal Mayor Chris Koos said Thursday.
Three statewide community and business advocacy groups on Thursday argued against what they described as "burdensome, unnecessary" state rules dictating how federal CARES Act — Coronavirus Aid, Relief, and Economic Security — funds are allocated to local authorities.
The state rules will likely make fewer dollars available to officials to use as they see fit, Brad Cole, executive director of the Illinois Municipal League, said at an outdoor event in Springfield. Instead, the state will "reallocate" that money to other areas and "limit economic recovery in communities," he said.
But a spokesperson for the Department of Commerce and Economic Opportunity said that assertion is "simply false" and the situation is more complex than the Municipal League, Retail Merchants Association and Manufacturers' Association are portraying.
$4.9 billion in aid
Congress approved just over $4.9 billion for Illinois based on its population. That money is required to be used toward costs related to the public health emergency.
Chicago and counties with more than 500,000 residents — Cook, DuPage, Kane, Lake and Will — received direct payments totaling about $1.39 billion. The rest, around $3.5 billion, was sent to the state to allocate.
In May, when the General Assembly met in Springfield for a truncated special session, legislators approved a budget plan that specified how those funds were to be disbursed by several entities — the Departments of Commerce and Economic Development, Revenue, Human Services and Healthcare and Family Services, as well as the Emergency Management Agency.
Lawmakers said their priority was to "assist our communities most in need," and they specified the federal funds were to "empower historically and presently disproportionately impacted areas."
Chicago and the collar counties were permitted to use their direct funding toward priorities identified by officials there, Cole said Thursday, arguing that other communities should have that authority as well.
"This decision undermines federal efforts to keep local economies afloat during the pandemic and demonstrates how out of touch state officials are with the needs of communities across Illinois," Cole said.
'We'd like to help'
Bloomington and Normal officials on Thursday also expressed concerns.
"I am really curious why (DCEO) would try to be so narrow because the very assumption of this assistance is that it is supposed to be used to help small businesses and help communities," said Bloomington Mayor Tari Renner. "The communities are supposed to make that determination on their own; not some bureaucrat in Springfield.
"Certainly on something like this, local discretion is important right now because there are so many different ways in which the COVID-19 crisis is playing out in our communities."
Bloomington City Manager Tim Gleason said the city has been working with other city managers and elected officials throughout the state to see if Gov. J.B. Pritzker's administration would reconsider the decision "so that we can get the money into the hands of businesses quicker," he said.
Koos said officials were "kind of baffled" that Chicago and surrounding counties were not restricted in the same way as the rest of the state. 
"I have small businesses that are having rent issues and we'd like to (help), but we're not in a position to do it with CARES dollars," he said, adding: "I can guarantee you that there are a lot of downstate mayors that are not happy about this."
2 state programs
Illinois lawmakers' budget implementation bill created two programs to be overseen by DCEO. One, the Local CURE Support Program — Coronavirus Urgent Remediation Emergency — was designed to use $250 million to reimburse local governments for COVID-19 costs since March.
The other, called the Business Interruption Grant Program, allows companies to apply for money to assist with expenses related to closures. That initiative was allocated $316 million.
A DCEO spokesperson said rules it proposed are designed to best operate the programs created by the General Assembly. Officials there are working with local governments to assist them in identifying COVID-19 costs eligible for federal reimbursement.
None of the money included in Illinois' Local CURE program was intended to be given to local officials so that they could distribute to businesses in their district. The BIG Program was designed to assist businesses. 
Cole also took issue with the department's rule moving the application deadline up 60 days. The DCEO spokesperson said officials took that step, allowed in federal guidelines, to ensure the state could distribute funds where they are most needed.
Normal City Manager Pam Reece also noted the constricted timeline and said it was a concern.
"The CARES Act allows a window for eligible expenses from 3/1/20 to 12/30/20 while the DCEO CURE Program permits the State to reallocate funds after 11/1/20, risking the full allotment to municipalities," she said in an email, adding that the town's allocation would be $2,165,660 under the state program.
---
Concerned about COVID-19?
Sign up now to get the most recent coronavirus headlines and other important local and national news sent to your email inbox daily.