"Once we solicit the comments and get those together we'll be able to make a decision on how to go forward with the project," said Scott Neihart, a program development engineer for IDOT. "The feedback will be instrumental in determining the scope of the project which we're trying to set in Phase 1."
More than 40 residents stopped in to write down comments and take a look at maps of the IDOT proposal, which spans from the Interstate 74 interchange to Royal Pointe Drive. 
The proposal will add 17,850 feet of bike lanes and 7,540 feet of shared lanes along the Route 9 corridor, while eliminating 226 parking spaces — a point that caused some residents to oppose the plan.
"I'm losing parking spaces on the west side of town, which those people need because they have small lots, and I'm seeing some alleys and some things like that, but where are they going to park? What are they going to do?" asked Joe Walden, a Bloomington resident.
Doug Oehler, a cyclist, said even though it would be nice to have more bicycle infrastructure from the east to the west, "There has to be some compromise on the parking."
The city estimates six properties west of Main Street will lose spots and two rental houses on East Empire will lose street parking and don't have enough off-street parking for their residents.
Several bicyclists came to submit their comments, including Kyle Funk, who said he's hoping the additional lanes will give them access to more areas of the city.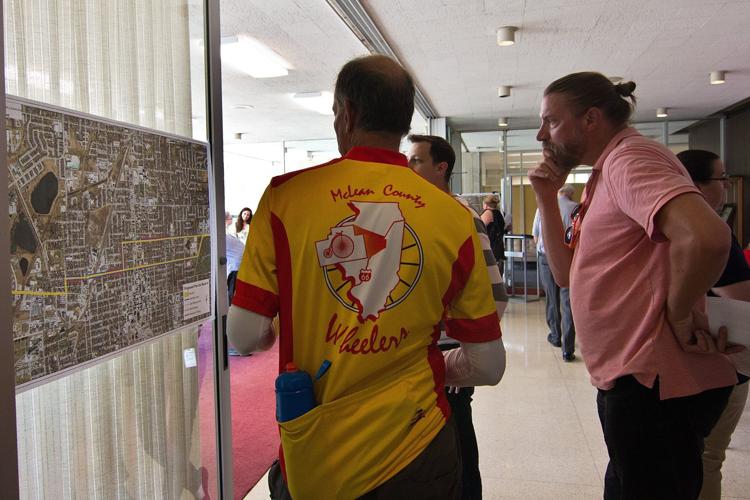 "For example, the (Department of Motor Vehicles) is very difficult to get to by bicycle so if you don't have access to a car and you're trying to gain access to a car or renew your license and you want to get there by bicycle, it was pretty challenging," he said.
Rachael DiSciullo, who commutes by bike every day, said she has experienced harassment from drivers in the few times she's tried to ride on Route 9.
"I would love to see more bike lanes or even just the painting in certain places to remind drivers that this is a place to be shared by cyclists and vehicles alike," she said. "I'm in full support of this project… To me the safety of cyclists is of the utmost importance. I would rather see that than a few parking spaces."
However, safety is the main reason Kelly Rumley opposes the IDOT proposal.
"It's a truck route, the city does not enforce speeding and with kids going to school there right on Route 9, it would only be a matter of time before a kid was hit even if they were marked by lanes because they wouldn't be protected by lanes," said Rumley, who also commutes by bike daily.
Walden said it doesn't make sense to add bike lanes to a major road like Route 9 because "the object of that area is to move traffic, not bicycles."
"You're (taking parking spaces) in favor of what, maybe a 25th of a 25th of 1 percent (of people) so people can ride a bicycle down Route 9, which is heavily trafficked with truck traffic, with car traffic, with bus traffic," he said. "It's not going to be used. The kids aren't going to use it; they ride the side streets, which they should, that's where shared lanes (should be) and people know that."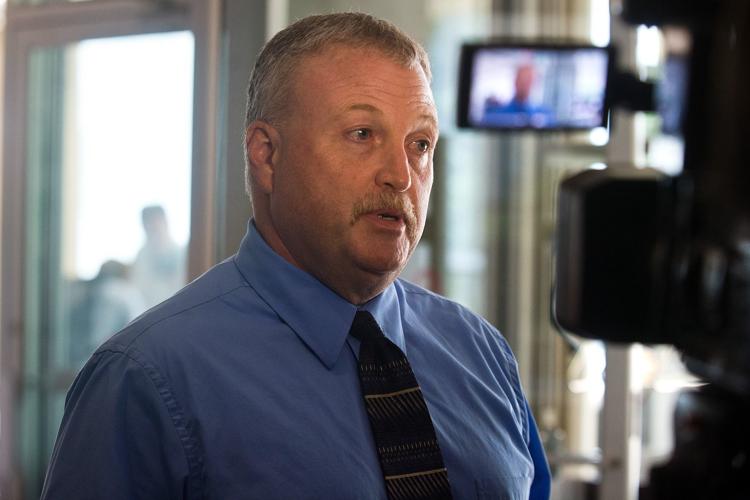 Neihart said IDOT recommended the proposal to include more bike lanes based on a travel assessment in the city.
"It's the policy of the department to accommodate all users within the corridor, whether it's motorists, pedestrians or bicyclists, and since we're in an urban area we went through and did a bicycle travel assessment, provided various recommendations to accommodate all those users," he said.
Construction for the project could begin in 2022, but dates and final costs are dependent on community feedback.