NORMAL — As Beth Whisman led a hotel ballroom of people lifting electric bubble wands in the air, she couldn't help but smile.
"If you thought you were going to leave here without playing, you don't know us very well," she said, pointing her wand to the sky and watching the room fill with clear bubbles. "That was a little fun, wasn't it?"
That toast with a different variety of 'bubbly' marked 25 years of the Children's Discovery Museum on Thursday, still "inspiring the love of learning through the power of play" during a breakfast at the Marriott Hotel and Conference Center — and special events all day at the uptown museum.
Community leaders, museum contributors and staff joined Whisman, who runs the museum as the town's cultural arts director, in celebrating their years working together and welcoming a new partner — Rivian, which will host the museum's annual Pushcart Derby at its Normal plant in 2020.
"We know that the children are our future consumers, workforce and designers. We want to inspire them and further ignite the kind of innovation and experimentation that is necessary for the future of transportation," said Rivian Plant Controller Mark Moriarty.
"We are enjoying getting to know McLean County better, and we are especially proud to show the world what a community like this can achieve when it is open to new approaches to economic development and technology," he continued.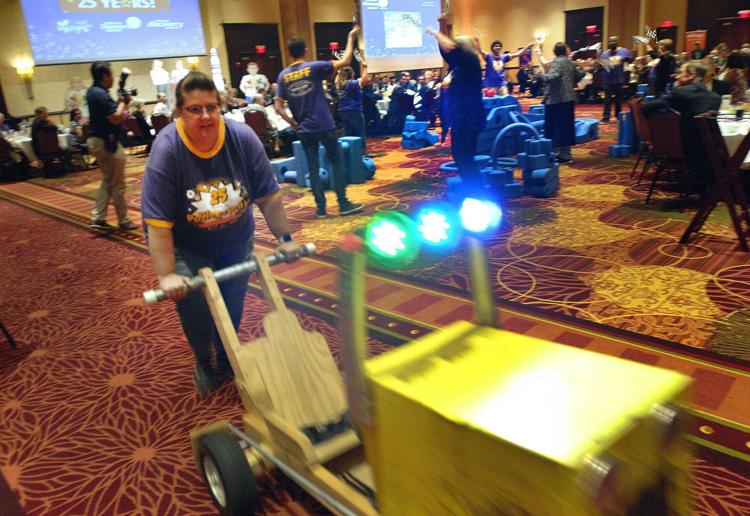 You have free articles remaining.
The electric car startup has raised $1.7 billion this year toward manufacturing vehicles in Normal, and two trucks are expected to hit the market in 2020.
To celebrate that partnership, the museum rolled out a pushcart — a miniature wooden vehicle kids can use to race — modeled on Rivian's R1S SUV. Other pushcarts, pieces from CDM exhibits and a wall of T-shirts and memories from the museum's 25 years were also on display.
Rich and Jamie Zeller, who own Avanti's restaurant and have supported the museum financially, took a picture with a cardboard paintbrush and a sign reading "I ♥ STEAM" — science, technology, engineering, art and math, all educational targets for CDM. Their daughter, Zoe, has visited the museum.
"Just based on the number of people here, you can tell there's still a passion in this town to support the museum," said Jamie Zeller.
Monica Noraian, a longtime museum board member, said community support is vital for CDM to continue to thrive. Whisman said CDM has enough funding to overhaul the medical exhibit but wants to improve the climber, paint wall and ag exhibits. The town pays most of the museum's costs.
"(We want to) keep it just as exciting and accessible and memorable for the next 25 years," Noraian said.