OPENING DOORS
Chronic housing code violations catch eye of Bloomington City Council
'We need to come after them and we need to come after them hard'
BLOOMINGTON — Next month, the Bloomington City Council is set to review a proposal addressing landlords who are chronic violators of city housing codes.
The owner of that building, Wayne Pelhank, tops the list of landlords who are chronically non-compliant, said Deputy Corporation Counsel Angela Fyans-Jimenez, who prosecutes the cases in the city's administrative court. "I have several different landlords who I see frequently, but not with that many violations," she said.
He's been working to fix a variety of complaints at buildings he owns. Pelhank recently evicted some problematic tenants and signed up new renters, with an eye toward better upkeep of his properties, said attorney Eiten Weltman, who represents Pelhank and property manager Ed Duran.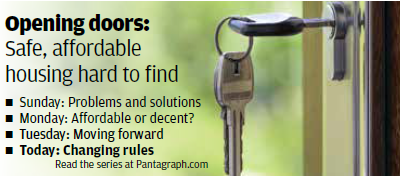 "If any individual is placed in a bad light, there is no real possibility that they would enjoy being placed in that position," said Weltman. "They don't like to be placed in that position and that's why they are working so hard to remove themselves from being viewed as landlords who do not comply with city ordinances."
Since 2015, when the city created an administrative court for code violations, the focus has been on getting landlords to correct problems rather than penalize them. Part of that focus is a balancing act: the city wants rental units to be safe, but they also don't want to force renters onto the street by shutting down an apartment building that has problems.
In March, the council asked city staff to draft a proposal that addresses chronically non-compliant landlords.
BLOOMINGTON — Rental properties play a crucial role in providing affordable housing for thos…
"It needs to come back and we need to go after people who are chronic offenders who are potentially putting lots of lives in danger with unsafe properties," said Bloomington Mayor Tari Renner. "We need to come after them and we need to come after them hard. That's why we have this administrative court so we can haul people in violation in within a few days."
Ward 5 Alderman Joni Painter, whose ward includes the Gettysburg property, agreed.
"It absolutely needs to come back before the council," said Painter. "And I have heard from several constituents that the building needs to be demolished. They also are concerned about what happens to that property after the building is demolished. They don't have faith in the owner to replace it with something that is built to code or that he will leave (the site) empty. No one wants to see it become a weed patch."
John Armstrong, a Twin City landlord, real estate broker and president of the Bloomington-Normal Association of Realtors, said, "Some property owners play better in the sandbox than others. The city has code enforcement policies in place. ... I think they have this program right."
Armstrong said code violations that are life/safety concerns need to be addressed immediately. More time is given for less serious problems.
As for Pelhank, "I think they gave the guy too much leniency. ... I don't know how they (the violations) got to that point."
The Pelhank case
Nearly 600 violations were found in July 2017 at five Pelhank properties in the 900 blocks of West Front and West Grove streets, and 262 more in September 2017 at the Gettysburg building. The violations included a lack of working smoke alarms, missing doors, broken windows, improperly installed doorknobs, water damage, cockroaches and heating problems.
"The fact that these inspections brought to light some of these problems has made my clients more vigilant in making sure that these don't reoccur," said Weltman. "As you (can) tell by their efforts in trying to get these abated, they understand what the city is looking for."
Prior complaints about the Gettysburg building did not trigger an immediate safety inspection, said Community Development Director Bob Mahrt, whose department oversees code enforcement. "They were typically exterior maintenance, some failure of the heating systems, and they were addressed in short order. ... Did the level of complaints warrant (speeding up) the time frame for an inspection? It didn't."
Anyone can file a complaint and it can be made anonymously, said Code Enforcement Division Manager Carey Snedden, noting photos and complaints can be made online or with a smartphone using the My Bloomington app.
Even then, inspectors examine just the specific rental unit, not the entire building, unless they see a violation in a common hallway or the outside of the building.
When they find a violation, an inspector issues a request for compliance with a communicated deadline. If that deadline is not met, the city issues a violation notice along with a summons to administrative court.
Pelhank has until Sept. 12 to fix all of the violations at the properties he owns on Front and Grove streets.
"We fully expect that because (the remaining violations) are minor they are going to have the rest of them abated," said Fyans-Jimenez. Pelhank could then ask the court to vacate all of the fines, which total at least $17,500.
He's been fined $110 in court costs for the Gettysburg building because the violations were deemed moot after the fire.
The fire at the 12-unit building left a firefighter injured and seven households homeless, and caused $650,000 in damage.
---
Want to see more local news like this?
Our Daily Headlines email is for you! Delivered daily at 7:30 a.m., you'll get the local stories you need to see directly in your inbox.
I understand and agree that registration on or use of this site constitutes agreement to its user agreement and privacy policy.
---
Reporter Paul Swiech contributed to this story.
Contact Maria Nagle at (309) 820-3244. Follow her on Twitter: @Pg_Nagle