BLOOMINGTON — Karla Lane, who grew up on a farm just south of Joliet, says she knows a thing or two about raising chickens, and the Bloomington Zoning Board of Appeals agreed with her. 
"We had all kinds of livestock. We had 200 to 300 chickens we would get every year," Lane told The Pantagraph on Wednesday, a few hours before the board recommended she receive the city's first permit under a new ordinance allowing residents to raise chickens within city limits under certain conditions.
"I agree with the city in having a very strong ordinance because it could be nasty," said Lane. "Chickens are dirty birds. You have to keep up with it or you're going to have a stinky mess."
The board voted 5-1 to recommend, with conditions, a special-use permit to raise up to 12 chickens on 5 acres spread over two adjacent lots that Lane and her husband own at 3402 and 3404 E. Oakland Ave. in the Waterford Estates subdivision on the city's southeast side.
The recommendation will be brought to the council on May 13 for final action.
That prompted the board to add the condition that the 12-chicken maximum would remain in effect only as long as the two parcels are owned in common by one party.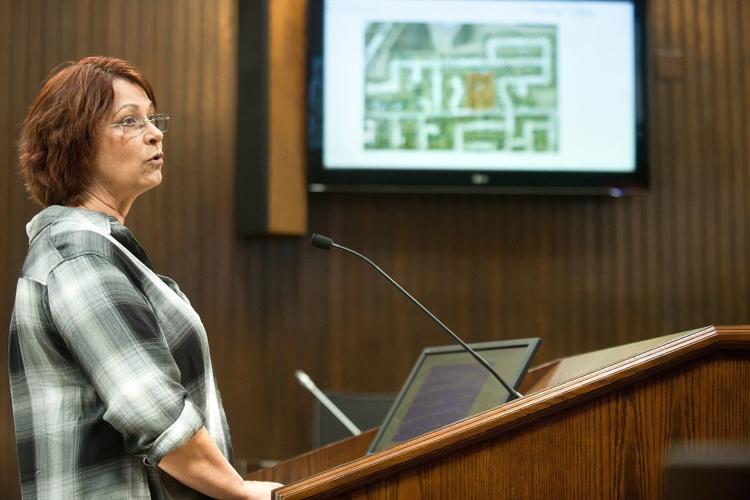 When Lane told the board that she plans to buy a portable coop on wheels so she can move the chickens around her yard, the board also added the condition that the movable enclosure or any other buildings housing the chickens also must meet the 10-foot setback requirement. 
Board Chairman Jeff Brown, who ended four years of service on the board on Wednesday, cast the lone dissenting vote.
Brown said after the meeting that he was worried about how it might affect the neighbors.
"It wasn't a large concern, but it was a concern nonetheless," said Brown, but he did not elaborate.
While Lane could have purchased a property outside of city limits, she said "the opportunity to raise chickens and to have fresh eggs should be afforded to anyone," she said. "The addition of chickens would support our views of living organic."
She began more than a year ago working to get keeping chickens legalized in the city and asked every neighbor who bordered her fence to sign the petition in support of her endeavor.
All of those neighbors did, including Larry and Janette Godin, whose property on Castlemain Drive backs up to Lane's fence.
"I don't see any problem with it, and our other neighbors appear to be OK with it," Larry Godin told The Pantagraph before the hearing. "A lot of us baby boomers grew up with parents who had Victory Gardens and raised their own food."
Janette Godin was one of two people who spoke in favor of the permit at the hearing.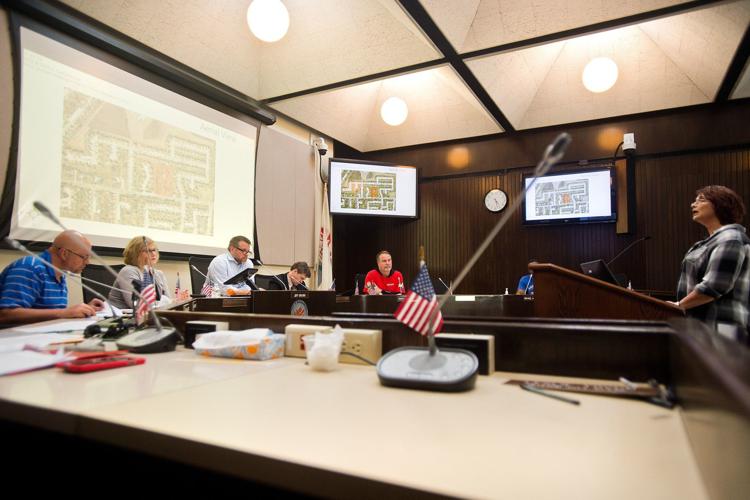 No one voiced opposition at the meeting, but the board did get an emailed letter from a couple residing nearby on Crystal Court who expressed concerns about the chickens' impact on property values. They also worry that the chickens might cause dogs to bark more, attract other rodents and be smelly.
The ordinance prohibits roosters and slaughtering chickens.
The special-use permit cost Lane about $350 in application fees, including publishing a legal notice in The Pantagraph, said Mahrt.
"It's worth it to me," said Lane."I am happy to go through the hoops, and I am OK with being the first one."
"I appreciate the organic community that you are building there and this very well-thought-out first venture," board member Victoria Harris told Lane.