CLINTON — The push to place a $300 million wind farm in DeWitt County moved into a new phase Tuesday night before a crowd of about 200 people in the auditorium of Clinton High School.
On the first night of the company laying out its case, Swierczewski said the company hopes to break ground on the project in the late spring and be in operation by late 2020.
"This project meets all of the requirements for a special-use permit," said James Griffin, a Tradewind Energy attorney.
The ZBA will consider making a recommendation to the DeWitt County Board on the company's special-use permit application after the conclusion of testimony in the next several weeks.
The County Board is expected to consider the special-use permit in March.
Following the conclusion of the company's presentation, which could come at a second meeting Thursday night, the ZBA will hear from supporters and then opponents of the project.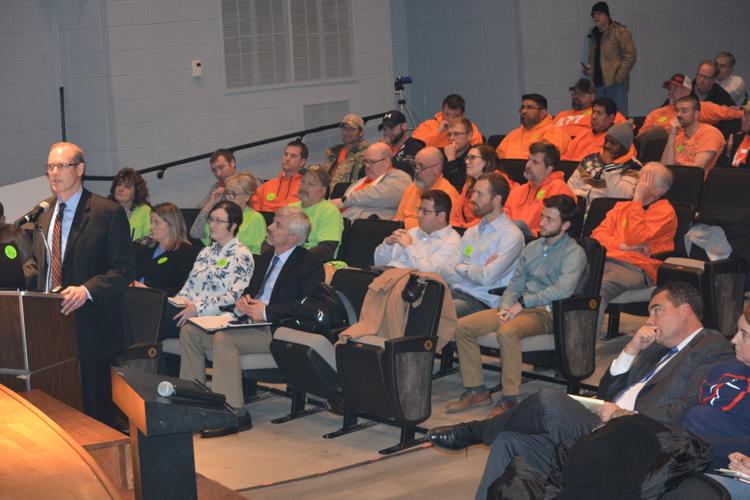 Meetings are scheduled for Thursday and Friday this week and then Feb. 19, 20, 21 and 22. All meetings are expected to start at 5 p.m. at the high school. More meetings will be scheduled, if necessary.
Swierczewski told the ZBA the project will comprise about 67 individual wind turbines, each no taller than 591 feet in total tower height. The project would spread over about 12,202 acres in Barnett, Wapella and Clintonia townships.
"It looks like you are taking our codes and fitting them to your needs," said board member Dave Waters.
"I am not saying that every one of our 67 turbines is going to shift 250 feet and many of them will not shift at all," Swierczewski answered. "It is what we call micro-setting, which is small shifts after we do research to find out how the turbines interact with each other.
"We are making sure we have enough flexibility so that if a couple of turbines need shifting, 100 or 200 feet or so," he said. "Without that flexibility, the only other option we would have would be to remove the turbine and then that landowner doesn't receive the benefit of that turbine."
Board Chairman Andy Hedrick also questioned Swierczewski about non-participating landowners who may suffer extra charges such as added charges for crop dusting around turbines.
"We have designed this project to minimize impacts such as that," Swierczewski said. "We have fewer turbines and they are more spaced out. I have talked with crop dusters and have heard rumors that some landowners are getting charged more, but I have not been able to verify if that is actually the case. The way this project is laid out, that shouldn't be a concern."