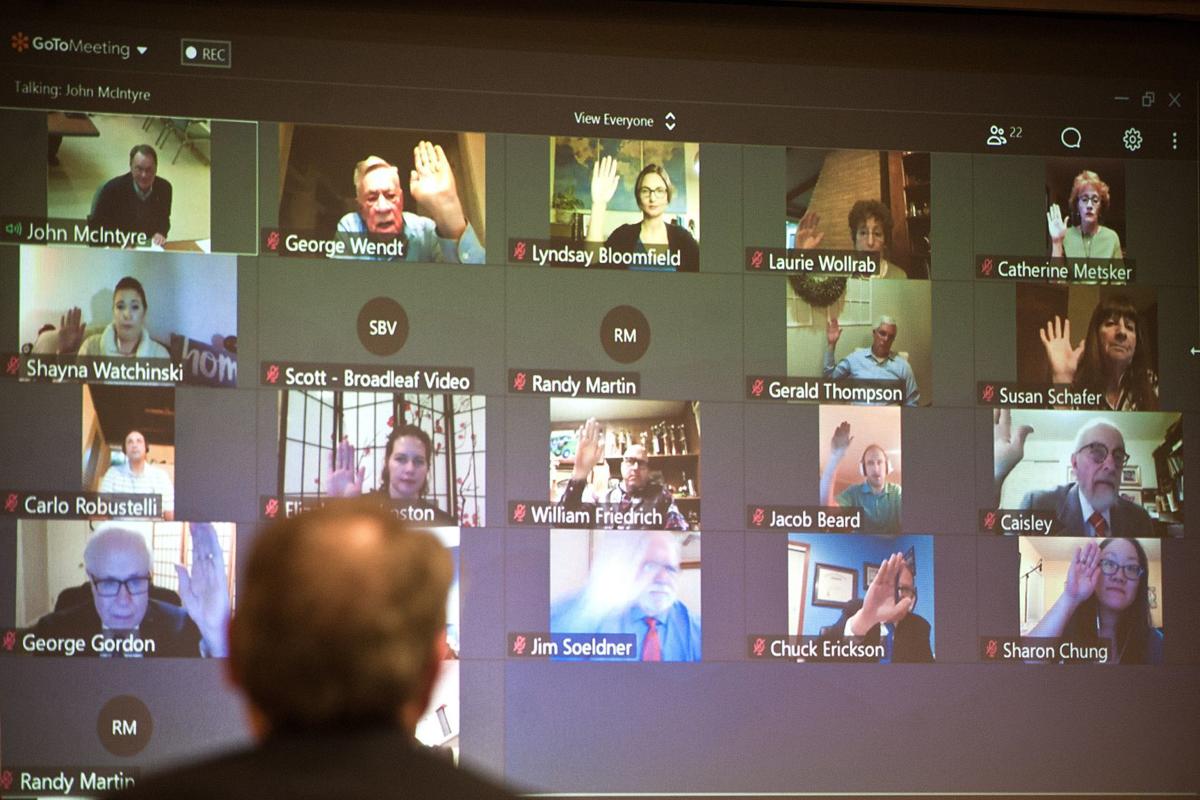 The County Board met Thursday night in the Government Center, with board members, with the exception of Chairman John McIntyre, participating via audio-video link to abide by public health recommendations for no more than 10 people to gather to limit the spread of COVID-19.
In the Government Center meeting room with McIntyre were six members of county government staff and two members of the media. The meeting was streamed live to the public via social media, and the video can be seen at Pantagraph.com.
The March 20 proclamation was to expire Friday, which is why the board needed to take action.
McLean County State's Attorney Don Knapp explained after the meeting that declaring the disaster activated the county's emergency operations plan, which addresses such issues as where personal protective equipment and medicines should be stored, allows the county to access state funding and relaxes procurement procedures.
But, Knapp said, among powers that the plan does not give county government is the ability to limit the sale and possession of alcohol, firearms and ammunition; to restrict sales or distribution of food, feed, fuel or clothing; to take possession of real estate or personal property; or to sell, lend, rent, give or distribute county-owned property.
Any COVID-19-related expenses must be approved by McIntyre and County Administrator Camille Rodriguez if they are more than $25,000. No more than $500,000 can be spent without County Board approval.
"Rest assured, this is not an overreaching resolution," board member Gerald Thompson said.
Rodriguez detailed county government's COVID-19 response to keep county government functioning while respecting social distancing to reduce the spread of the virus.
"There is no playbook for this" pandemic response, Rodriguez said. "If we all work together (as with social distancing) ... we can get through this."
Board member Shayna Watchinski cautioned that some people in McLean County in isolation at home may have COVID-19 but haven't been tested so the diagnosis hasn't been confirmed, meaning there may be more than eight people in McLean County with COVID-19.
"Don't relax in your behaviors," Watchinski advised.
In other business, the board approved a three-year contact with the union representing McLean County correctional officers, correctional sergeants and jail control operators with wage increases of 2 percent retroactive to 2018, 2.25 percent retroactive to 2019 and 2.5 percent for this year.
Contact Paul Swiech at 309-820-3275. Follow him on Twitter: @pg_swiech.
Concerned about COVID-19?
Sign up now to get the most recent coronavirus headlines and other important local and national news sent to your email inbox daily.