BLOOMINGTON — The steps of the McLean County Museum of History have become more than steps for Camille Taylor.
But after the "mothers and others" who make up the local chapter of Moms Demand Action for Gun Sense in America filled those steps Wednesday evening, Taylor said she never sees the people she believes should be there.
She listed local state and federal representatives including state Rep. Dan Brady, state Sen. Jason Barickman, Sen. Bill Brady, all Bloomington Republicans, and U.S. Rep. Rodney Davis, R-Taylorville.
Karen Irvin, co-lead of the McLean County group, said the hourlong rally was an opportunity for the community to grieve together and step into action together.
"We cry and we pray and then we ask you to join us because we have work to do," she said to a crowd of more than 100.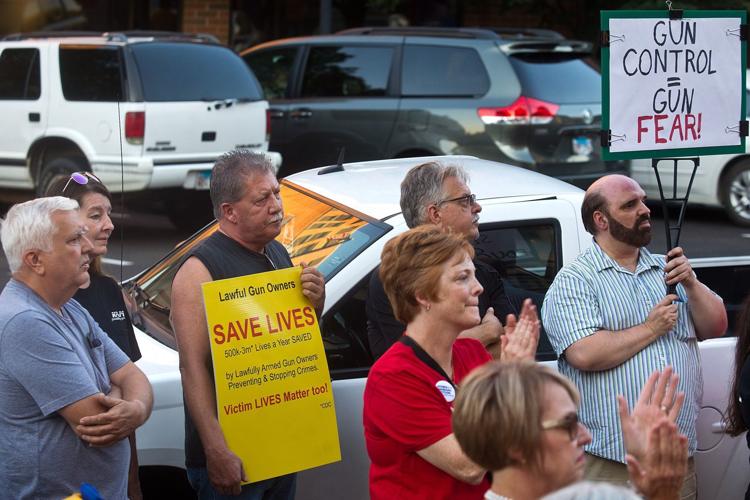 Aleda Diggins said she is a member of Moms Demand Action because she has lost three people to suicide by gun and because she is a mother.
"I believe in this cause, in taking action to avoid future tragedies," she said. "I've known three victims personally and I've never known anyone who was saved by use of a gun."
She said the most efficient firearms should be off-limits because "efficiency is what makes people who want to commit suicide use a gun and ease of accessibility for a tool of death."
Diane White, another Moms Demand Action member, stood behind the microphone and said she was neither a public speaker nor a community organizer.
"I am a grandmother who loves my grandchildren and I want them to live," she said. "And every time I see another child gunned down in gun violence, I cannot not do something."
White said the people who blame mental health or videos for America's mass shootings are using National Rifle Association talking points. Instead she said the one reason for "this horrific situation" is the accessibility of guns.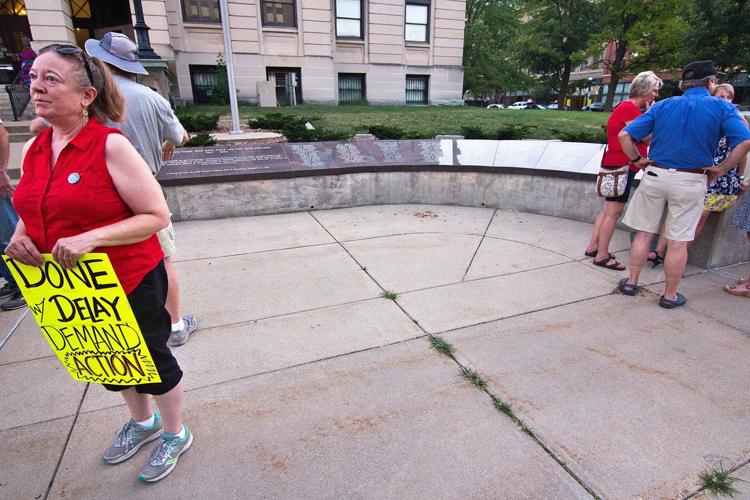 Art Remsik, an NRA-certified firearms instructor, stood in the back of the crowd with a handful of people who identified themselves as lawful gun owners.
"A lot of the problem is mental health issues and no one has a solution for that," said Remsik, of Peoria. "There is an educational piece. We're teaching people responsible firearms use, responsible storage, keeping children away."
"We're trying to stop a problem and we share that in common — we just tend to disagree on what it takes to do that," he said. "None of what's proposed is going to stop any of this and we all know that. This is just taking advantage of the crisis to increase membership."
---
Photos: Gun discussion rally in downtown Bloomington