NORMAL — A new hotel off Interstate 55 and a new restaurant space off Veterans Parkway in Normal could both open by next summer.
A proposed Home2 Suites by Hilton on Bradford Lane and a new building in the parking lot by Bed Bath and Beyond passed the Normal Planning Commission on Thursday, sending them to the April 15 meeting of Normal City Council and possible completion in summer 2020 and the end of 2019, respectively.
Hotel
The hotel project could stall because the town refuses to give incentives to the developer, but the $10 million structure may start construction in June, said Horve Builders owner Jacob Horve. Horve Builders of Forsyth is building it on behalf of Superhost Enterprise, a Naperville hotel company.
Horve said the 104-bed Home2 wouldn't compete with nearby hotels like the Radisson at 8 Traders Circle because it's aimed at extended-stay guests. Other extended-stay hotels in the Twin Cities include an Extended Stay America at 1805 S. Veterans Parkway in Bloomington and Eastland Suites Hotel and Conference Center at 1801 Eastland Drive, Bloomington.
Restaurant space
You have free articles remaining.
The company plans to spend $1 million to add the building with room for two unnamed restaurants, while removing a net 15 of the lot's 410 parking spaces.
"There's as much as half of this parking area that's not utilized, so there's an opportunity to build what is proposed," said Tony Haslinger, Phillips Edison's senior vice president of construction. "That brings additional traffic to the center, makes it more vibrant, utilizes the parking and will drive more business to the other retailers."
Commissioner Bob Broad asked the company to add more landscaping to break up the "sea of asphalt" in that lot, but Haslinger said removing more parking would be a tough sell to the shopping center's other tenants. The company plans to add some trees between the shopping centers, however.
Town staff thanked Phillips Edison for also agreeing to address traffic-flow issues as part of its plans. The company plans to put up wayfinding signs to encourage drivers to leave through Patriot Drive rather than College Avenue, as well as changing the entrance to Petco to mitigate a steep incline there.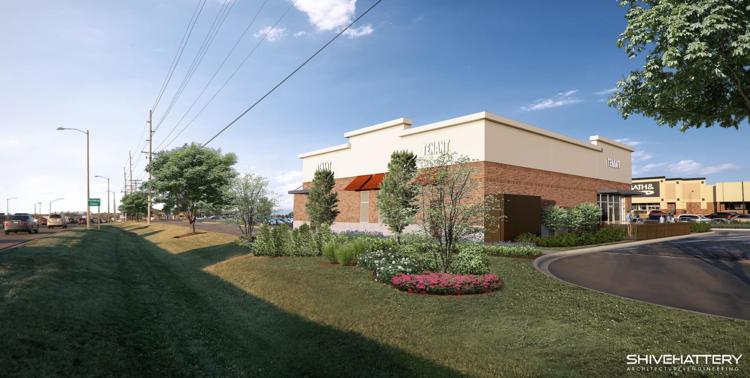 "Anything would have improved that area, in my opinion. It's always been kind of an eyesore, and ... I don't know how many times I've been in there and thought, 'This is an incredibly dangerous parking lot,'" said Commissioner Jennifer Swartout.
Haslinger said the company has tried to develop a similar building at the adjacent shopping center, in front of the former Fresh Market, but those plans stalled. Phillips Edison may revisit that idea, he said.