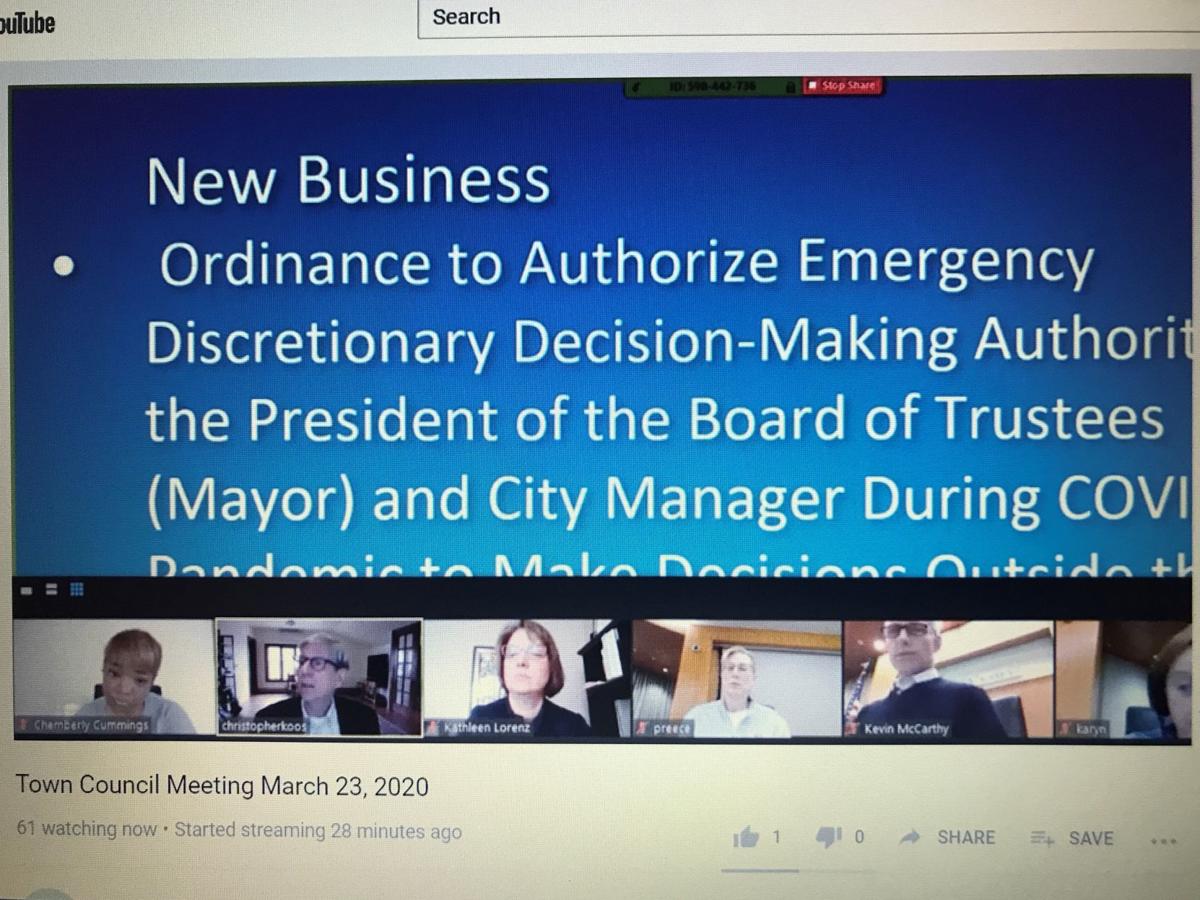 NORMAL — The Normal City Council adopted an emergency declaration ordinance to allow the town's administration to respond swiftly to crises as the COVID-19 pandemic evolves. 
"We're moving into uncertain times," Koos said. "I do not take this lightly at all.We are just trying to be in a position to where we can respond quickly to unforeseen circumstances."
The council also voted 7-0 to remove Section 11 of the ordinance, which granted the mayor authority to issue any order outlined in Section 25.2-12 of the town's municipal code, after hearing several concerned public comments.
During a local disaster or civil emergency, section 25.2-12 of the town's municipal code allows the mayor to set a curfew and other prohibitions, which included potential orders to discontinue selling or distributing gasoline or other liquid flammable or combustible products in any container other than a gasoline tank properly affixed to a motor vehicle; discontinue selling, distributing, dispensing or giving away any firearms or ammunition; and prohibiting retailers from selling alcohol.
The adopted ordinance allows Mayor Chris Koos and City Manager Pam Reece to make decisions outside the typical scope of the personnel code, procurement policy and other matters, as needed.
"Tonight, this action, should we undertake it, is designed to allow the town of Normal leadership react quickly and rapidly to a very fluid, very rapid and changing pandemic," said McCarthy. "This is already a crisis that has caused loss of life in our community and is likely to cause more."
Normal's ordinance allows the mayor to cancel meetings of any board or commission to which he appoints members. The chair of any of those public bodies also would be allowed to cancel their meetings.
It also grants the city manager the ability to authorize any purchase that is reasonably related to the emergency, as long as funds are available. The purchase can be made without following any formal requirement outlined in the purchasing policy manual.
The city manager also can authorize intergovernmental agreements; adjust any personnel policy related to leave time, other benefits or terms and conditions of employment; close town facilities; and extend deadlines for payment related to any amounts due and owing to the town.
The emergency declaration will last the duration of the disaster proclamation Gov. J.B. Pritzker issued on March 9, including any extensions or renewals of that declaration.
Prior to approving the ordinance, Councilman Stan Nord reminded people that, "The sun will come back, this will pass and normal life will return."
Contact Sierra Henry at 309-820-3234. Follow her on Twitter: @pg_sierrahenry.
Concerned about COVID-19?
Sign up now to get the most recent coronavirus headlines and other important local and national news sent to your email inbox daily.