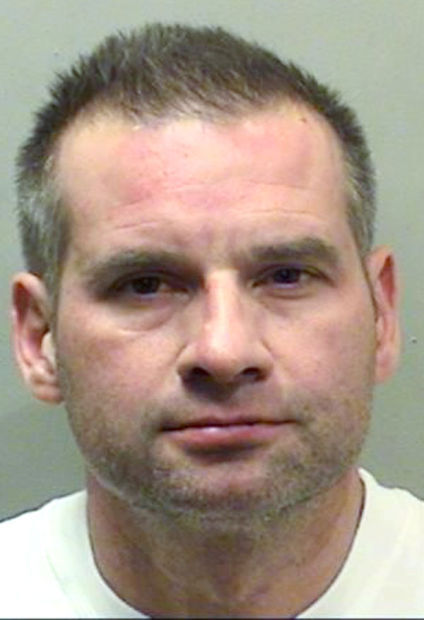 BLOOMINGTON — Bloomington police Sgt. Troy Doza, who apparently was videotaped staggering and falling in front of a downtown tavern before being involved in what police say was a drunken-driving accident, previously worked an overtime assignment designed to curb such behavior.
"There's more than irony," said Mayor Tari Renner, who also chairs the city's liquor commission. "If this is all the case, if this is true, and I have not yet talked to Chief (Brendan) Heffner, I'm assuming that that will never happen again."
Doza was treated for minor injuries after his car hit a utility pole and overturned about 1 a.m. Sunday on Fox Creek Road, police said. He is charged with driving under the influence of alcohol and improper lane usage.
He also has been identified as the apparently intoxicated man videotaped about 12:20 a.m. outside Daddio's in the 500 block of North Main Street.
Over the last few years, the liquor commission and City Council have been working to ramp up enforcement of liquor rules in the downtown bar scene, the subject of safety and cleanliness complaints from downtown residents and business owners.
You have free articles remaining.
The city patrols the downtown bar scene on weekends with officers hired back on overtime. In recent years, it's boosted that presence to include patrol by two officers on Thursday and four officers on Fridays and Saturdays.
Bloomington police spokeswoman Sara Mayer confirmed Doza in the past has worked the downtown hire-back shift but she did not know how many hours or how frequently.
In 2012, Doza earned an annual salary of $91,576, plus an additional $22,679 in overtime pay, according to documents on the city's website. It is not clear how much of the overtime pay might have been related to working the downtown weekend patrol.
In response to complaints about the downtown bar scene, the city created a downtown entertainment task force and adopted a temporary moratorium on new liquor licenses downtown. The city also recently created new rules that prohibit alcohol on party buses and require businesses selling liquor to send employees through an alcohol server training course that teaches them how to spot and stop serving overly intoxicated patrons.
Asked if Doza's alleged behavior would cast a shadow over the city's efforts to clean up the downtown nightlife, Renner said: "I don't think there's a plural here. As far as I know we're talking about a single person and if all of these accusations are true, that's not acceptable behavior and that's not the type of people that are going to be policing our downtown."
Alderman Judy Stearns, who represents part of downtown, described the downtown bar scene as "chaotic" and "dangerous" and said the culture there has not improved.
Asked what Doza's alleged behavior means to enforcement efforts, Stearns said, "The investigation is very much in progress. Everyone deserves due process."