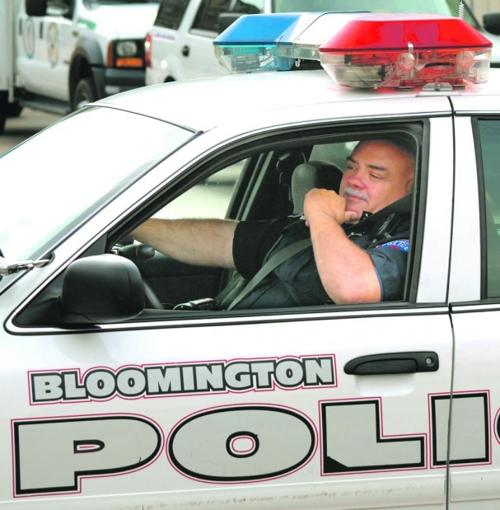 BLOOMINGTON — On the only day in a complete 365-day year that has the word "labor" in it, a lot of Twin City area residents were doing just that on Monday.
A floor nurse at OSF St. Joseph Medical Center in Bloomington, she worked a 12-hour shift that began Sunday night and stretched well into Monday. Then after going home for a sleep break, she was back at work later Monday night for yet another 12-hour shift.
"It is pretty ironic on a day to specially celebrate not working, that's all I'm doing, isn't it?" said the 26-year-old Normal resident with a laugh.
But such was the case all over town Monday.
Downtown, Bloomington police patrolman Ronnie Shriver sat at the corner of Front Street and Roosevelt Avenue, in a staging area for the Bloomington Labor Day parade, waiting for a tow truck to come along to take away two cars that had parked illegally.
"It's just any other day for me, the life of a policeman," said Shriver. "By now, I think I've worked pretty much all the holidays."
Up in north Normal, just past 6:30 a.m., barely after the first good light of a late-summer day, Cody Smith was steaming through the subdivisions — Ironwood, Wintergreen, Carriage Hills, Pheasant Ridge — in his town of Normal trash truck.
"I don't mind working the holiday, really," he said. "It's something different. I don't like the idea of getting up so early on a holiday (his shift began at 6 a.m.) but once I'm up, it's not bad."
With no presents to give or decorations to hang, no eggs to hide or fireworks to set off, no cards to swap or big meals to have to serve, Labor Day is perhaps the year's "truest" of holidays, a day of rest and a simple rite-of passage to the end of another summer.
But that doesn't mean everyone was enjoying an off day.
At Eastland Mall, where crowds passed throughout the day in what officials were calling one of the busier Labor Days in recent years, Sara Shadid was behind the counter at Mrs. Field Cookies. "I didn't really have a choice, but I'm here," she said. "I don't really mind ..."
"Especially," added Lanie Dill, another Mrs. Field employee, "since we get to close early (at 6) tonight."
Over at Rogers & Hollands Jewelers was Lynn Wills.
"I'm the store manager but like to be fair and work my share of the holidays, too," she said. "So here I am."
Meanwhile outside, on a warm, humid day that followed a weekend that left up to 5 inches of rain in some areas of Central Illinois, it seemed to be a day of lawn-mower symphonies.
Mowing in his yard in rural Carlock, as an example, was David Birky. It was his yard today, and others he had plans to mow Tuesday, he said.
In Normal, Dan Thames not only cut his home's lawn but his nearby mother's, too.
"In honor of labor, I'm trying to be laborious," he joked.
"Since there's no school, I'm home with an 11-, 8-, 6- and 4-year old. Trust me, I'd much rather be at work!" mused Mary Moser at one Bloomington home. "If I have to wipe peanut butter off on more thing …!"
Labor Day, we might add, was coincidentally not a particularly good day for, well, going into labor.
At OSF St. Joseph, which had a busy weekend of birthing, according to a spokeswoman, there were, however, no births on Monday — at least not by early evening.
At Advocate BroMenn Medical Center, one mom gave birth early in the day, but there were no more laboring after that.
"I guess," mused Bill Howard, a unit secretary, "you'd say Labor Day was a slow day for this kind of labor."