BLOOMINGTON — Some people living near Miller Park Lake have frequent visitors they wish wouldn't step foot in their yards.
Annie Ventura has counted more than 200 Canada geese outside her house. She and other neighbors are annoyed by what's left behind by the uninvited guests.
"They come up here in the yard and they leave their droppings all over," said Ventura. "I like to walk through the park, and I have almost slipped and fallen from the goose droppings and all of that. It's not sanitary. You can't get through the street. You can't shoo them away without them trying to bite you."
"I loathe them," added John Kerrick, who lives on Van Schoick Street, about a block from the park. "Have you had 50 or 60 of them crapping in your front yard? I have. I have grandchildren on their way here from Florida, and I do not want them playing in goose crap."
Jay Tetzloff, who leads the city's zoo and parks and recreation department, said the city is limited in what it can do about the influx. The wildfowl apparently are losing their instinct to migrate as seasons change and are instead setting up residence in many cities throughout the Midwest.
"We have a permit that allows us to control the goose population on park property but it's very limited," said Tetzloff. The control does not involve the physical removal of any geese, because that would be against federal law, he added.
"We feel for the neighbors. It's a struggle for us as well," said Tetzloff. "I don't think anyone is happy with having this poop around. We clean what we can, but we are limited by the (manpower) resources that we have, and we are not able to do as much as we want."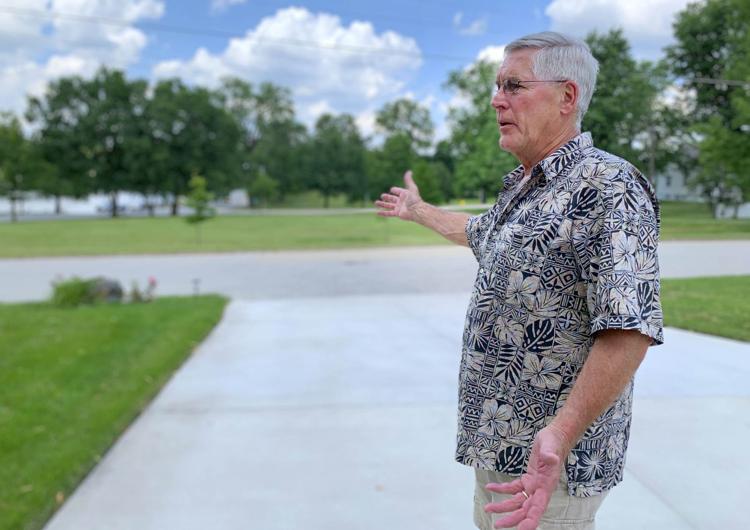 To scare geese from coming into his yard, Kerrick uses a product that makes the noise of a bird in distress. During daylight, a three-minute call sounds every 10 or 15 minutes. Clapping his hands loudly also works, he added.
"It's legal to harass the birds as long as you don't hurt them," said Kerrick. "You're not suppose to touch them. You can't club them. But you can bark at them.
"If you let them nest in your yard, much like salmon, the young that are born here, they will come back to nest there next time," said Kerrick. "I'm not having that. I refuse. This is my yard. They don't pay taxes. I do."
But Alice Voelzke, who lives on Lake Street a couple blocks from the park, does not want to see the geese disappear from her neighborhood.
"I would like them to lessen," she added.
"There are probably 50 new ones from this year," said Joe Ventura.
"Right at first, there weren't so many. There were just a few of them. They just keep multiplying and multiplying," said Annie Ventura. "You can't drive through the street because (the geese) just stand there. I've honked the horn, gotten out of the car and clapped hands. They don't move. I think some of them have gotten injured accidentally, and I don't want that."
She and Kerrick want people to stop feeding the geese, because that encourages them to stay rather than migrate.
"There are signs up all around that say 'Do not to feed the wildfowl,' and people bring out bags of bread and different items and they just stand there and feed them right in front of the signs," said Annie Ventura.
"If it's a grandparent with a grandkid and they are just trying to entertain them, that's different," said Kerrick. "But I have seen adults stand out there and feed them, and we have an overabundance of (geese)."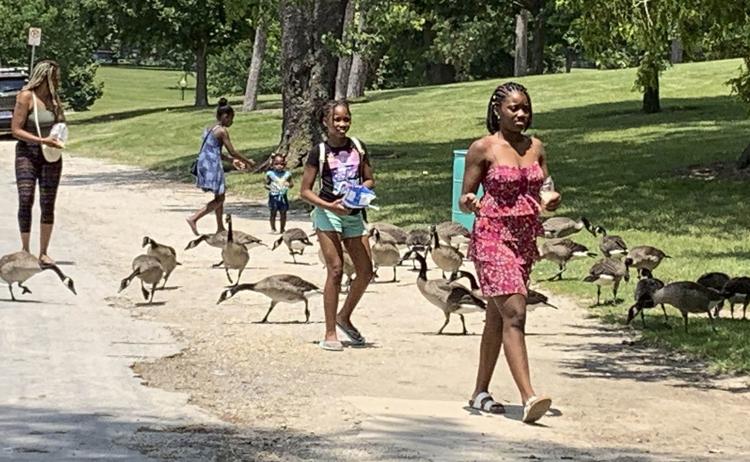 Bloomington resident Cortney Shipp brings her children to the park regularly to feed the geese.
"It gives the kids something to look forward to ... and an opportunity to enjoy nature — God's creation," said Shipp.
Despite the mess left in her yard, Annie Ventura can find humor in the situation.
"I am thinking about calling (President) Trump for help because these geese are from Canada; they're illegals; they don't pay taxes; and they don't obey the laws," she said with a giggle. "Or we could call the prime minister of Canada and have him come down and collect them."