NORMAL — Illinois State University students Sam Bates, Taylor Karey and Macy Orrick were getting ready to take their friend and fellow ISU student, Kevin Hutchinson, back to his apartment after a late-night conversation at 12:55 a.m. April 23 when he did something unexpected.
"He had no pulse," said Kevin's mother, Sandy. "He was completely dead at that point."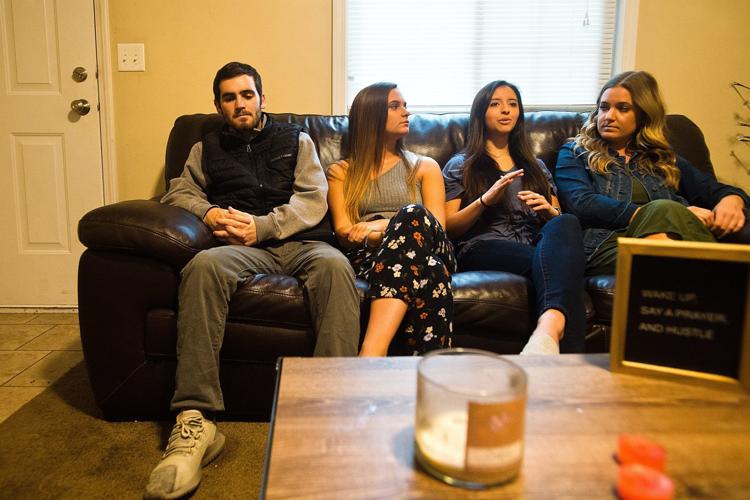 "Those girls are just heroes," Sandy Hutchinson said this week from New Lenox, where Kevin grew up with his parents, brother and sister. "They knew what to do, they did it and they saved my son's life. I am forever grateful to them."
Hutchinson is regaining strength following placement of an implantable cardioverter-defibrillator and pacemaker, which are keeping his heart beating normally.
He is determined to achieve his next goal at 5 p.m. Saturday at Redbird Arena: walk across the stage to receive his degree at the College of Business commencement ceremony.
"We didn't know whether I could walk (for graduation)," said Hutchinson, 22, a senior in finance. "But I said, 'I'm coming back for that.' I want to show everybody I can do it."
Hutchinson, who has been back home recovering since surgery, returned, with his brother, to Hutchinson's off-campus apartment on Tuesday to pack up his stuff, then went to the women's apartment to discuss what happened just two weeks before.
"I love 'em so much," Hutchinson said of his friends as they sat on a couch together. "Without them, I wouldn't be sitting here."
Hutchinson struggled as a newborn, had a hard time feeding and sleeping and would sweat excessively.
"We didn't realize those were signs of congestive heart failure," his mother recalled.
Testing resulted, at 7 weeks old, in a diagnosis of a congenital heart defect called atrioventricular canal defect. That meant the septum, mitral valve and tricuspid value of his heart weren't formed.
"His blood wasn't getting oxygenated and pumped through his body," his mother said. "It was shocking."
He had open-heart surgeries at 4 months, 8 months, 16 months and 15 years old to repair the defects.
"I couldn't do contact sports," Hutchinson said. Other than that, he had a normal childhood, playing other sports.
"I tried not to think about it," he said of his heart defect. "I tried to stay positive."
In January, he had an appointment with his cardiologist and there were no red flags, he and his mother said.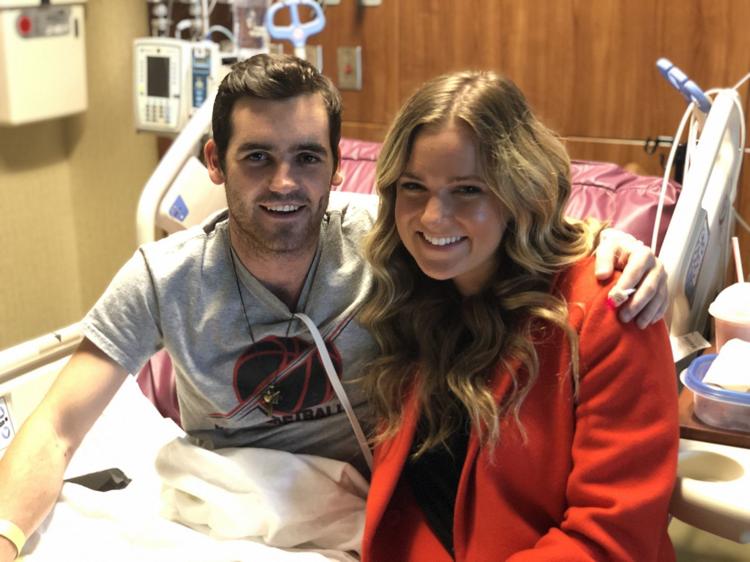 On April 23, he was in his friends' apartment at 12:55 a.m.
"We were having a normal conversation when he fell over on his side," Orrick said. "I realized he wasn't breathing."
She and Bates, 21, a junior public relations major from Downers Grove, both called 911. Bates put the 911 dispatcher on speaker.
"They told us to flip him on his back and keep his head titled back to keep his airway open," said Bates. She did so.
Karey, 22, a senior sociology major from Willow Springs, had taken a CPR class so she performed chest compressions.
"I wasn't sure how much it helped," she admitted. "Being in this situation, I wouldn't have been able to stay calm if I hadn't been trained."
A Normal policeman took over when he arrived about 1 a.m. When a paramedic arrived, he used an AED to shock Hutchinson's heart back into regular rhythm.
He was taken by ambulance to Advocate BroMenn Medical Center in Normal, then airlifted to Advocate Christ Medical Center in Oak Lawn. Testing revealed that a coronary artery in the back of his heart had filled with scar tissue, a complication of the surgery from seven years ago, his mother said.
The defibrillator and pacemaker were implanted on April 30 and he was released to go home in May 1. But he is on six different medicines, is walking to regain his strength, is on a low-sodium diet, can't do heavy lifting or drive for a while and has numerous medical appointments.
"I'm sore but every day is a better day," he said.
"Luckily, there is no brain or organ damage because they did CPR to keep the oxygenated blood flowing," Sandy Hutchinson said.
"CPR keeps the blood circulating in the body when the heart stops," confirmed Jan Berlin, Advocate BroMenn American Heart Association Training Center Coordinator. "If the blood has drained away from the heart, a defibrillator will not be effective. Chest compressions will help sustain life until emergency personnel and equipment are available."
Hutchinson spoke with his professors and they decided to allow him to get his degree, giving him the grades he had at the time of the cardiac arrest.
"I've always had good grades," he said. "I didn't miss very many things."
"He was a very strong student," confirmed Eric Jome, ISU director of media relations. "He was able to work with his faculty members, who were all very understanding of the situation, and they signed off on his grades so he is able to go through graduation."
"God has a plan for me," Hutchinson said. "I need to figure out what it is."
Meanwhile, he's grateful that he was with his friends when he collapsed and that they took action.
Karey smiled. "I'm grateful we were here, too."
Contact Paul Swiech at (309) 820-3275. Follow him on Twitter: @pg_swiech
Get local news delivered to your inbox!
Subscribe to our Daily Headlines newsletter.