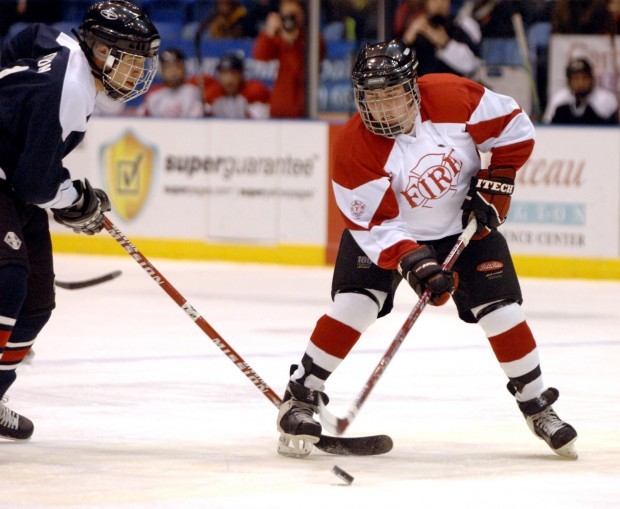 BLOOMINGTON — The Guns 'n' Hoses trophy was promptly moved to a prominent place in the Bloomington police department Saturday night, where it will sit for at least a year.
The police and firefighters took to the ice at U.S. Cellular Coliseum in the third annual Guns 'n' Hoses hockey game. In a dramatic overtime session, Bloomington police officer Brad Peterson scored the deciding goal to lift the police to a 6-5 victory over the firefighters and claim bragging rights for the year.
It was the first time in the three-year history of the competition that the police have been victoriious.
"The third time's the charm," said Megan Drauden, fiancee of Bloomington police officer Aaron Veerman, who played in the game.
The annual event is part of the Law Enforcement Torch Run, the biggest fundraising vehicle for Special Olympics Illinois. The torch run raised $2.2 million for the organization in 2008.
An estimated 750 spectators attended the charity game, which did not go unnoticed by the players.
"Each year the numbers have just grown," said Bloomington police officer Todd Keil. "From our standpoint, to look up and see that many people, to hear the noise come from the crowd, to see the whole side of the coliseum packed with fans, it's unbelievable."
Those who paid $12 for a ticket — $3 more than regular price —  could also attend the PrairieThunder game later in the day against the Quad City Mallards, with the additional money going toward Special Olympics.
More than $10,000 was raised from ticket sales and the auctioning of special jerseys worn by  PrairieThunder players during the game, said Michelle Henson, spokeswoman for Special Olympics Illinois. In its first two years combined, the event raised $13,000 for the organization, which provides sports training and competition in sports for children and adults with intellectual disabilities.
The 23 PrairieThunder jerseys auctioned off brought in roughly $5,500, with the highest seller going for $450.
Special Olympics Illinois supports 22,000 athletes, about 3,600 of whom participate in the summer games competition, Henson said.
Keil said going to a Special Olympics Illinois summer games competition, held at Illinois State University, "draws you in" to the cause.
"For them (Special Olympics athletes) to get involved in sporting events and participate, it's monumental for them," he said. "It means so much."
Last year's Guns 'n' Hoses game also went into overtime allowing the firefighters to claim a 6-5 victory over the police.