NORMAL — David Stokes woke up on Dec. 13 strapped to a hospital bed with no memory of the last 13 hours.
His heart had stopped in the middle of a pick-up basketball game the night before.
"It happened so quickly," said 39-year-old Stokes, of Bloomington. "That's the thing that blows my mind is that you're playing basketball and you've got nine people around you that could help and you don't even have enough time to say 'help,' 'heart' or '911.'"
Stokes fell head first without warning. Another player called 911, but Stokes was face-down for three minutes before the others realized he wasn't breathing and flipped him over.
A nurse anesthetist who was playing soccer at the same gym heard the commotion and came over to help. Within two minutes, he started "aggressive CPR" when he realized Stokes had no pulse.
An automated external defibrillator (AED) was 50 feet away, but Stokes was on the ground for eight minutes before emergency responders arrived to shock his lifeless body.
"If you're in defib for eight minutes, there's like a 5 percent chance that you're gonna live," he said Saturday before stepping into a CPR/AED class.
The foundation has donated several AEDs to businesses and organizations throughout Bloomington-Normal.
"The next step is to make sure people know how to use them in the event of a cardiac emergency," said Sarah Gliege, development and events manager of the foundation. "It's great to have them around, but if no one is willing to intervene during these incidents, then they're kind of irrelevant."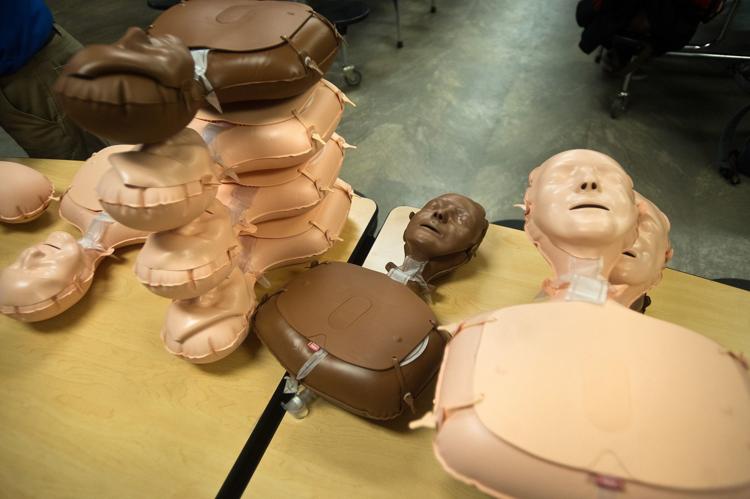 The training included a lecture and skills session, with an AED simulator and participants were able to practice adult, child and infant CPR.
"It's all about taking action and being prepared because you can make a difference in somebody's life," Stokes said.
Stokes said several of his family members have gone to see their doctors since his heart attack, and his girlfriend and some friends joined him at the training event.
"You can save someone's life," said Jan Berlin, training center coordinator for Advocate BroMenn Medical Center. "They're excited to learn; it's something new. They realize how important it really is to be trained."
Berlin said 80 percent of the time a sudden cardiac arrest is going to happen with a loved one nearby.
In December, Stokes experienced a left anterior descending artery stenosis, nicknamed the "widow maker." He said if he had been alone when he collapsed, he wouldn't be alive.
"If I didn't say 'Let's play another basketball game,' I could've been driving home and had this just like that and killed myself, killed someone else," Stokes said. "It's a blessing."
Stokes had "a really rough night" in the hospital. He wasn't responsive to his girlfriend or his doctors, who weren't yet sure if his brain function had been affected during the attack. His limbs had to be strapped down because he kept trying to fight against the tube in his throat.
Stokes left the hospital four days later with a new stent in place.
He's now recovering and taking medication to stay healthy. He says he's choosing to use this experience in a positive way, hoping to maybe save a life or maybe just keep his three children from getting too rambunctious.
"Now I tell my kids, 'Dad can't have that much stress so you guys need to chill out,'" Stokes said.