What is your favorite spiritual?
When I hear a rendition of "Down by the Riverside," I am transported back to my high school auditorium in Tulsa, Oklahoma, listening to the Booker T. Washington student choir sing. The spiritual, also known as "Study War No More," originated before the Civil War as a slave song in the Deep South.
Spirituals, referred to as "Sorrow Songs" by W.E.B. Du Bois in "The Souls of Black Folk," are studies in the transformation of human suffering into expressions of freedom. Du Bois writes, "The minor cadences of despair change often to triumph and calm confidence. Sometimes it is faith in life, sometimes faith in death, sometimes assurance of boundless justice in some fair world beyond."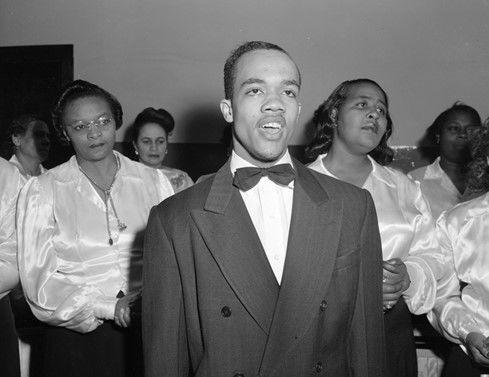 "Down by the Riverside" was first published in a volume of plantation songs in 1918 and has since been recorded by many artists, including Louis Armstrong, Sweet Honey in the Rock, and Dejan's Olympia Brass Band in New Orleans. The spiritual was also often performed by Bloomington's own Melody Gospel Chorus, a group officially formed in 1939 and comprising members of choirs from four Black churches in Bloomington: Apostolic, Mount Pisgah Baptist, Union Baptist, and Third Christian.
The founder, J.C. Williams of Normal, speculated that the Bloomington community had significant talent and could form a "topnotch" singing group. Indeed, a gospel chorus had already loosely formed in 1925, rehearsing weekly in the living room of the Booker T. Washington Home.
Williams soon transferred management of the Melody Gospel Chorus to Frank Harber of Bloomington. When Harber became the chorus's leader, he joined a group of Melody Gospel Chorus celebrities. The musicians, referred to as "Bloomington's own Wings Over Jordan singers," hosted monthly performances at each of the community's Black churches. The offerings collected during the program would help cover the cost of church operations, including coal during the cold winter months.
The chorus also distributed holiday baskets and food to members of the community who were most in need, focusing primarily on Black families. When Harber retired from his job as chief janitor in the Bloomington Post Office in 1952, the local Post Office Custodial and Maintenance Association threw him a party in which they presented him with 80 silver dollars collected from the employees. He was clearly beloved.
Based on the amount of media coverage, however, the true leader of the Melody Gospel Singers was arguably Frank Harber's wife, Hazel Harber. She not only organized the group's activities but also sang as a contralto soloist. Hazel Harber said: "We consider ourselves a civic chorus. We sing anywhere without pay. If we go outside of town, we only ask for our transportation and expense."
Hazel Harber was also an outstanding community leader. She was appointed chairwoman of the scholarship committee for the The Colored Woman's Federated Club in 1946. That same year, she was elected to be an officer of the Bloomington-Normal branch of the National Association for the Advancement of Colored People.
Hazel Harber worked as a cook for the Sigma Alpha Iota fraternity and Phi Mu Alpha sorority at Illinois Wesleyan University in Bloomington for 26 years and undoubtedly had a notable influence on the school's young adults. She passed away in 1971.
Frequent soloist Cleofuis "Cleo" Meaderds also provided direction and talent to the Melody Gospel singers. He won first place in a state high school music contest while he was a student at Bloomington High School in 1947. Meaderds later became an ordained minister for the Pentecostal Assembly and finished his career as an accountant for Nu Way Enterprises in Muskegon, Mich. He passed away in 2003 and was fondly remembered for his love of music, traveling, golfing and preaching.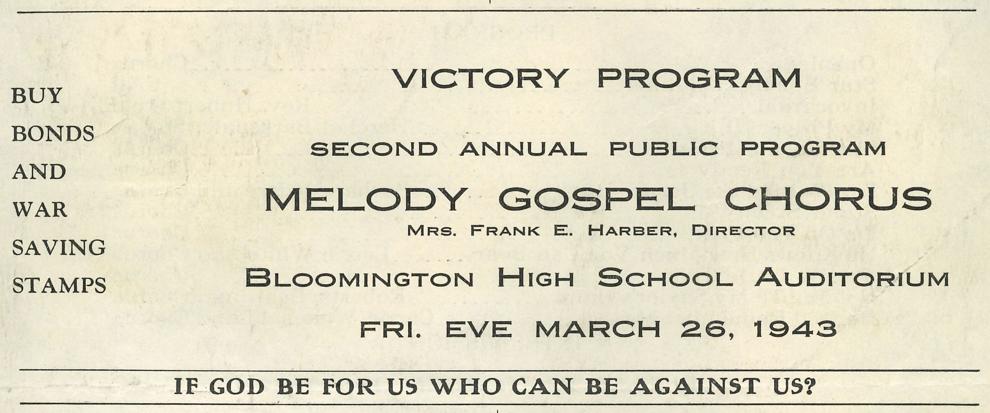 It is no accident that the Melody Gospel Chorus was especially popular during World War II. Advertisements for a "Victory Program," held at Bloomington High School in 1943, include requests to purchase war bonds and war savings stamps. The ad reads, "If God be for us who can be against us?" According to local author and historian John "Jack" Muirhead, the implication was that God was on our side of the war.
Muirhead also notes that unlike other events from earlier times, businesses in support of the Melody Gospel Chorus were predominantly white owned (see Muirhead's "A History of African-Americans in McLean County").
The rare performances that charged admission were expressly to carry on the charitable mission of the organization. People felt united in wartime and were motivated to support the civic orientation of the chorus.
The role that the Melody Gospel Chorus played in our community is significant. They were a highly acclaimed musical group with members who made enormous contributions to McLean County. That they did so through song — namely, African American spirituals — is illustrative of Black resilience, creativity and resistance to the notion that in the eyes of God, some may be more worth saving than others.
While my hometown of Tulsa struggles to come to terms with its racist history this year, I reflect on the optimistic and unifying energy evident in the Melody Gospel Chorus. We still had, and continue to have, much work to do. Knowing our history will guide us. The music can show us the way.
I'm gonna lay down my burden, down by the riverside
Down by the riverside, down by the riverside
I'm gonna lay down my burden, down by the riverside