DANVERS — Trinity Pfahl knows pain.
She's had four surgeries and rods in her back for seven years.
Trinity also knows innovation. The new-generation rods that are in her back now are lengthened using magnets.
When you're a 13-year-old girl with severe scoliosis, living with challenges is what you do.
"It's difficult sometimes," she said of living with scoliosis, a sideways curvature of the spine. "There will be pain. You gotta hold your head high and be a strong person."
"Trinity is my hero," her father, Ron Pfahl, said during an interview this week at the family home in Danvers.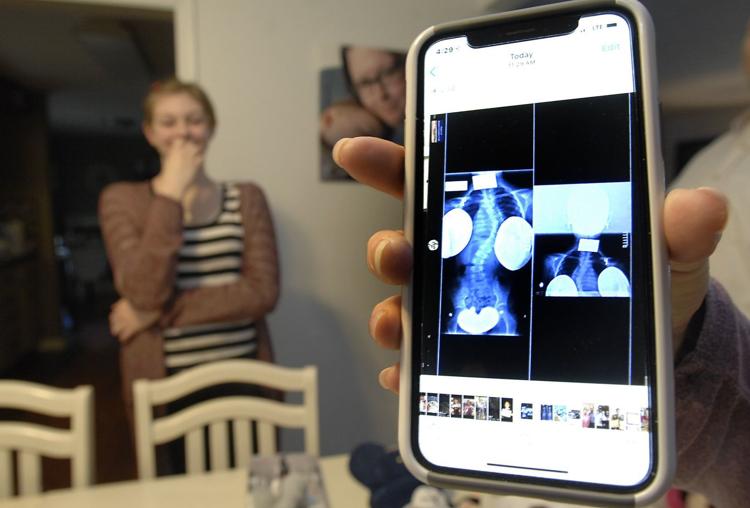 Trinity is among a growing number of children with severe scoliosis whose traditional growing rods in their backs have been replaced with MAGEC (MAGnetic Expansion Control) System growing rods.
MAGEC rods are implanted surgically in the back like traditional rods. But unlike traditional rods that require repeated surgeries for lengthening as a child grows, MAGEC rods are lengthened magnetically every few months in brief, noninvasive procedures in a doctor's office.
"With these rods, I won't have to go through so much (post-surgical) pain," Trinity said.
"I think it's really a tremendous benefit for kids who have this (scoliosis)," said Dr. Jeffrey Akeson, Trinity's orthopedic surgeon at Midwest Orthopaedic Center in Peoria. "The process is so quick. No kids have complained of pain during or after the process and the whole office visit (for magnetic expansion procedures) is five minutes."
Trinity's scoliosis was detected by her primary care physician during a kindergarten physical.
"The X-rays showed her spine was (shaped as) an S," said Trinity's mother, Mindy. "I was in shock."
The cause of scoliosis is unknown. While it generally occurs during the growth spurt just before puberty, Trinity had early onset scoliosis, Akeson said.
"About 1 percent of kids with scoliosis get it young, when Trinity had it," he said, adding, "When I first saw Trinity, it (the degree of her spinal curvature) was 50 degrees. Fifty degrees in a 6-year-old is unusually bad."
While mild cases of scoliosis require no treatment, Trinity's was severe so she needed a brace. But even after she wore three custom-made braces over nine months, the degree of her curvature had grown to 60 percent, said Akeson.
"She couldn't go home until she could get out of bed and go to the bathroom and walk up and down stairs on her own," her father recalled. "I remember  her screaming through tears of pain as she sat up and got out of bed so she could go home."
In summer 2014 and summer 2016, Akeson performed Trinity's second and third surgeries that involved loosening the screws, stretching the rods a half inch to three quarters of an inch to keep up with Trinity's growth and re-tightening the screws. The surgeries were successful and the degree of Trinity's spinal curvature gradually lessened.
"Trinity always did great with her surgeries," Akeson said. "She's been graceful about how she's handled it and she's been a good healer."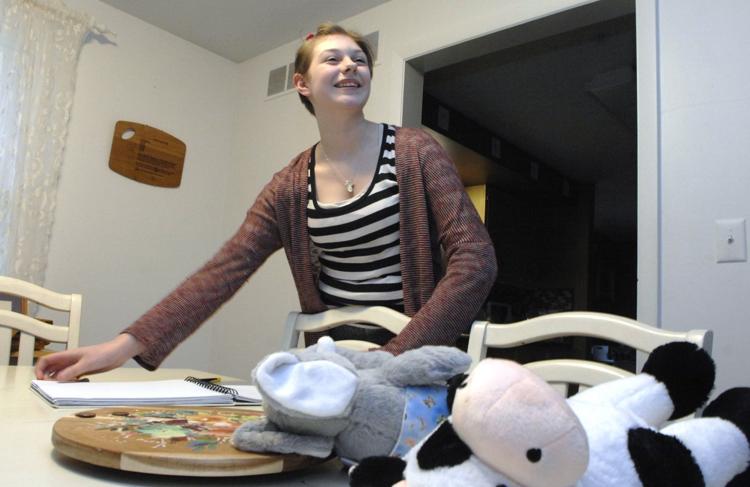 Living with scoliosis has meant that Trinity has been able to participate in sports such as soccer, dodge ball and kickball — but carefully. "You gotta be cautious about what you do," she said.
"Dr. (Akeson) said she can do anything she wants to do unless it hurts her," her mother said.
MAGEC rods were approved by the U.S. Food and Drug Administration in 2014 for use in skeletally immature children with severe spinal deformities, but are not recommended for young children or those who have finished growing. Akeson did his first surgery with MAGEC rods in 2017 and he implanted MAGEC rods in Trinity last June when she was 12.
Each rod has a magnetic component. During follow-up expansion procedures that happen about every three months, Trinity has laid on her stomach and Akeson places an external remote controller over the magnetic component and turns on the controller, magnetically expanding the rod to a length determined by him to match Trinity's growth.
The controller sounds like a copy machine.
"It feels like they are breaking a giant stick on your neck but it doesn't hurt," Trinity said. "It's a really weird thing to experience."
"Each treatment, we are lengthening 4 to 5 millimeters and will lengthen an inch a year," Akeson said.
The degree of Trinity's curvature is about 35 degrees. The MAGEC rods will be removed and replaced with permanent rods when Trinity reaches spinal maturity in a couple of years.
Akeson said Trinity won't experience a noticeable change in flexibility when the permanent rods are implanted. She wouldn't have any restrictions, with the exceptions of gymnastics and contact sports.
Trinity said, "I want to tell people that just because you have scoliosis, you are just as unique as anyone. Don't let it hold you back."
Her sister Nena, 14, said "She is a soldier. She fights, she fights, she fights."
"And I win," Trinity said.
---
Photos: Magnets straightening Danvers girl's spine