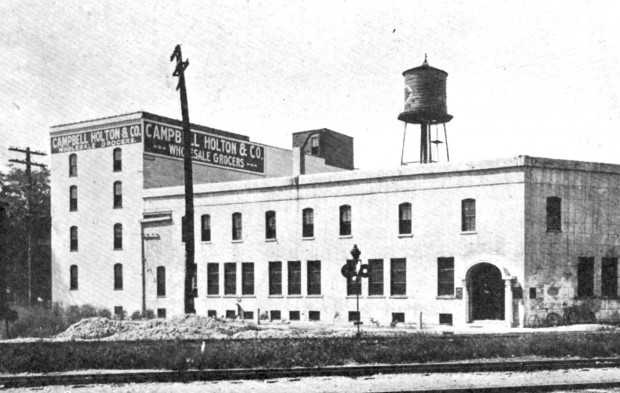 BLOOMINGTON — Over his long life, Campbell Holton witnessed monumental changes in his chosen profession — the buying and selling of groceries. Born right after the Civil War, he grew up at a time when many types of food were sold out of wooden barrels and bins and then scooped and weighed (or counted) by store clerks. Yet by the time Holton retired in the early 1950s, he was overseeing a business dependent on refrigeration, canning and modern packaging.
He was born in 1866 in Vincennes, Ind., to T.T. Holton, a minister in the Christian Church (Disciples of Christ), and Ellen Margaret Campbell, a descendant of Alexander Campbell, a founder of the same denomination. The family moved to Lincoln, and at the age of 16 young Campbell began working for grocer C.E. Ross. In 1889, he married Adelaide May Blake of Clinton, and several years later the couple moved to Bloomington, with Holton finding work with wholesale grocer J.F. Humphrey.
By early 1908, he had established a wholesale house of his own, selling, among myriad items, his brand name "Happy Thoughts" chocolates — advertised as "dainty" and "delicious" and selling for 50 cents a box.
Campbell Holton & Co. operations were first located on the 100 block of East Front Street in downtown Bloomington, the site now occupied by a municipal parking garage. This was no "small potatoes" operation, for in its early years it was capitalized at $100,000 (or more than $2.3 million today, adjusted for inflation). In November 1911, flames gutted the East Front Street building. Fortunately, the company had some 80 railcar loads of goods at its South Gridley Street warehouse (see accompanying photograph), and it was there the wholesaler established new headquarters.
Brands most associated with Campbell Holton & Co. were Happy Hour, Camel and Red Mill. Canned goods sold with the distinct lavender-colored Happy Hour label included applesauce, asparagus, blackberries, figs, pineapple, plums, raspberries, sweet potatoes and even salmon. "Every can a delightful can full," was one particularly clumsy Happy Hour slogan. The product tins featuring these brand names are now highly prized collectibles by many "antiquers."
Generally speaking, Campbell Holton & Co. did not can its own goods, but rather relied on commercial canning operations far afield.
The local wholesaler, though, did roast and pack coffee, and its Happy Hour and Camel brands were two of the more popular in Central Illinois.
By the 1920s, if not even earlier, independent grocers (the corner mom-and-pop establishments) were having an increasingly difficult time competing with emerging corporate chains. Interested in keeping his customers in business, Campbell Holton organized many smalltime grocers into a network of Happy Hour stores. Although these stores (numbering at one point more than 100, scattered throughout Central Illinois) remained independent, they benefited from the Bloomington wholesaler's greater purchasing power and business acumen, and thus were able to survive a little longer in a cut-throat industry committed to rapid consolidation and full corporatization.
For Happy Hour grocers, a highlight of the year was the annual banquet at the Scottish Rite Temple (now the Bloomington Center for Performing Arts). In late November 1937, grocery men and their family members and employees, some 1,200 folks in all, enjoyed a turkey dinner and an evening of entertainment and dancing that lasted into the midnight hour. The banquet was also timed to coincide with the Happy Hour food show (public invited) that in 1937 included nearly 50 booths showcasing grocery stock and supplies.
Campbell Holton & Co. consolidated with General Grocery Co. of St. Louis in late 1951, though it remained partly independent of the parent firm, with the local name, staff and brands remaining unchanged—at least for the time being.
Holton (the man, not the business) retired in August 1953, and he would pass away in February 1959 at the age of 92. Even with the 1953 retirement, the business continued under his name, and in 1954, Campbell Holton & Co. purchased the Bloomington branch of Springfield-based Bunn-Capitol, including the building, equipment and inventory at 402 S. Center St. This building in the warehouse district south of downtown Bloomington then became the company's base of operations.
The end for Campbell Holton & Co came in July 1965 when General Grocer Co. of Illinois absorbed the longtime local wholesaler. General Grocer left the Twin Cities in the early 1980s, and today its warehouse on General Electric Road is used by Country Financial.