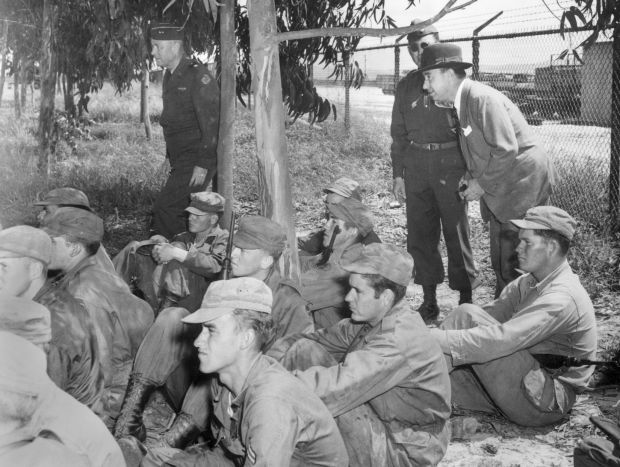 It's often known, fairly or not, as the "Forgotten War," sandwiched as it is between the enormity of the Second World War and the divisiveness of the one in Vietnam. Yet the Korean War (June 1950 to July 1953) represented a bloodbath on an enormous scale, taking the lives of some 36,500 Americans, as well more than 1 million North and South Koreans soldiers, 600,000 Chinese troops, and more than 1.6 million Korean civilians.
When war broke out on the Korean Peninsula, the Pentagon found that the post-WW II peacetime drawdown had left the U.S. with too few men to halt the North Korean advance. American troops from Occupied Japan were rushed to the front lines, and as casualties mounted at a horrific pace National Guardsmen were called up to help fill the thinning ranks. In Illinois, 15 Guard units were "federalized" during the war, and although most remained stateside, many of the men in these units found themselves overseas anyway, serving as replacement (or "filler") troops.
This call for National Guard manpower eventually reached the 144th Antiaircraft Artillery Automatic Weapons Battalion, led by Bloomington attorney Col. Richard T. Dunn. Battalion Headquarters and Batteries A and B were based in Bloomington, while Batteries C and D were in LeRoy and Gibson City, respectively. The 144th, fielding trailer-mounted 40mm single-barrel anti-aircraft guns and 50 caliber machine guns mounted on halftracks, was part of the Illinois National Guard's sprawling 44th Infantry Division, with headquarters in Urbana.
In February 1952, the 44th Division was ordered to Camp Cooke, Calif. for a two-year term of extended active duty. On the 14th of that month, Bloomington staged a farewell for its own battalion, the 144th, calling the event "D-Day" (the "D" for Departure). It included a torchlight parade to the Armory on South Main Street, where some 2,000 Guardsmen, family members and local residents gathered for a last hurrah, capped by a late-night dance.
Lt. Col. Richard J. Nelson read a letter from Illinois Gov. Adlai E. Stevenson, who grew up on East Washington Street in Bloomington. Stevenson, while tacitly acknowledging the exhaustion of the American public when it came to unending conflict (World War II was but seven years in the past ), didn't shy away from placing this deployment in the context of the Cold War, maintaining such sacrifices are essential to defending freedom abroad. "Even in peacetime, the separation of men from their families, friends and jobs is dismal," Stevenson said. "But while my duty cannot be called happy, I will not call it tragic, wasteful or unnecessary, as some men do today."
Demand for platoon leaders was especially high, and at one point an entire planeload of 44th Division officers flew to Japan in order to serve as ready replacements in combat units.
The 320 or so men of the 144th were formally placed into federal service on Feb. 15, and three days later they were off to Camp Cooke. That summer, 22 Guardsmen, 13 of whom volunteered, comprised the 144th's first "levy" (or quota) for overseas replacements. Eleven of the men headed to Europe (where the Cold War was still cold) and the other 11 to the Far East Command, which included Korea.
The requests for more men continued throughout the year. "We have been levied, re-levied, and levied again until our present battalion strength is 140 men," noted a 144th newsletter dated Nov. 17, 1952, from Camp Cooke, and sent to battalion "alumni" so those discharged could keep tabs on their old unit. In December 1952, the 144th removed to Fort Lewis, Wash., though before the move, Col. Dunn was transferred to Division staff, with LeRoy native Maj. Judson Chubbuck taking command.
Dunn returned to Bloomington in early February 1953 on his way to the Illinois capital to testify on National Guard legislation. He told The Pantagraph that not more than 25 of the local men who left Bloomington for California the previous year were still with the 144th headquarters at Fort Lewis, most others having been reassigned to other Army units or discharged (many in the 144th had their original 24-month commitment reduced by five months).
The two Koreas never signed a peace treaty and thus technically remain at war, which explains why 30,000 U.S. troops remain in South Korea to this day.
Thankfully, the "Forgotten War" has not been forgotten in Bloomington. The Korean and Vietnam War Memorial in the northwest corner of Miller Park was dedicated in 1988. The memorial includes the names of 72 area men killed or missing in action during those awful years of 1950 to 1953.
Get local news delivered to your inbox!
Subscribe to our Daily Headlines newsletter.