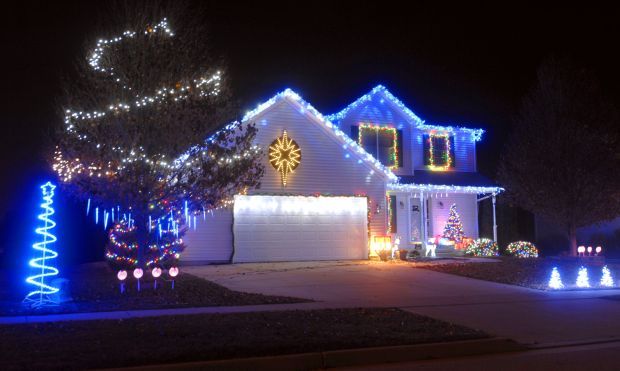 BLOOMINGTON — The lights are shining in the Twin City area as homeowners flip the switches on their holiday light displays.
As he has done in recent years, columnist Bill Flick is soliciting locations and/or neighborhoods with the best displays. He'll swing by and, if he judges them worthy, include the locations in a Christmas Display of the Day item that will run below his Flick Fact on Page A2 through the holiday season. The Pantagraph's Facebook page also is a source of good display destinations for nighttime viewing.
If you know of a lights display you feel just has to be seen to be believed, send the address or the block and street to Flick at flick@pantagraph.com, or visit our Facebook page.
Here is an updated list of some of the locations to get you started on your holiday tour. More will be added as they are received.
---
• 49 Prenzler Drive, Bloomington (Oakland Ave. east, south on Old Farm Road to Prenzler); more than 17,000 lights to music. Can listen from car at 94.1 FM.
• The Windsong Way/Longwood Drive area and nearby Worthington Court in far east Bloomington.
• Ewing Manor at Emerson and Towanda Avenues in Bloomington.
• An old standby at Oakland and Mercer avenues in Bloomington.
• 1005 Lake Fork, Bloomington
• 2601 Interlocken in Bloomington, just east of Airport Road; annual treat judged "best of show" a few years ago in a local contest. 
• 603 South Mercer Ave. in Bloomington (just south of East Oakland)
• Robert and Bryan drives and Sandra Lane in northwest Normal.
• 2151 Inez Lane in Normal with computerized light shows; 5:30 to 9 p.m. Sunday through Thursday, 5:30 to 10 p.m. Friday and Saturday.
• 1005 Sterling Glen Country Club Court, Normal
• 1216 S. Linden St., Normal
• 2001 Haverhill in north Normal (Towanda Ave. north, to Ironwood C.C. Drive, go east as it eventually becomes Haverhill); the Arlene and Jim Schmidt home features a Santa up on the porch in a bathtub, complete with bubbles coming out of the tub.
• Downtown Pontiac, which is looking particularly festive along with uptown Normal and downtown Bloomington.
• Dooley Park in Downs, another longtime destination.
• Along Front Street in El Paso.
• 3 Berkshire Road, Mackinaw, lights with music from roughly 6 to 9:30 p.m, Saturdays and Sundays. 
• Delaine Drive, Lexington
• 706 Trimmer Drive,  Hudson.; 64 channels of computer animation, this year with an additional 15,000 lights.