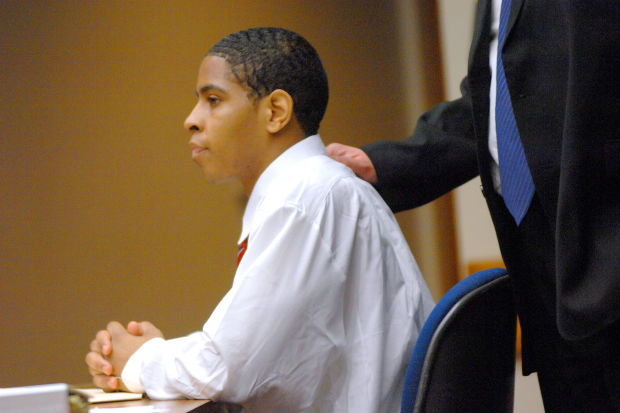 BLOOMINGTON — Ross Johnson was handed what amounts to a life sentence of 120 years in prison Monday for the attempted murder of four people shot during an October 2012 party in Bloomington.
The 21-year-old was convicted in October of firing the shots that struck the victims during what police considered a gang-related dispute at an east-side apartment on Gettysburg Drive.
Assistant State's Attorney Kevin Sanborn asked for 200 years on the charges of attempted murder, home invasion and aggravated discharge of a firearm. The four victims and more than 70 others attending the party were fortunate the case only involved an attempt to kill, said Sanborn.
"On that day, the defendant tried to murder as many people as he could," Sanborn told the judge, referring to the shooting as "blood lust that won't be tolerated in our community."
Two centuries in prison for the 21-year-old old is akin to a death sentence, said defense lawyer Brendan Bukalski.
"We don't hang people in the public square to send a message," said Bukalski. For the prosecution, the lengthy sentence "is about the state getting their pound of flesh out of this case."
Johnson's lawyer said the state used several witnesses involved in the incident against Johnson, who still maintains his innocence and denies any involvement in gangs. The witnesses "pointed the finger at him to save their own necks," he said.
In a statement to the judge, Johnson said he sympathized with the victims, but "I was not the individual who harmed these people."
Judge Robert Freitag pointed out Johnson's criminal history — four previous felonies for which he was on probation when the shooting took place.
The judge said similar cases involving young men facing gun crimes have left him shaking his head over "senseless gun violence, based upon very petty reasons."
After the hearing, Sanborn commented that "the sentence sends a clear message that the type of violence on Getttysburg won't be tolerated."
Bukalski promised to appeal.
"We asked that justice be tempered with mercy today for a 21-year-old boy, and, having received neither, now only have the hope that the appellate courts will dispense the justice we sought throughout this case," said Bukalski via email.
Get local news delivered to your inbox!
Subscribe to our Daily Headlines newsletter.