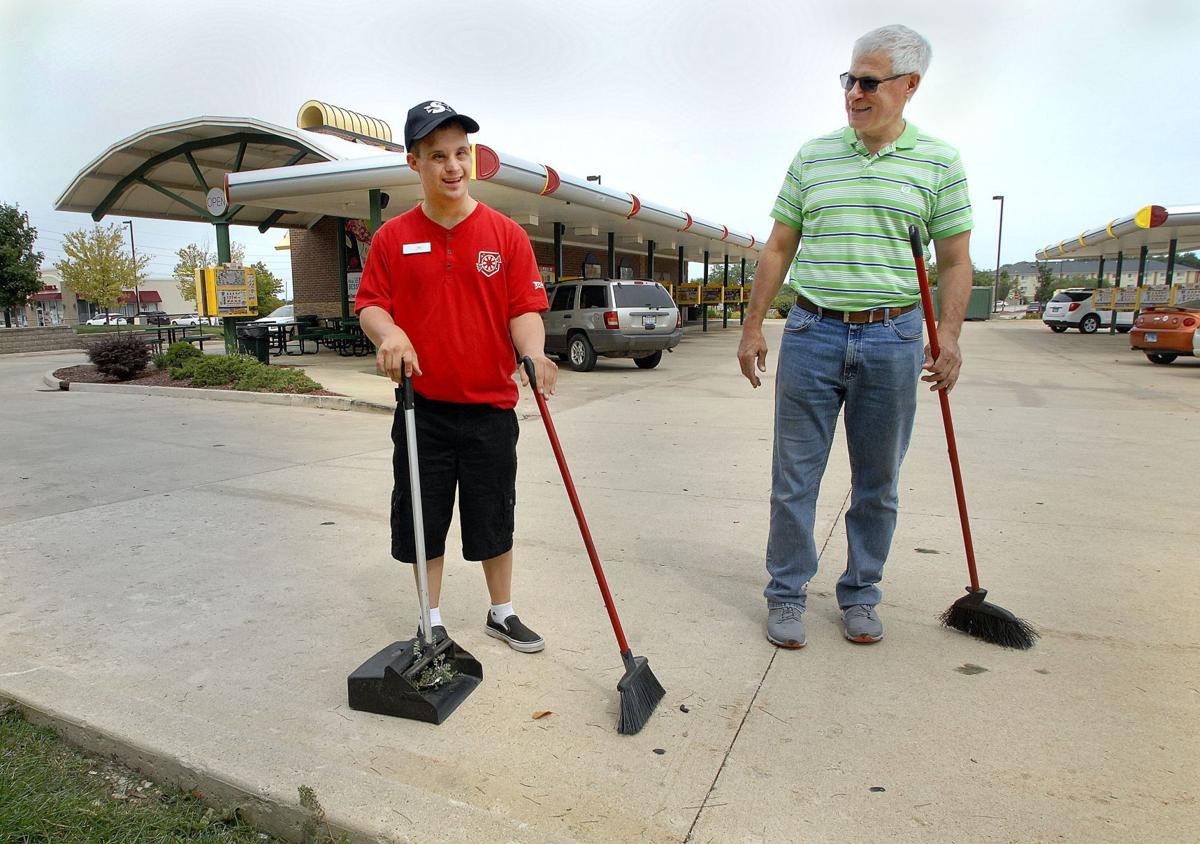 NORMAL — Dan Swanlund doesn't care that his job facilitator at Marcfirst won a statewide award this year.
But what matters to Swanlund, who has an intellectual disability, is that he likes working with Gary Ferguson, who was named Illinois Direct Support Professional of the year by the American Network of  Community Options and Resources.
"He's one of my favorites," Swanlund, 30, of Bloomington, said as he and Ferguson took a break from Swanlund's part-time job keeping the patio, tables, menu boards, parking lot and lawn clean at Sonic America's Drive-In in Normal.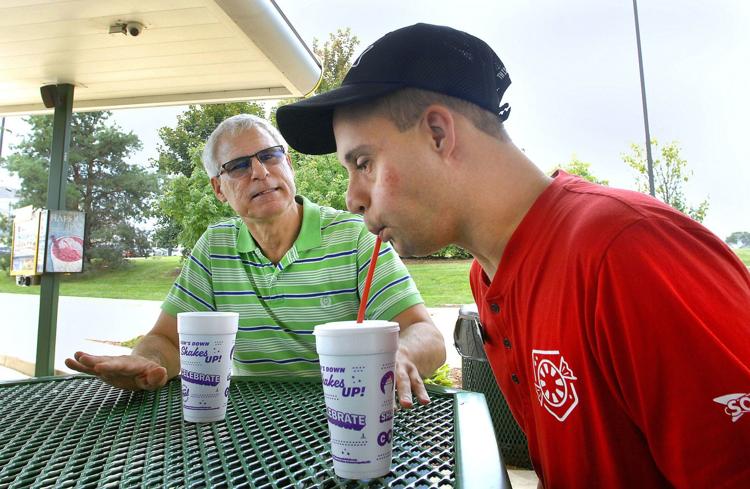 Sarah Sprague, 27, of Normal, who has an intellectual disability and lives in a Marcfirst group home, also enjoys receiving support from Marcfirst DSPs.
"They take me out somewhere and help me with my laundry," Sprague said. "I like 'em because they are nice to me."
"They helped me to get a job," Sprague said of her new part-time job cleaning the women's locker room at the Bloomington-Normal YMCA in Bloomington.
Sprague spoke at Marcfirst in Normal, sitting across the table from Jason Pasley, DSP of the Year in 2017, and Brenda Smith, DSP of the Year in 2018. The Normal-based agency provides support to people with disabilities.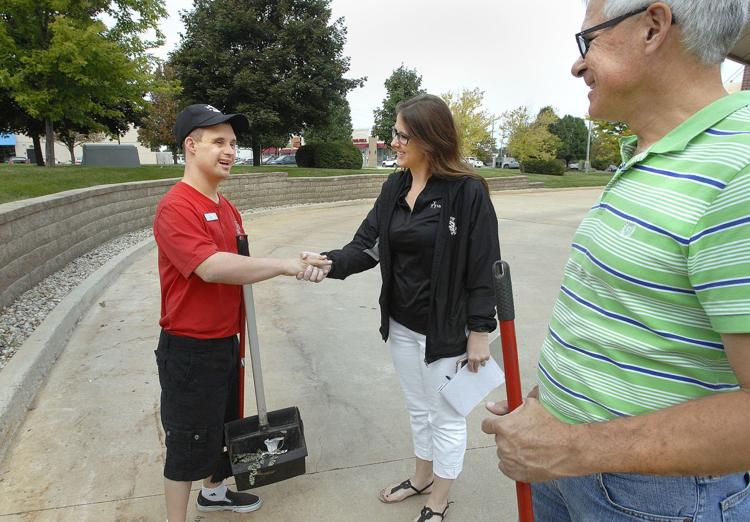 More impressive than the awards, however, is the longevity.
Ferguson, 58, has been a direct support professional at Marcfirst for 28 years; Pasley, 45, has been a DSP there for 19 years; and Smith, 72, has been a DSP for 21 years, including the past six years full-time since she retired from her other job. Geraldine Dean has worked as a DSP for 33 years. 
Marcfirst, which has 110 direct support professionals who work full or part time, has 10 DSPs who have been there for at least 15 years. The longevity is noteworthy in a profession that, nationwide, has an average annual turnover rate of 45 percent.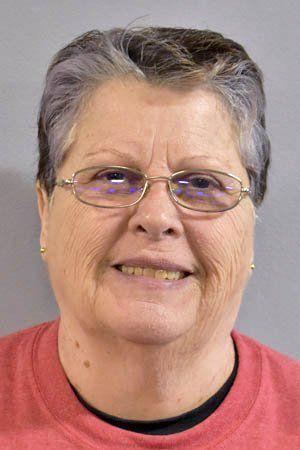 "The work that they do is invaluable and hard," said Becky Brennan, Marcfirst vice president of residential and quality assurance.
DSPs help with personal care, cooking, cleaning, projects and with transportation to and from appointments and activities such as nature walks, exercise at Advocate BroMenn Health & Fitness Center and Friends First at Second Presbyterian Church, Brennan said. In addition, DSPs help some people, like Swanlund and Spradue, to find and retain jobs, she said.
"She (Sprague) learns about social skills, computer skills and daily living skills," Brennan said.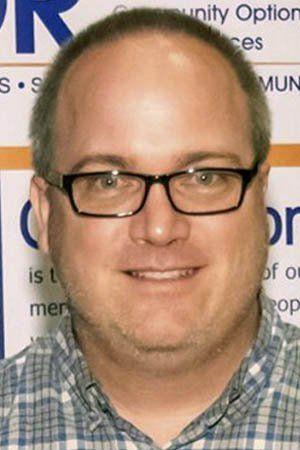 "All of the people we assist have intellectual disabilities and some also have physical disabilities, which can take a toll," Brennan said. "The compensation doesn't match the work."
The national average wage for a DSP is $9.50 to $10 an hour, Brennan said. "At Marcfirst, we start DSPs at $11," she said.
Even with a lower turnover rate, Marcfirst still has a DSP vacancy rate of 43 percent, Chadwick said. Marcfirst fills the gap by asking staff to work overtime and by contracting with agencies to provide certified nursing assistants, Chadwick said.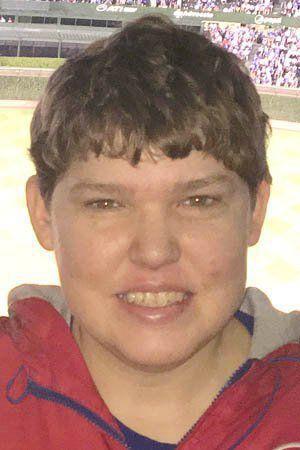 Several Marcfirst DSPs said they don't stick with their jobs because of the money.
"They grow as individuals," Ferguson said of the people he helps. "That makes me feel I was making a difference in their lives."
"The population grows on you," Smith said. "You develop relationships with them ... You want to be there for them."
"The people I support become friends and family," Pasley said.
"It's very taxing and tiring and, when you go home, it's important to have someone at home to help you unwind," Pasley said. "I have a team at home and team here.
"But the good times are great," he continued. "I was there when Sarah got her job. She hugged everybody."
Smith and Pasley each make about $14 an hour. Smith said she can survive because she is retired from another job and also receives Social Security. Pasley said, "I'm in a relationship where the other person makes a lot more than me."
Ferguson, who makes $17.71 an hour, said he works overtime in Marcfirst group homes.
"I do it to have a living wage and to get to know the people not just at their work but at their home," Ferguson said.
Chadwick said 85 percent of the money for DSPs comes from the state and the rest from the McLean County Health Department, grants and fundraising.
"The agency is not against an increase in the minimum wage," Chadwick said. "We want people to be paid a wage so they can live in the community."
But, to keep DSPs, they must be paid more than the minimum wage and the state didn't allocate more money for DSPs, Chadwick said. By 2025, without more money from the state, the minimum wage will be higher than the starting paying for DSPs at Marcfirst.
"Our position is the work of DSPs is difficult and requires extraordinary skill and the people who do that work should be paid higher than the minimum wage," Chadwick said.
Meanwhile, Brennan appreciates the longevity of Marcfirst DSPs.
"Having staff with that longevity is crucial to making people successful," Brennan said.
"When people can give back to the community, it makes everyone better," she said. "When people are more active citizens, it improves the community."
Contact Paul Swiech at (309) 820-3275. Follow him on Twitter: @pg_swiech
Get local news delivered to your inbox!
Subscribe to our Daily Headlines newsletter.