BLOOMINGTON — The Illinois Public Health region that includes McLean County on Friday became the only one not facing new restrictions because of COVID-19 case increases. Gov. J.B. Pritzker said that's likely to change in coming days. 
"Once again, this is a problem that is affecting the entire state," he said in a press conference. 
Region 2, which includes 20 Central Illinois counties, will have measures put in place "barring an unlikely reversal of that trend," the governor said.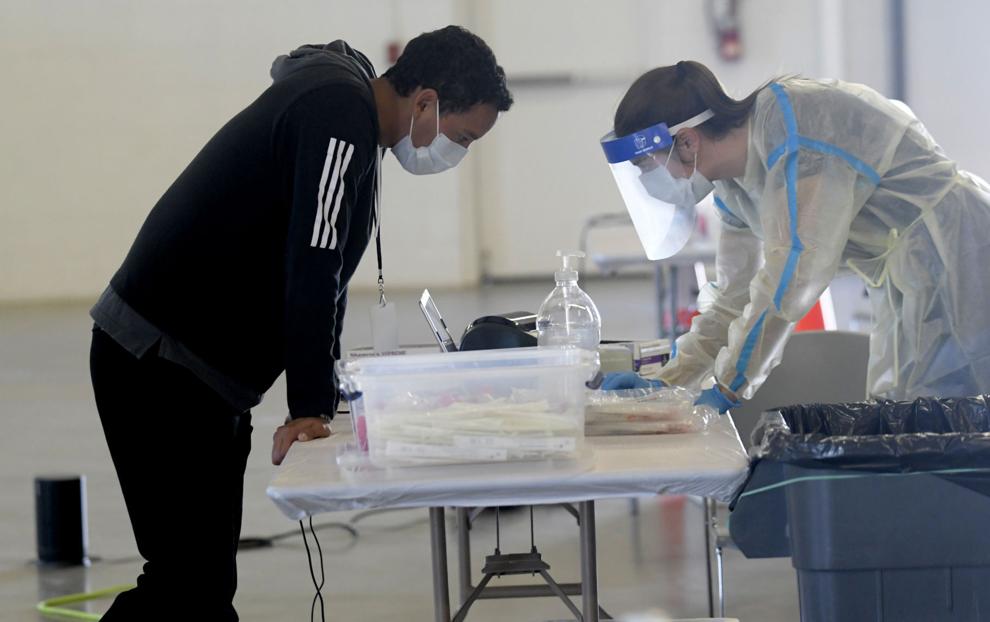 For bars and restaurants, those include no indoor service, all outdoor service ending at 11 p.m., all patrons seated at tables outside and tables 6 feet apart. Meetings and social gatherings are limited to 25 people or 25% of room capacity.
Region 6 had an average positivity rate of 8% or higher for three days, surpassing the state benchmark. The rate was 8.6% on Friday. 
"If we don't step up now, there is nothing that separates us from those other regions and what they're experiencing," McKnight said.
McKnight said she didn't want to speculate as to whether Region 2 will be added during the next few days but urged everyone to wear their masks, stay 6 feet away from people outside their household, stay home when they're sick and wash their hands frequently.
"We all play a part," she said.
McLean County's seven-day positivity rate, the percent of county residents who have tested positive for the virus in the past week, was 6.1% on Friday and 5.3% on Thursday. That rate has been increasing for several days.
Of 98,800 tests of county residents since March, 4.4% have come back positive.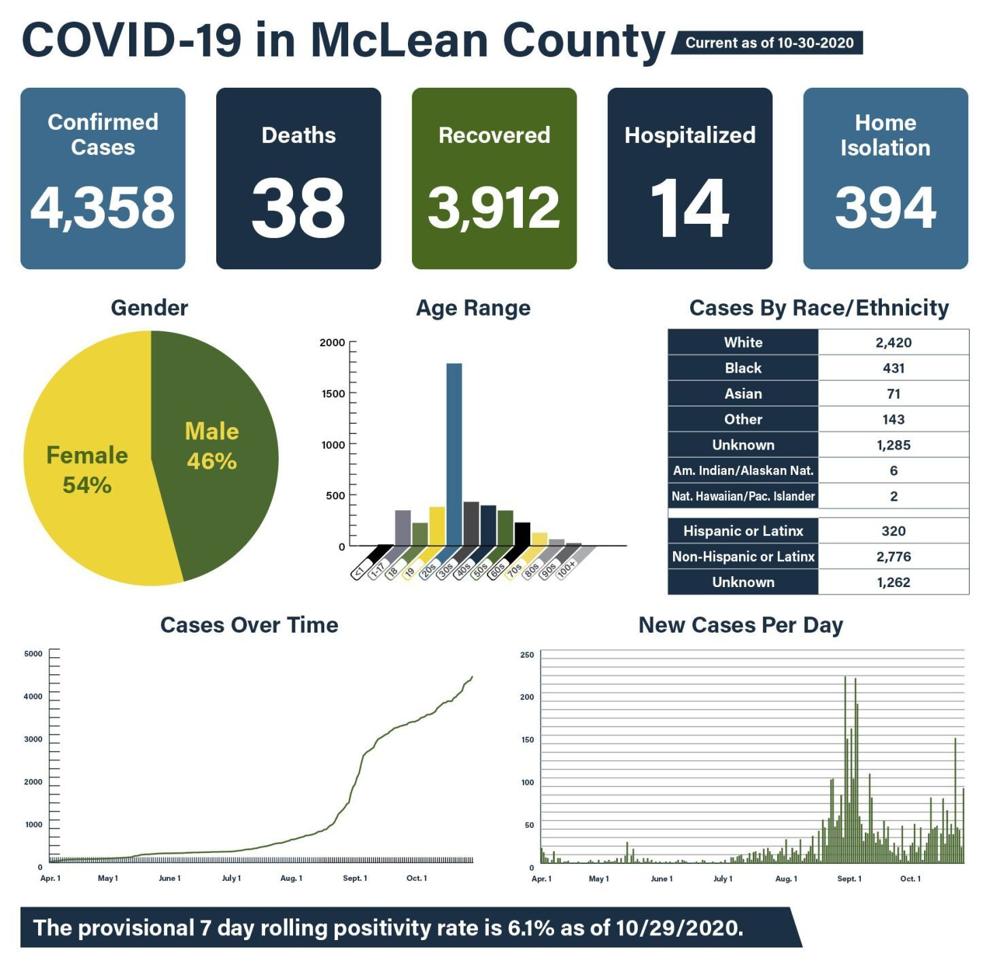 McKnight said the virus is "widespread" in McLean County and acknowledged COVID fatigue in the county.
"People are tired because it's ongoing," she said. She urged people to take steps to control the spread.
IDPH Director Dr. Ngozi Ezike said: "We are on the precipice of the entire state entering into mitigation. These last few regions have seen rapid increases in test positivity, one right after another, because of increasing disease spread throughout our communities. We need all people to adhere to both the community mitigation measures as well as personal and family measures so we can swiftly turn out entire state around."
Pressuring Pritzker to take another path 
The announcement forced restaurant and bar owners to adjust for the second time since the pandemic started. 
"What are we supposed to do with our employees? How are we supposed to pay rent? How are we supposed to live? If government is going to come in and shut down a legal business, they should be prepared to write that business a check while they are shut down," Schmid said.
Schmid noted the argument that contact tracing has traced some COVID-19 cases to restaurants and bars. But he said big box stores have been able to remain open because they are deemed essential businesses and questioned how many COVID cases could be traced to those retailers.
"I don't know how they can point a finger (at restaurants and bars) and say 'This is where the problem is,'" Schmid said.
Asked whether he will serve patrons outdoors beginning Monday, Schmid said, "Who in their right mind will go outside in 47-degree weather and eat?"
"If you don't feel safe going out, don't go out, stay home," Schmid said.
Paul Skowron, CEO of Warner Hospital and Health Services in Clinton, said: "There will be plenty of discussion about which county within Region 6 is the most culpable, but that will go on in every region. The rules have been established, so it is best to take our medicine now before the holidays and hopefully get this under control and establish more discipline socially so that we can blunt the negative economic impact of these measures throughout the winter."
In Ford County, Bryan Brucker, manager of Burgers & Beer in Gibson City, said the mitigation move by the state "makes sense."
But he added: "I wish they would have given us more time to prepare. It's really sudden. I wish they had given us more than a few days' notice."
"We do have tables where we can serve outside. The problem is it's getting cold," Brucker said. "I don't know how many people will do that."
He said the business will remain open doing carry out and curb-side service.
Meanwhile, the Illinois Restaurant Association announced Friday that it would file a court brief supporting a Kane County business challenging the governor's authority to shut down indoor dining. The association called for the governor "to take a reasonable and pragmatic approach to mitigation."
New data for Friday 
In McLean County, McKnight reported Friday that a woman in her 80s, associated with a long-term care facility, had died, becoming the county's fifth COVID fatality this week and 38th since March.
She also confirmed 88 more county residents had been diagnosed with the virus, meaning that 335 additional cases have been reported so far this week and 4,358 since March 19.
Fourteen McLean County residents were hospitalized with COVID, five more than on Thursday, with none in intensive care.
Isolating at home were 394 people, 42 more than on Thursday.
Forty additional people have recovered from the virus as McKnight reported that 3,912 people have been released from isolation, compared with 3,872 on Thursday.
Elsewhere in Central Illinois, Livingston County Health Department Health Education & Marketing Director Erin Fogarty reported that county's 12th COVID fatality — a man in his 60s with underlying health conditions but not a resident of a long-term care facility.
COVID deaths also were reported in Tazewell County, a man in his 60s who was not a resident of a long-term care facility, and Piatt County, a woman in her 90s.
Tazewell County has had 60 COVID-related deaths and Piatt has had two.
Statewide, IDPH reported 6,943 new COVID cases and 36 additional deaths, bringing the state's totals since March to 402,401 cases and 9,711 deaths.
As of Thursday night, 3,092 people in Illinois were hospitalized with COVID, with 673 of them in intensive care and 288 on ventilators, IDPH said.
Capitol News Illinois contributed to this report. 
New Central Illinois COVID restrictions: What to know
Contact Paul Swiech at 309-820-3275. Follow him on Twitter: @pg_swiech.