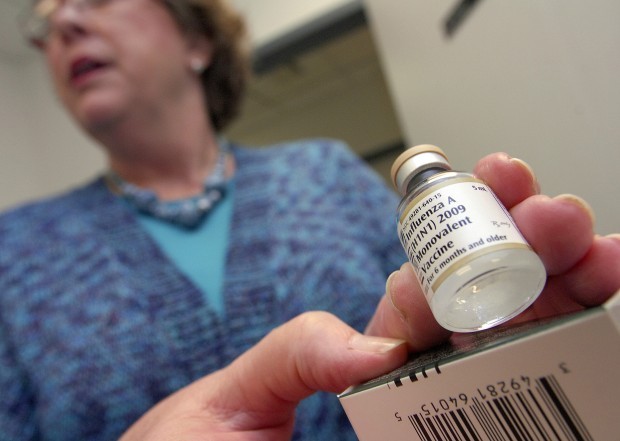 BLOOMINGTON -- McLean County Health Department received on Thursday its first shipment of the H1N1 influenza injection vaccine and has scheduled a community clinic for county residents in four priority groups.
The walk-in clinic will be noon to 7 p.m. Tuesday at the Sale Barn, 2027 S. Main St., Bloomington, health department spokeswoman Jan Morris said.
"It's a relief to have the vaccine in our hands," health department director Walt Howe said. "We hope to get it out as quickly as we can."
Because 2,000 doses are available for the first clinic, the health department is limiting vaccine availability to the following priority groups:
-- Caregivers of children less than 6 months old
-- Children and young people ages 6 months through 24 years old
-- People ages 25 through 64 with a chronic medical condition.
Medical providers involved in direct patient care and day care providers will be vaccinated prior to the community clinic, Howe said. Another 1,000 doses have been set aside for them.
People age 65 and older are not being vaccinated because researchers believe older adults have some immunity to the H1N1 virus, Morris explained.
The health department ordered 32,000 doses and hopes that the shipment received Thursday will be the first in a series of weekly shipments, Howe said. Future clinics and priority groups will be announced after the additional vaccine is received, Howe said.
Other medical providers who ordered the H1N1 vaccine directly from the state may be receiving it shortly, Howe said. Public health departments were allowed to order the vaccine first.
While older children and adults will receive one dose, children ages 6 months through 9 years old will receive two, smaller doses, Morris said. When young children are vaccinated Tuesday, their parents will get a card explaining that the children need to get a second dose in a month.
The vaccine contains the preservative Thimerosal. While it has been proven safe, parents should check with their children's physicians before deciding whether to have their children vaccinated, Morris advised.
McLean County has had six confirmed cases of H1N1 influenza. The sixth case was a 14-year-old female with an underlying medical condition. She was hospitalized but has since recovered and been discharged, Morris said.
There are other people who have influenza symptoms and likely have H1N1 but they don't have a confirmed case because they weren't hospitalized and given the confirmatory test, Morris said.