BLOOMINGTON — Robotics teams from across the state headed to the Interstate Center this weekend to see how their creations measured up at the annual Illinois 4-H Robotics Competition.
Teams spent the last four months preparing for the competition by building two small robots based on the theme "STEM Bot."
Almost 50 teams, representing 350 kids, put their bots to the test to see if they were capable of completing a variety of tasks, including knocking "Newton's apple" out of a tree, replacing a bad "heart" with a new transplant, drawing a circle, debugging a computer and completing a circuit.
Competitors were between 8 and 18 years old in this entry-level robotics experience, said Judy Bingham of the University of Illinois, which organized the event.
All of the judges were fellow robotics club kids, between the ages 13 and 21, who may have been former competitors or taking a break from the major regional competitions.
"We need a little bit of hope and a whole lot of luck," said 16-year-old Roux Starr during one of his team's practice runs.
On their final run, Starr and the rest of Loco Robo, which is based in Lincoln, earned about 70 points after their bot got stuck placing the bad heart in the biohazard area of the board.
The Trinity Trailblazers from DuPage County were a bit more successful. Like many other teams, their robot used sensors to follow taped lines on the playmat, and completed nearly every task it was programmed for, though it did forget to drop its pen afterward.
For the Trailblazers' six-member team, testing their robot in a big competition is "nerve-wracking" for some and just "awesome" for others.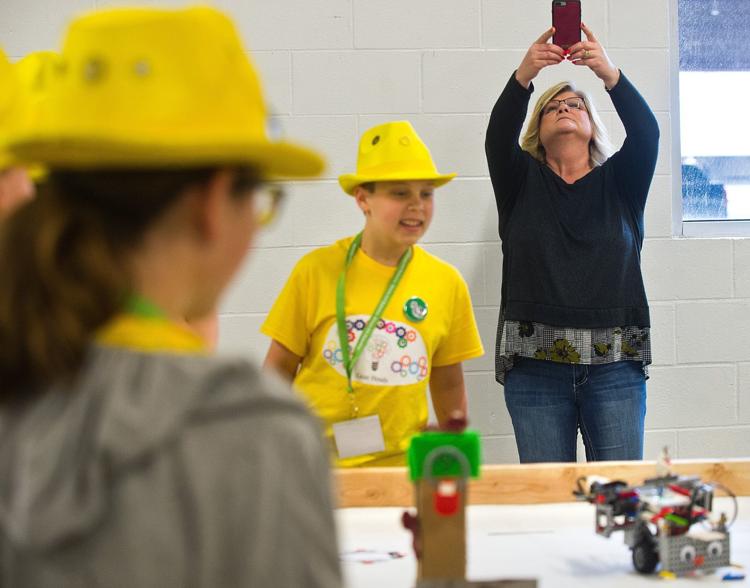 The Gearheads traveled from Clinton County with several supportive parents, like Sharon Ritzheimer, whose son Alex has participated for three years.
"It's kind of neat that certain people get assigned certain things so it's like putting all of their individual pieces together," she said.
Because of the nature of the competitions, robotics teams are able to bring together kids with a lot of different skills and interests so they each can focus on mat design, construction and engineering, communication or programming, like 12-year-old Alex.
"There's no arguing, there's no nothing — there's just 'We need to this, well how about if we try this,'" Ritzheimer said of the Gearheads' collaboration. "When it's done right, it is truly a team effort."
After each team's bots were tested, the kids were interviewed about the robots' features and how they helped to accomplish each task, how they performed and what went right or wrong during the final run through.