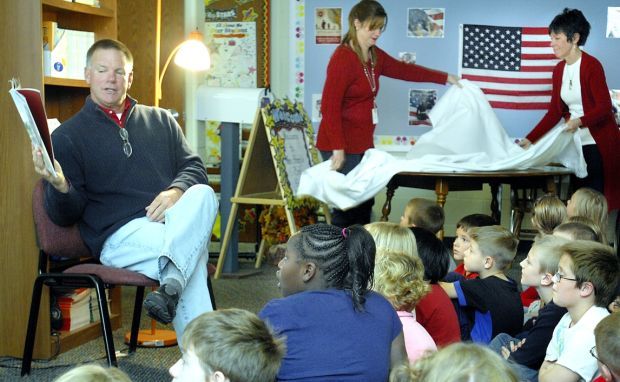 NORMAL — Third-grader Cora Elshoff of Bloomington was keenly interested in Prarieland Elementary School's Veterans Day program, knowing she would tell her grandfather every detail when she got home from school.
"Grandpa has a book of pictures, and every year on Veterans Day we go through it," said Elshoff. The 8-year-old was dressed in patriotic red, white and blue on Monday in honor of her grandfather, Air Force veteran Ed Johnson.
She was among 125 third-graders who learned about the tradition of the white table, which started as a way to honor missing Vietnam War soldiers, and she heard from two soldiers whose sons are her classmates. She also got to write her grandfather's name on the third-grade Memorial Wall.
"I'm glad you are in school today," said former Prairieland Principal Kurt Swearingen, a retired McLean County Unit 5 administrator. He told students that Veterans Day used to be a day off school, but now it's an opportunity to teach about veterans and "honor people who serve our country."
He described the tradition of setting a table with a white cloth in memory of veterans and read the book "America's White Table" by Margot Raven. It has become a military tradition since the end of the Vietnam War to set a "white table" on Veterans Day to honor those missing in action and prisoners of war, he said.
You have free articles remaining.
Teachers set a white table as he read the story.
A white cloth symbolizes the pure heart of soldiers, lemon slices and grains of salt represent bitter fate and tears for loved ones, a black napkin stand for sorrow and an empty chair symbolizes the missing soldier.
He told students he thanks veterans when he sees them in airports. "They don't know me. I don't know them, but I know what they stand for: America," he said, encouraging students to do the same.
Capt. Paul McConkey, whose son, Jason, was among the third-graders, said the day also is meant to honor the military men and women you don't see — those who died serving the country.
McConkey, who has been a member of the Illinois Army National Guard 14 years and worked full time for National Guard for four years, will be deployed to Afghanistan in April. He said his everyday job is working for the accounts office, and on the weekends he leads a platoon on patrols.
Air National Guard Sgt. Tom Sutter, father of Logan, a third-grader, unpacked his kit for the class, showing them the camouflaged items he carries. They were most intrigued with the face paint.
"It's pretty cool," Logan Sutter, 8, said of having his father at school.